In addition to the most recent news from Wargame Vault subscribers to our newsletter also receive the latest in freebies, discounts offers, and featured reviews. You can sign up for our newsletter here!
Customer Newsletter for 10/17/2021

The world's largest wargame download store
Greetings Grognards!
This issue of our newsletter shows off some of the different kinds of titles our fantastic publishers have loaded up recently. Featured this time is a reference title that can be used to create modern naval battles, an expansion book for a popular ancient rule set, rules for tabletop miniatures games and a complete tactical/strategic war boardgame.
And this is just a tiny peek at the thousands of titles of all kinds that we offer. Just goes to show that if you're looking for about anything wargame related, you should check The Vault first! Use the Browse Categories and you'll likely find something that fits your search.
Till next time, good gaming to everyone, and watch your flanks!
~ Steve
China's Navy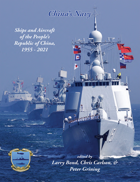 China's Navy lists the ships and aircraft used by the People's Liberation Army Navy and Air Force and Chinese Coast Guard, in service between 1955 and the present day. It is designed as a sourcebook for Harpoon, fifth edition, but it can also be used as a general reference. Organized as a collection of annexes, Annexes A and B provide statistics on ships and aircraft respectively as first built, and any modifications over time, sometimes many times. Annexes C and on give detailed weapons and sensors characteristics, including guns, missiles, antisubmarine weapons, torpedoes, mines, airborne ordnance, radars, sonars, and data links, with all the information needed to use them in a Harpoon scenario.
The book also provides information on land-based surface-to-air missiles and coastal defense missiles and their battery organization. Supplemental annexes list ship classifications and factors used to convert weapons and sensor information into game data.
AIRWAR 1918 and AIRWAR 1940

AirWar 1918 (2nd edition) makes the complex subject of biplane era air combat so disgustingly simple that it is ideal for beginners and experienced gamers alike. After a couple of games reference to the rule book will become occassional with players concentrating on shooting down their opponents rather than ploughing through the sub-minutiae of clauses and appendices.
The 40 page rulebook includes rules for aircraft characteristics movement, special manoeuvres, dog fighting and even rockets (yes in World War One!). Also included are optional rules for balloon busting, ground attack and trench-straffing, surface-to-air fire ("archie") and Zeppelins, as well as a campaign system. There are also ratings for 302 biplane era aircraft from the Blériot XI of 1910 to the Hawker Hart introduced in 1930.
So if you want to join the "knights of the air", you need AirWar: 1918 (2nd edition)...
AirWar 1940 is the latest in our series of fun, fast play air warfare rules that cover the spirit of air combat whilst being a set that would be good for a newcomer to aerial wargaming, or for a more experienced "old hand" who wants a simple yet enjoyable set of rules to introduce new players.
After a couple of games reference to the rule book will become occasional with players concentrating on shooting down their opponents rather than ploughing through the sub-minutiae of clauses and appendices. The requirement for our rules is to provide a game that met the "5 minute rule" for explanation and the "45 minute rule" for game play.
The 41 page rulebook includes rules for aircraft characteristics, movement, special manoeuvres, dog fighting, ground attack, AA fire and even "auto-pilot" bomber formations so you can concentrate on the more fun aspect of shooting them down! There are also ratings for 254 aircraft era aircraft from thirteen nations, from the last bi-planes of the 1930's though to the first jets of the late 1940's and early '50's.
RISE of Eagles

This book expands the forces available in the core book adding 13 new lists.
The lists include the Late Republican Army ( post Marian Reform ), the Early Imperial Army and enemies that fought against these armies such as Thracians, Germans, Britons, Dacians, Parthians, Spartacus Slave revolt, etc. We have also included the eastern enemies that Rome fought during the times of the Republic such as the armies of the successors of Alexander the Great or the Pontic kingdom.
All in all this is a great complement to your core book multiplying the lists and periods in which you can set up your games.
Empire at Sunrise

Designer: John Gorkowski
Map Art: Jose Ramon Faura
Hex Number: 58
Duration: 150 minutes
Players: 2
Solitaire Suitability: High
Theme: WWI; Naval
As the guns of august were heard firing across Europe, the German kaiserliche marine began commerce raiding in the Pacific, targeting British shipping and colonial holdings to reduce their economic ability to fight on the continent. The Empire of Japan, eager to emerge as a global power and seeing an opportunity to expand at the expense of Germany's Asian and Pacific colonies, entered the Great War alongside their British allies.
John Gorkowski's Empire at Sunrise: The Great War in Asia, 1914 depicts the struggle for control of Pacific sea lanes during the opening months of World War I. Its focus is largely on naval operations - on the cat-and-mouse dance of destroyers and battleships. The game presents its action at three different telescoping scales using nested playing surfaces, representing the area around Tsingtao at six miles per hex, the fight over the Asian Pacific at 240 miles per hex, and the entire Pacific Ocean at 1440 miles per zone. From the Battle of Coronel off the coast of Chile to the Siege of Tsingtao in China, this game elegantly captures the sweep of a forgotten chapter in the history of World War I.
22" x 17" mapsheet

96 counters


12-page rulebook

Tracking Display Sheet


Player Aid Card & Order of Battle Sheet


You will need 2 six-sided dice
Specials on Wargame Vault