In addition to the most recent news from Wargame Vault subscribers to our newsletter also receive the latest in freebies, discounts offers, and featured reviews. You can sign up for our newsletter here!
Customer Newsletter for 10/21/2018

The world's largest wargame download store
Greetings Grognards!
With the recent availablity of low cost high quality 3D printers, they are now within reach of most wargamer's budgets, especially when you consider the low cost of figures and terrain after the initial printer purchase. Tom Tullis of Fat Dragon Games has a great Youtube video explaining everything you need to know about 3D printing HERE.
Well detailed 28mm figures for less than a dime? Terrain pieces under a dollar? You'd pay for that printer investment in no time! Now that 3D printers are becoming readily available, many of our publishers are now offering .stl files, the program code that 3D printers use to make objects. Featured here are just a few, but we have many more, just do a search for them.
Till next time, good gaming to everyone, and watch your flanks!
~ Steve
Stalingrad Univermag 1/300 scale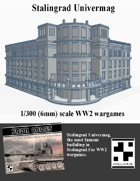 Extending our line of wargame buildings, we are bringing to your table the Stalingrad Univermag. Designed in 1/300 scale. One of Stalingrad's most famous buildings, it served as HQ of Von Paulus until the surrender on January 31, 1943. It can be used on your wargame table in the 1/300 scale or even for dioramas. When designing this model we had in mind you the wargame player who appreciates the Russian front. We sincerely hope you like it.
This stl contains 1 scale building for 3d printing.
Get to know our products!
World War Tesla: Macchi M.1000

THE ERA OF 3D PRINTABLE WARGAMES IS HERE!
World War Tesla™ is a 15mm scale alternate-history wargame by James M. Ward (author of TSR's Gamma World, Deities & Demigods, and Metamorphis Alpha) and Thomas A. Tullis, where Nikola Tesla's more radical ideas such as death rays and force fields have come to fruition, changing the face of a world at war. Giant walking tanks, soldiers with rocket-packs, and flying machines armed with death rays rule the battlefield!
World War Tesla™ is the forefront of print-at-home wargaming. Say goodbye to the days of spending massive amounts of money to even have a small army to play a wargame, with World War Tesla™ even the largest vehicle can be printed for less than a dollar. All 3D printer .stl files for vehicles, troops, accessories, and even some terrain are provided, so there is no limit on how large your armies grow.
This expansion set includes:
• Detailed WWT aircraft model, the Macchi M.1000
• Unit card & unit token
• Full aircraft rules
• Model assembly instruction manual
Anvil Class 400 ton starship

This is a basic 3D model for the Anvil class 400ton starship, either in civil/trader usage, or escort versions with inboard weapons.
Model complexity is suitable for tabletop miniature purposes, or a miniature starship display collection.
An iconic starship from the FSpaceRPG universe, but can be used with many other science fiction roleplaying games.
Generic Miniature Figure Bases

3D models (in STL format) for miniature figure based designed for home 3D printing on standard Fused Deposition Modelling (FDM) printers.
This is the set of miniature figure bases is intended as a 3D printed direct alternative to industrial injection moulded bases. To achieve a suitable substitute for an injection moulded base these bases have open/hollow backs to the degree to which that is possible without requiring the inclusion of additional support material when printing.
An attempt has been made to include every size and shape of base that is available as an injection moulded base for 28mm figures, including the largest ones (84 distinct size/shape permutations). All of those sizes/shapes are included in three patterns: 1. A plain base pattern with an upper lip, 2. A randomly textured base pattern with an upper lip, 3. A randomly textured pattern without a lip. In addition all of the bases of square, round, hexagonal and octagonal shape with a size of 40mm or less is included in an additional slotted version, with another second slotted version of square and hexagonal bases with the slot rotated by 45 degrees.
In principle this set of bases should make it unnecessary to purchase any more standard injection moulded miniature figure bases for mounting 28mm figures, and means that the time needed to acquire a base is only the time it will take to print it, as opposed to waiting for a mail-order delivery to work its way across the country (or around the world).
The distribution ZIP file contains 351 STL files, 351 PNG image files and 1 PDF document (240MB zip, Uses 900MB disk space when uncompressed).
Specials on Wargame Vault