Follow Your Favorites!

Sign in
to get custom notifications of new products!
Featured Product
Great War Salvo! 3rd ed.
by Minden Games

Great War Salvo! 3rd ed. is a solitaire, tactical ship-vs-ship WWI naval wargame. GWS! emphasizes historicity and playability, with warships rated in a variety of categories. New edition has 1/6000 scale warship counters from a dozen national navies, allowing for almost unlimited historical or hypothetical encounters on the high seas.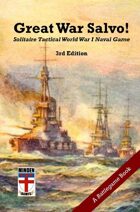 | Products found in this section... | Sort by: |
| --- | --- |
| | | |
| --- | --- | --- |
| Title | Publisher ▲ | Price |
| Welcome to the "Sails & Powder: Cape Finisterre" - expansion to the game "Sails & Powder: Trafalgar 1805". This expansion replaying part of Trafalgar Campaign - battle of Cape Finisterre (22 July 1805) where British fleet under Admiral Robert Calder fought an indecisive naval battle against the combined Franco-Spanish fleet returning... [click here for more] | 3SIXES | $4.00 |
| No. 02 in the 7 KickAss Games - Master Gamers Collection - Ultimate Driver 300! Revel in the glory of your win, as you know your are the Ultimate racing champion, the "Ultimate Driver 300!". Revel in the glory of your win, as you know your are the ultimate racing champion, the "Ultimate Driver" and that you have out-played, out-raced, out-smarted your opponents in the... [click here for more] | 7 KickAss Games | $9.99 $4.99 |
| A complete tabletop game of football, lasting between 10 and 20 minutes per match. Features tackling, fouls, penalties, throw-ins, passing, team selection, defenders, strikes, midfielders, loose balls, kicking upfield, corners. ... [click here for more] | AGEMA | $11.18 $1.86 |
| Scramble for Empire is a global wargames campaign. There are three basic types of player position. The main type is that of a nation, which you lead. These have strong ties to historical powers of the Imperialist Victorian age, so for example Britannia is Great Britain, Franconia is France, Germania is Germany, and so forth. The game is designed to allow us to have all the dramatic and exciting... [click here for more] | AGEMA | $9.92 $3.71 |
| This is the latest full colour 7th edition version of the core game rules! The Glory of Kings is a recreation of the real world of the 18th century. You subscribe to it like you would a magazine, and take part as one of the leading figures of the time, who can range from King Louis XIV, the Sun King of Royal France, down to the likes of the infamous pirate Blackbeard terrorising the West Indies.... [click here for more] | AGEMA | $9.92 $4.95 |
| Trauma Case Inbound is a game portraying an unusually hectic day at a hospital's emergency department. Its level of realism lies between that of actual medical procedures and emergency medicine as depicted in movies/television shows. Players will need to assign their limited numbers of doctors, nurses, and equipment based on available information on incoming patients, and personnel fatigue is... [click here for more] | AstroNavis & NeoNavis | $5.95 |
| Viking Waves takes place in the areas raided and conquered by the Norwegian and Danish Vikings during the early Viking Age. It's a game primarily for two players, though limited solitaire play is also possible. The various Viking chieftains rarely fought each other directly, so players compete indirectly. The game is divided into three phases, each of which involves dozens of raids/attacks... [click here for more] | AstroNavis & NeoNavis | $6.95 |
| Familia Gladiatoria is a miniatures game of Roman gladiatorial combat. It presents a simple yet subtle system for representing hand-to-hand combat in the arena. Movement is hex based--so the game is scale agnostic. Players need to supply figures, a hex board and six sided dice. Actions are card driven to allow simultaneous efforts and keep all players equally involved. The challenge is... [click here for more] | Autodidact-O-Saurus | Pay What You Want |
| Saloon Fights is a game of barroom brawls the way they really were in the western movies. Saloon Fight the first in a series of games to cover Hollywood's version of life in the Old West. We hope you have as much fun playing it as we had designing it.<o:p></o:p> Features<o:p></o:p> Full color PDF with Bookmarks<o:p></o:p> A printer friendly... [click here for more] | Avalon Game Company | $5.99 $4.49 |
| A NEW SERIES : NORMANDY 44 for all WW2 Skirmish Games rules This Series will include the Norman bocage ( bank, hedges , fields, tracks, paths , hamlets, villages, ruins,.....) for represent the fights after the landing of june 6th, 1944 in Normandy, ( American and British Sectors ) But these Maps can be usable for all the Battles in France... [click here for more] | BATTLESPROJECT MAPS | $12.00 |
| A NEW SERIES : NORMANDY 44 for all WW2 Skirmish Games rules This Series will include the Norman bocage ( bank, hedges , fields, tracks, paths , hamlets, villages, ruins,.....) for represent the fights after the landing of june 6th, 1944 in Normandy, ( American and British Sectors ) But these Maps can be usable for all the Battles in France... [click here for more] | BATTLESPROJECT MAPS | $10.00 |
| A NEW SERIES : NORMANDY 44 for all WW2 Skirmish Games rules This Series will include the Norman bocage ( bank, hedges , fields, tracks, paths , hamlets, villages, ruins,.....) for represent the fights after the landing of june 6th, 1944 in Normandy, ( American and British Sectors ) But these Maps can be usable for all the Battles in France... [click here for more] | BATTLESPROJECT MAPS | $10.00 |
| A NEW SERIES : NORMANDY 44 for all WW2 Skirmish Games rules This Series will include the Norman bocage ( bank, hedges , fields, tracks, paths , hamlets, villages, ruins,.....) for represent the fights after the landing of june 6th, 1944 in Normandy, ( American and British Sectors ) But these Maps can be usable for all the Battles in France... [click here for more] | BATTLESPROJECT MAPS | $10.00 |
| A NEW SERIES : NORMANDY 44 for all WW2 Skirmish Games rules This Series will include the Norman bocage ( bank, hedges , fields, tracks, paths , hamlets, villages, ruins,.....) for represent the fights after the landing of june 6th, 1944 in Normandy, ( American and British Sectors ) But these Maps can be usable for all the Battles in France 1944/45 and... [click here for more] | BATTLESPROJECT MAPS | $2.60 |
| A NEW SERIES : NORMANDY 44 for all WW2 Skirmish Games rules This Series will include the Norman bocage ( bank, hedges , fields, tracks, paths , hamlets, villages, ruins,.....) for represent the fights after the landing of june 6th, 1944 in Normandy, ( American and British Sectors ) But these Maps can be usable for all the Battles in France 1944/45 and... [click here for more] | BATTLESPROJECT MAPS | $2.60 |
| A NEW SERIES : NORMANDY 44 for all WW2 Skirmish Games rules This Series will include the Norman bocage ( bank, hedges , fields, tracks, paths , hamlets, villages, ruins,.....) for represent the fights after the landing of june 6th, 1944 in Normandy, ( American and British Sectors ) But these Maps can be usable for all the Battles in France 1944/45... [click here for more] | BATTLESPROJECT MAPS | $2.60 |
| A NEW SERIES : NORMANDY 44 for all WW2 Skirmish Games rules This Series will include the Norman bocage ( bank, hedges , fields, tracks, paths , hamlets, villages, ruins,.....) for represent the fights after the landing of june 6th, 1944 in Normandy, ( American and British Sectors ) But these Maps can be usable for all the Battles... [click here for more] | BATTLESPROJECT MAPS | $6.00 |
| A NEW SERIES : NORMANDY 44 for all WW2 Skirmish Games rules This Series will include the Norman bocage ( bank, hedges , fields, tracks, paths , hamlets, villages, ruins,.....) for represent the fights after the landing of june 6th, 1944 in Normandy, ( American and British Sectors ) But these Maps can be usable for all the Battles... [click here for more] | BATTLESPROJECT MAPS | $8.00 |
| A NEW SERIES : NORMANDY 44 for all WW2 Skirmish Games rules This Series will include the Norman bocage ( bank, hedges , fields, tracks, paths , hamlets, villages, ruins,.....) for represent the fights after the landing of june 6th, 1944 in Normandy, ( American and British Sectors ) But these Maps can be usable for all the Battles in France 1944/45 and... [click here for more] | BATTLESPROJECT MAPS | $2.60 |
| A NEW SERIES : NORMANDY 44 for all WW2 Skirmish Games rules This Series will include the Norman bocage ( bank, hedges , fields, tracks, paths , hamlets, villages, ruins,.....) for represent the fights after the landing of june 6th, 1944 in Normandy, ( American and British Sectors ) But these Maps can be usable for all the Battles in France 1944/45 and... [click here for more] | BATTLESPROJECT MAPS | $2.60 |
| A NEW SERIES : NORMANDY 44 for all WW2 Skirmish Games rules This Series will include the Norman bocage ( bank, hedges , fields, tracks, paths , hamlets, villages, ruins,.....) for represent the fights after the landing of june 6th, 1944 in Normandy, ( American and British Sectors ) But these Maps can be usable for all the Battles in France 1944/45 and... [click here for more] | BATTLESPROJECT MAPS | $2.60 |
| A NEW SERIES : NORMANDY 44 for all WW2 Skirmish Games rules This Series will include the Norman bocage ( bank, hedges , fields, tracks, paths , hamlets, villages, ruins,.....) for represent the fights after the landing of june 6th, 1944 in Normandy, ( American and British Sectors ) But these Maps can be usable for all the Battles in France... [click here for more] | BATTLESPROJECT MAPS | $10.00 |
| A NEW Series : BUSH WARS Maps for scenarios taking place in Africa in particular for Bush Wars ( Angola , Rodhesia, ....) But... [click here for more] | BATTLESPROJECT MAPS | $1.00 |
| A NEW Series : BUSH WARS Maps for scenarios taking place in Africa in particular for Bush Wars ( Angola , Rodhesia, ....) But also for all Africa wars ( Somalia, Chad, Mali,....) Bush Farm : four geomorphic maps BW... [click here for more] | BATTLESPROJECT MAPS | $8.00 |
| A NEW Series : BUSH WARS Maps for scenarios taking place in Africa in particular for Bush Wars ( Angola , Rodhesia, ....) But also for all Africa wars ( Somalia, Chad, Mali,....) Bush... [click here for more] | BATTLESPROJECT MAPS | $3.00 |
| A NEW Series : BUSH WARS Maps for scenarios taking place in Africa in particular for Bush Wars ( Angola , Rodhesia, ....) But also for all Africa wars ( Somalia, Chad, Mali,....) Bush... [click here for more] | BATTLESPROJECT MAPS | $3.00 |
| A NEW Series : BUSH WARS Maps for scenarios taking place in Africa in particular for Bush Wars ( Angola , Rodhesia, ....) But also for all Africa wars ( Somalia, Chad, Mali,....) ... [click here for more] | BATTLESPROJECT MAPS | $3.00 |
| A NEW Series : BUSH WARS Maps for scenarios taking place in Africa in particular for Bush Wars ( Angola , Rodhesia, ....) But also for all Africa wars ( Somalia, Chad, Mali,....) ... [click here for more] | BATTLESPROJECT MAPS | $3.00 |
| A NEW Series : BUSH WARS Maps for scenarios taking place in Africa in particular for Bush Wars ( Angola , Rodhesia, ....) But also for all Africa wars ( Somalia, Chad, Mali,....) Bush : one geomorphic map BW 02 A - 4 sheets format A4 for the map, 300 DPI, 100% print... [click here for more] | BATTLESPROJECT MAPS | $2.00 |
| A NEW Series : BUSH WARS Maps for scenarios taking place in Africa in particular for Bush Wars ( Angola , Rodhesia, ....) But also for all Africa wars ( Somalia, Chad, Mali,....) Bush : one geomorphic map BW 02 B - 4 sheets format A4 for the map, 300 DPI, 100% print... [click here for more] | BATTLESPROJECT MAPS | $2.00 |
| A NEW Series : BUSH WARS Maps for scenarios taking place in Africa in particular for Bush Wars ( Angola , Rodhesia, ....) But also for all Africa wars ( Somalia, Chad, Mali,....) Bush : one geomorphic map BW 02 C - 4 sheets format A4 for the map, 300 DPI, 100%... [click here for more] | BATTLESPROJECT MAPS | $2.00 |
| A NEW Series : BUSH WARS Maps for scenarios taking place in Africa in particular for Bush Wars ( Angola , Rodhesia, ....) But also for all Africa wars ( Somalia, Chad, Mali,....) Bush : one geomorphic map BW 02 D - 4 sheets format... [click here for more] | BATTLESPROJECT MAPS | $2.00 |
| A NEW Series : BUSH WARS Maps for scenarios taking place in Africa in particular for Bush Wars ( Angola , Rodhesia, ....) But also for all Africa wars ( Somalia, Chad, Mali,....) Bush : one geomorphic map BW 01 A - 4 sheets format A4 for the map, 300 DPI, 100% print... [click here for more] | BATTLESPROJECT MAPS | $2.00 |
| A NEW Series : BUSH WARS Maps for scenarios taking place in Africa in particular for Bush Wars ( Angola , Rodhesia, ....) But also for all Africa wars ( Somalia, Chad, Mali,....) Bush : one geomorphic map BW 01 B - 4 sheets format A4 for the map, 300 DPI, 100% print... [click here for more] | BATTLESPROJECT MAPS | $2.00 |
| A NEW Series : BUSH WARS Maps for scenarios taking place in Africa in particular for Bush Wars ( Angola , Rodhesia, ....) But also for all Africa wars ( Somalia, Chad, Mali,....) Bush : one geomorphic map BW 01 C - 4 sheets format A4 for the map, 300 DPI, 100% print... [click here for more] | BATTLESPROJECT MAPS | $2.00 |
| A NEW Series : BUSH WARS Maps for scenarios taking place in Africa in particular for Bush Wars ( Angola , Rodhesia, ....) But also for all Africa wars ( Somalia, Chad, Mali,....) Bush : one geomorphic map BW 01 D - 4 sheets format A4 for the map, 300 DPI, 100% print... [click here for more] | BATTLESPROJECT MAPS | $2.00 |
| A NEW Series : BUSH WARS Maps for scenarios taking place in Africa in particular for Bush Wars ( Angola , Rodhesia, ....) But also for all Africa wars ( Somalia, Chad, Mali,....) Bush : one geomorphic map BW 01 E - 4 sheets format A4 for the map, 300 DPI, 100% print... [click here for more] | BATTLESPROJECT MAPS | $2.00 |
| A NEW Series : BUSH WARS Maps for scenarios taking place in Africa in particular for Bush Wars ( Angola , Rodhesia, ....) But also for all Africa wars ( Somalia, Chad, Mali,....) Bush : one geomorphic map BW 01 F - 4 sheets format A4 for the map, 300 DPI, 100% print... [click here for more] | BATTLESPROJECT MAPS | $2.00 |
| A NEW Series : BUSH WARS Maps for scenarios taking place in Africa in particular for Bush Wars ( Angola , Rodhesia, ....) But also for all Africa wars ( Somalia, Chad, Mali,....) Bush : one geomorphic map BW 01 S - 4 sheets format A4 for the map, 300 DPI, 100%... [click here for more] | BATTLESPROJECT MAPS | $2.00 |
| A NEW Series : BUSH WARS Maps for scenarios taking place in Africa in particular for Bush Wars ( Angola , Rodhesia, ....) But also for all Africa wars ( Somalia, Chad, Mali,....) Bush : one geomorphic map BW 01 T - 4 sheets format A4 for the map, 300 DPI, 100% print... [click here for more] | BATTLESPROJECT MAPS | $2.00 |
| A NEW Series : BUSH WARS Maps for scenarios taking place in Africa in particular for Bush Wars ( Angola , Rodhesia, ....) But also for all Africa wars ( Somalia, Chad, Mali,....) Bush : one geomorphic map BW 01 U - 4 sheets format A4 for the map, 300 DPI, 100%... [click here for more] | BATTLESPROJECT MAPS | $2.00 |
| Geomorphic maps for all Modern Skirmish Games Rules. Afghanistan Serie 1 : Map AF07 A ( juxtaposable with Map AF07 B ) compatible with all Maps Afghanistan Serie 4 x sheets format A4 by map to print in 300 DPI. 1 map 30cm x 56.4 cm hexagons 25 mm grid Terrain type : Clear, ruin,... [click here for more] | BATTLESPROJECT MAPS | $2.00 |
| Geomorphic maps for all Modern Skirmish Games Rules. Afghanistan Serie 1 : Map AF07 B ( juxtaposable with Map AF07 A ) compatible with all Maps Afghanistan Serie 4 x sheets format A4 by map to print in 300 DPI. 1 map 30cm x 56.4 cm hexagons 25 mm grid Terrain type : Clear, ruin,... [click here for more] | BATTLESPROJECT MAPS | $2.00 |
| Geomorphic maps for all Modern Skirmish Games Rules. Afghanistan Serie 1 : Map AF07 C compatible with all Maps Afghanistan Serie 4 x sheets format A4 by map to print in 300 DPI. 1 map 30cm x 56.4 cm hexagons 25 mm grid Terrain type : compound , ruin , trees ... [click here for more] | BATTLESPROJECT MAPS | $2.00 |
| Geomorphic maps for all Modern Skirmish Games Rules. Afghanistan Serie 1 : Map AF07 F ( juxtaposable with map AF07 E ) compatible with allMaps Afghanistan Serie. 4 x sheets format A4 by map to print in 300 DPI. 1 map 30cm x 56.4 cm hexagons 25 mm grid Terrain type : Compounds,... [click here for more] | BATTLESPROJECT MAPS | $2.00 |
| Geomorphic maps for all Modern Skirmish Games Rules. Afghanistan Serie 1 : Map AF07 K ( juxtaposable with map AF07 L ) compatible with Maps Afghanistan Serie 2 4 x sheets format A4 by map to print in 300 DPI. 1 map 30cm x 56.4 cm hexagons 25 mm grid Terrain type : Compound, Field,... [click here for more] | BATTLESPROJECT MAPS | $2.00 |
| Geomorphic maps for all Modern Skirmish Games Rules. Afghanistan Serie 1 : Map AF07 L ( juxtaposable with map AF07 K ) compatible with all Maps Afghanistan Serie. 4 x sheets format A4 by map to print in 300 DPI. 1 map 30cm x 56.4 cm hexagons 25 mm grid Terrain type : Compound,... [click here for more] | BATTLESPROJECT MAPS | $2.00 |
| Geomorphic maps for all Modern Skirmish Games Rules. Afghanistan Serie : Map AF20 A ( juxtaposable with Map AF20 D ) Compatible with all Maps Afghanistan Serie. 4 x sheets format A4 by map to print in 300 DPI. 1 map 30cm x 56.4 cm hexagons 25 mm grid Terrain type : Compound with... [click here for more] | BATTLESPROJECT MAPS | $2.00 |
| Geomorphic maps for all Modern Skirmish Games Rules. Afghanistan Serie : Map AF20 D ( juxtaposable with Map AF20 A ) compatible with all Maps Afghanistan Serie. 4 x sheets format A4 by map to print in 300 DPI. 1 map 30cm x 56.4 cm hexagons 25 mm grid Terrain type : Compound with... [click here for more] | BATTLESPROJECT MAPS | $2.00 |
| Geomorphic maps for all Modern Skirmish Games Rules. Afghanistan Serie : Map AF20 E compatible with all Maps Afghanistan Serie. 4 x sheets format A4 by map to print in 300 DPI. 1 map 30cm x 56.4 cm hexagons 25 mm grid Terrain type : Compound , field, trees, wall it pise,.. ... [click here for more] | BATTLESPROJECT MAPS | $2.00 |