Follow Your Favorites!

Sign in
to get custom notifications of new products!
Featured Product
Red Menace (2nd Edition)
by Battlespace Games

Red Menace is a solitaire wargame of WWIII in 1959. The 2nd edition includes all new artwork for the map, counters, reference sheets, cards, and new rules, units, and scenarios.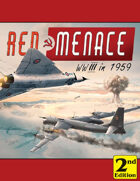 | Products found in this section... | Sort by: |
| --- | --- |
| | | |
| --- | --- | --- |
| Title ▲ | Publisher | Price |
| AIR27: Italian Air Force, July 1940, East Africa ... [click here for more] | MicroMark Army Lists | $1.39 |
| AIR28: Italian Air Force, August 1940-April 1941, East Africa ... [click here for more] | MicroMark Army Lists | $1.39 |
| AIR29: British RAF forces, Jan-June 1940, East Africa, Aden ... [click here for more] | MicroMark Army Lists | $1.45 |
| AIR3: French Air Force c1979 ... [click here for more] | MicroMark Army Lists | $1.39 |
| AIR30: Commonwealth air forces, July 1940, East Africa, Aden ... [click here for more] | MicroMark Army Lists | $1.39 |
| AIR31: Commonwealth air forces, August 1940, East Africa, Aden ... [click here for more] | MicroMark Army Lists | $1.39 |
| AIR32: Commonwealth air forces, September 1940, East Africa, Aden ... [click here for more] | MicroMark Army Lists | $1.39 |
| AIR33: Commonwealth air forces, October 1940, East Africa, Aden ... [click here for more] | MicroMark Army Lists | $1.39 |
| AIR34: Commonwealth air forces, November 1940, East Africa, Aden ... [click here for more] | MicroMark Army Lists | $1.39 |
| AIR35: Commonwealth air forces, December 1940, East Africa, Aden ... [click here for more] | MicroMark Army Lists | $1.39 |
| AIR36: Commonwealth air forces, Jan 1941, East Africa, Aden ... [click here for more] | MicroMark Army Lists | $1.39 |
| AIR37 Commonwealth Air Forces, February 1941, East Africa, Aden ... [click here for more] | MicroMark Army Lists | $1.39 |
| AIR38: Commonwealth air forces, March 1941, East Africa, Aden ... [click here for more] | MicroMark Army Lists | $1.39 |
| AIR39: Commonwealth air forces, April 1941, East Africa, Aden ... [click here for more] | MicroMark Army Lists | $1.39 |
| AIR4: Belgian Air Force, c1979, Europe ... [click here for more] | MicroMark Army Lists | $1.39 |
| AIR40: Commonwealth air forces, May 1941, East Africa, Aden ... [click here for more] | MicroMark Army Lists | $1.39 |
| AIR41 Commonwealth air forces, June-November 1941, East Africa, Aden ... [click here for more] | MicroMark Army Lists | $1.39 |
| AIR42: Royal Air Force in Iraq and area, April-May 1941 ... [click here for more] | MicroMark Army Lists | $1.39 |
| AIR43: Vichy French Air Forces, Syria 1941, Madagascar 1941-1942 ... [click here for more] | MicroMark Army Lists | $1.39 |
| AIR44: Commonwealth Air Forces, June 1941, Middle East (Invasion of Vichy Syria) ... [click here for more] | MicroMark Army Lists | $1.39 |
| AIR45 Commonwealth Air Forces, June 28th-July 1941, Middle East ... [click here for more] | MicroMark Army Lists | $1.39 |
| AIR46: Commonwealth Air Forces, Invasion of Madagascar, May-Sept 1942 ... [click here for more] | MicroMark Army Lists | $1.39 |
| AIR47: Danish Air Force 1911-1950s, Denmark ... [click here for more] | MicroMark Army Lists | $1.39 |
| AIR48: Danish Naval Air Forces, 1911-1941, Denmark ... [click here for more] | MicroMark Army Lists | $1.39 |
| AIR49: Danish Air Force 1958-1988, Denmark ... [click here for more] | MicroMark Army Lists | $1.39 |
| AIR5: British Royal Air Force c1979 ... [click here for more] | MicroMark Army Lists | $1.39 |
| AIR51: Norwegian Air Force, 1912-1940 (includes planned air forces 1933-1941) ... [click here for more] | MicroMark Army Lists | $1.39 |
| AIR52: Norwegian Air Force, 1941-1978 ... [click here for more] | MicroMark Army Lists | $1.39 |
| AIR53: Swedish Air Force, 1911-1938, Sweden ... [click here for more] | MicroMark Army Lists | $1.39 |
| AIR54: Belgian Air Force, 1940, Belgium ... [click here for more] | MicroMark Army Lists | $1.39 |
| AIR55: Egyptian Air Force, June 1967 (6-Day War) ... [click here for more] | MicroMark Army Lists | $1.39 |
| AIR56: Arab Air Forces, June 1967 (Syria, Jordan, Algeria, Lebanon, Iraq in 6-Day War) ... [click here for more] | MicroMark Army Lists | $1.39 |
| AIR57: Israeli Air Force, June 1967 (6-Day War) ... [click here for more] | MicroMark Army Lists | $1.39 |
| AIR58: Israeli Air Force, October 1973 (Yom Kippur War) ... [click here for more] | MicroMark Army Lists | $1.39 |
| AIR59A: Arab Air Forces, October 1973 (Egypt, Algeria, Syria, Iraq, Jordan in Yom Kippur War) (updated April 2011) ... [click here for more] | MicroMark Army Lists | $1.39 |
| AIR6: Eire (Southern Ireland) Army Air Corps 1976-1990 ... [click here for more] | MicroMark Army Lists | $1.39 |
| AIR60: Russian Air Forces, Caucasus, August 2008 (War with Georgia) ... [click here for more] | MicroMark Army Lists | $1.39 |
| AIR61: Air forces of the Baltic States, 1939, Estonia, Latvia, Lithuania ... [click here for more] | MicroMark Army Lists | $1.39 |
| AIR62V Egyptian Air Force, 1947-1955, Egypt (WW2.5 alternate history) ... [click here for more] | MicroMark Army Lists | $1.39 |
| AIR63: Guatemalan Air Force, 1912-1995 ... [click here for more] | MicroMark Army Lists | $1.39 |
| AIR64: Algerian Air Force, 1962-1988, Algeria ... [click here for more] | MicroMark Army Lists | $1.39 |
| AIR65: Saudi Arabian Air Force, Saudi Arabia, 1930-1973 Including 1967 and 1973 listings for what-if Saudi intervention in the Arab-Israeli wars. ... [click here for more] | MicroMark Army Lists | $1.39 |
| AIR66: Saudi Arabian Air Force, Saudi Arabia, 1974-1985 ... [click here for more] | MicroMark Army Lists | $1.39 |
| AIR67: Saudi Arabian Air Force, Saudi Arabia, 1986-1991 ... [click here for more] | MicroMark Army Lists | $1.39 |
| AIR68: Saudi Arabian Air Force, Saudi Arabia, 1992-1999 ... [click here for more] | MicroMark Army Lists | $1.39 |
| AIR69: Saudi Arabian Air Force, Saudi Arabia, 2000-2009 ... [click here for more] | MicroMark Army Lists | $1.39 |
| AIR7: Netherlands Air Force c1979 ... [click here for more] | MicroMark Army Lists | $1.39 |
| AIR70: Saudi Arabian Air Force, Saudi Arabia, 2010+ ... [click here for more] | MicroMark Army Lists | $1.39 |
| AIR71: Turkish Air Force, 1986-1990 OOB and aircraft types used by the Turkish air force towards the end of the Cold War. Includes notes on armament options. ... [click here for more] | MicroMark Army Lists | $1.17 $1.15 |
| AIR72: Singapore Air Force, 1968-1990 OOB and aircraft used by Singapore during the Cold War (includes RAF and RAAF detachments up to 1987). Includes notes on weapons carried. ... [click here for more] | MicroMark Army Lists | $1.17 $1.15 |