Follow Your Favorites!

Sign in
to get custom notifications of new products!
Featured Product
FiveCore Company Command
by Nordic Weasel Games

Step into the boots of a company commander anywhere in the 20th century.
Using the tested and simple rules of the FiveCore system, Company Commander lets you play company sized games in well under two hours.
Play campaigns, generate a random war to fight in and play a game with a turn sequence emphasizing hard choices and a combat system that tells you everything you need in one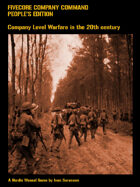 | Products found in this section... | Sort by: |
| --- | --- |
| | | |
| --- | --- | --- |
| Title | Publisher | Price ▲ |
| B83: British Cavalry Brigade, 1928-1932, all theatres ... [click here for more] | MicroMark Army Lists | $1.39 |
| B84: British Cavalry Brigade, 1932-1937, all theatres ... [click here for more] | MicroMark Army Lists | $1.39 |
| CH5: Chinese 7th Republican Army, 1921-1933, China ... [click here for more] | MicroMark Army Lists | $1.39 |
| CH55: Chinese Kuomintang Nationalist Infantry Regiment, 1924-1925, China ... [click here for more] | MicroMark Army Lists | $1.39 |
| CH56: Chinese Warlord Armies (1), Order of Battle, c1924, China ... [click here for more] | MicroMark Army Lists | $1.39 |
| CH57: Chinese Warlord Infantry Division, 1920-1928, China ... [click here for more] | MicroMark Army Lists | $1.39 |
| CH58: Chinese Warlord Mixed Brigade, 1920-1928, China ... [click here for more] | MicroMark Army Lists | $1.39 |
| CH59: Chinese Nationalist Kuomintang Infantry Division, June 1925-1927, China 1st, 2nd, 3rd Divisions of 1st Corps ... [click here for more] | MicroMark Army Lists | $1.39 |
| CH60: Chinese Warlord Armies (2), Chiu-Yueh-Chun Army Infantry Brigade and OOB, Canton, China One Warlord army that fought the Nationalists in 1925 ... [click here for more] | MicroMark Army Lists | $1.39 |
| CH61: Chinese Nationalist Army Order Of Battle (1), 1926, China ... [click here for more] | MicroMark Army Lists | $1.39 |
| CH62: Chinese Nationalist Army Order Of Battle (2), 1927, China additional units raised in 1927, in addition to those on List CH61. ... [click here for more] | MicroMark Army Lists | $1.39 |
| CH63X: Chinese planned Nationalist Infantry Army, 1928, China ... [click here for more] | MicroMark Army Lists | $1.39 |
| CH64: Chinese Nationalist Infantry Divisions Type A & B, 1929-1932, China ... [click here for more] | MicroMark Army Lists | $1.39 |
| CH65: Chinese Nationalist Infantry Division Type C, 1929-1932, China ... [click here for more] | MicroMark Army Lists | $1.39 |
| CH66: Chinese Nationalist Cavalry Brigade, 1929-1932, China ... [click here for more] | MicroMark Army Lists | $1.39 |
| CH67: Chinese Nationalist Marine Brigade, 1931-1936, China ... [click here for more] | MicroMark Army Lists | $1.39 |
| CH69: Chinese Communist Infantry Division, 1929-1933, China ... [click here for more] | MicroMark Army Lists | $1.39 |
| CH70: Chinese Communist Infantry Division, 1934-1937, China ... [click here for more] | MicroMark Army Lists | $1.39 |
| ER16: Irish Army, 1923, Eire ... [click here for more] | MicroMark Army Lists | $1.39 |
| ER16: Irish Army, 1923, Eire ... [click here for more] | MicroMark Army Lists | $1.39 |
| ER17: Irish Army, 1924-1926, Eire ... [click here for more] | MicroMark Army Lists | $1.39 |
| ER18: Irish Army, 1927-1929, Eire ... [click here for more] | MicroMark Army Lists | $1.39 |
| ER19: Irish Army, 1929-1930, Eire ... [click here for more] | MicroMark Army Lists | $1.39 |
| ER20: Irish Army, 1931-1932, Eire ... [click here for more] | MicroMark Army Lists | $1.39 |
| G57: German Light Division, 1938, Europe ... [click here for more] | MicroMark Army Lists | $1.41 |
| G85: German Panzer Division, 1936-1938, Europe ... [click here for more] | MicroMark Army Lists | $1.41 |
| IT1: Italian Armoured Brigade, 1938-March 1939, South Europe ... [click here for more] | MicroMark Army Lists | $1.41 |
| IT14: Italian Mechanised Brigade, 1937, Italy ... [click here for more] | MicroMark Army Lists | $1.41 |
| IT43: Italian Tank Regiment, 1927-1936, Italy ... [click here for more] | MicroMark Army Lists | $1.41 |
| LA1: Bolivian Infantry Division 1932-1935, Gran Chaco Wars ... [click here for more] | MicroMark Army Lists | $1.41 |
| LA2/3: Paraguayan Infantry Division, 1932-1935 Gran Chaco Wars ... [click here for more] | MicroMark Army Lists | $1.41 |
| N8: Norwegian Field Division, 1926-1933, Norway ... [click here for more] | MicroMark Army Lists | $1.41 |
| N9X: Norwegian planned Field Brigade, 1933-1939, Norway (includes Mechanised Cavalry) ... [click here for more] | MicroMark Army Lists | $1.41 |
| R289: Russian Heavy Tank Brigade, 1936-1938, Russia ... [click here for more] | MicroMark Army Lists | $1.41 |
| R94: Russian Infantry Division, 1930-1935, all theatres ... [click here for more] | MicroMark Army Lists | $1.41 |
| R95: Russian Infantry Division, 1936-1939, all theatres ... [click here for more] | MicroMark Army Lists | $1.41 |
| RR38: Armoured forces of Estonia, Latvia, Lithuania, 1920-1938 ... [click here for more] | MicroMark Army Lists | $1.41 |
| S1: Spanish Nationalist Tank Force, 1938-1939 Spanish Civil War ... [click here for more] | MicroMark Army Lists | $1.41 |
| S10: Spanish Army of Africa, 1934-1937, Morocco, Spain (Spanish Civil War Nationalists) ... [click here for more] | MicroMark Army Lists | $1.41 |
| S11: Spanish Militias, July-December 1936, Spain (Nationalist and Republican militias for the Spanish Civil War) ... [click here for more] | MicroMark Army Lists | $1.41 |
| S12: Spanish Republican Infantry Division, 1937-1939, Spain (Spanish Civil War) ... [click here for more] | MicroMark Army Lists | $1.41 |
| S13: Spanish Nationalist Infantry Division, mid 1937-1939, Spain (Spanish Civil War) ... [click here for more] | MicroMark Army Lists | $1.41 |
| S54: Spanish International Brigades, November 1936-October 1938, Republican Spain ... [click here for more] | MicroMark Army Lists | $1.41 |
| S7: Spanish Infantry Division, 1934-1936, Spain (Spanish Civil War) ... [click here for more] | MicroMark Army Lists | $1.41 |
| S8: Spanish Cavalry Division, 1934-1936, Spain (Spanish Civil War) ... [click here for more] | MicroMark Army Lists | $1.41 |
| S9: Spanish Mountain Brigade, 1934-1936, Spain (Spanish Civil War) ... [click here for more] | MicroMark Army Lists | $1.41 |
| By giving me a small amount, you support my work, so I can create more cheaper and better models. The model are designed for miniatures in scale 28-32mm (after scaling can be used with any other system) can be combined on a table with other terrain cardboard elements sci-fi, modern, ww2. Model can be used for table games battle, rpg. Model can be set on stands, alone or... [click here for more] | DarekPages | Pay What You Want |
| Complete instructions and plans for building a model of Entebbe airport that can be used with 28mm miniatures. Includes a full materials list and is illustrated throughout with photographs. ... [click here for more] | Matakishi's Tea House | $1.95 |
| Complete instructions for building a secret German base usable as a setting for World War Two and Pulp games with 28mm miniatures. Includes plans for a control tower, a hangar and accommodation huts as well as a comprehensive list of tools and materials. Fully illustrated with photographs. ... [click here for more] | Matakishi's Tea House | $1.95 |
| Complete instructions on how to build a 28mm farm complex from scratch. Lots of step-by-step photos, drawings and clear text will get you making your own scenery in no time. A perfect beginner's project to create a very versatile gaming setting with minimal materials costs. ... [click here for more] | Matakishi's Tea House | $1.95 |