Follow Your Favorites!

Sign in
to get custom notifications of new products!
Featured Product
Hammer of Democracy
by Nordic Weasel Games

WW2 wargaming at the tactical level but it's quick, to the point and takes combined arms warfare seriously?
And it's playable in almost any scale? We got you covered!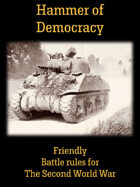 | Products found in this section... | Sort by: |
| --- | --- |
| | | |
| --- | --- | --- |
| Title ▲ | Publisher | Price |
| B181: British 79th Armoured Division, October 1943-July 1944, Europe The famous "Funnies" ... [click here for more] | MicroMark Army Lists | $1.39 |
| B182A/B183A British 79th Armoured Division, August-December 1944, NW Europe (double list) The famous Funnies, organisation of Kangeroos and LVTs updated Jan 2012 ... [click here for more] | MicroMark Army Lists | $2.60 |
| B184A/B185A British 79th Armoured Division, January-May 1945, NW Europe The famous Funnies, organisation of Kangeroos and LVTs updated Jan 2012 ... [click here for more] | MicroMark Army Lists | $2.60 |
| B186: British Guards Armoured Division, July 1944, France ... [click here for more] | MicroMark Army Lists | $1.39 |
| B187/B188 British Guards Armoured Division, August-October 1944, NW Europe ... [click here for more] | MicroMark Army Lists | $2.60 |
| B189/B190 British Guards Armoured Division, November 1944-May 1945, Europe (double list) ... [click here for more] | MicroMark Army Lists | $2.60 |
| B18 British Infantry Division, June 1941-1943, North Africa ... [click here for more] | MicroMark Army Lists | $1.39 |
| B19: British Armoured Div. April 1941-February 1942, North Africa, Greece (generic list) ... [click here for more] | MicroMark Army Lists | $1.39 |
| B192: British Royal Marine Force Sturges, May 1940, Iceland ... [click here for more] | MicroMark Army Lists | $1.39 |
| B193 British Alabaster Force, 49th Division, May-September 1940, Iceland ... [click here for more] | MicroMark Army Lists | $1.39 |
| B194/B195 British Alabaster Force, 49th Infantry Division, October 1940-1942, Iceland (double list) ... [click here for more] | MicroMark Army Lists | $2.60 |
| B196V: British Independent Armoured Brigade, 1946-1955, all theatres (WW2.5 alternate history) ... [click here for more] | MicroMark Army Lists | $1.39 |
| B197V: British Corps and Army Support, 1947-1955, all theatres (WW2.5 alternate history) ... [click here for more] | MicroMark Army Lists | $1.39 |
| B198: British 1st Infantry Tank Brigade, early 1940, France (as at the battle of Arras) ... [click here for more] | MicroMark Army Lists | $1.39 |
| B199: British Infantry Brigades, April-June 1940, Norway (includes Corps Support) ... [click here for more] | MicroMark Army Lists | $1.39 |
| B2: British Armoured Division, October 1944-May 1945, NW Europe (generic list, numbered divisional lists to follow) ... [click here for more] | MicroMark Army Lists | $1.39 |
| B20: British Armoured Division, March-July 1942, North Africa ... [click here for more] | MicroMark Army Lists | $1.39 |
| B200: British Parachute Brigade, 1941-1942, Britain ... [click here for more] | MicroMark Army Lists | $1.39 |
| B201: British 1st Airborne Division, 1942-May 1943, NW Europe ... [click here for more] | MicroMark Army Lists | $1.39 |
| B202: British Garrison, 1939-1940, Northern Ireland ... [click here for more] | MicroMark Army Lists | $1.74 $1.71 |
| B203: British 4th Light Armoured Brigade, July-August 1942, North Africa ... [click here for more] | MicroMark Army Lists | $1.74 $1.71 |
| B204: British 4th Light Armoured Brigade, October 1942, North Africa ... [click here for more] | MicroMark Army Lists | $1.74 $1.71 |
| B205: British 4th Light Armoured Brigade, November 1942, North Africa ... [click here for more] | MicroMark Army Lists | $1.74 $1.71 |
| B206: British 4th Light Armoured Brigade, December 1942-May 1943, North Africa ... [click here for more] | MicroMark Army Lists | $1.74 $1.71 |
| B207: British 1st Army Tank Brigade, October-December 1941, North Africa ... [click here for more] | MicroMark Army Lists | $1.74 $1.71 |
| B208: British 1st Army Tank Brigade, March-June 1942, North Africa ... [click here for more] | MicroMark Army Lists | $1.74 $1.71 |
| B209: British 32nd Tank Brigade, September-November 21st 1941, Tobruk, North Africa ... [click here for more] | MicroMark Army Lists | $1.74 $1.71 |
| B21 British Armoured Division, August 1942-May 1943, North Africa ... [click here for more] | MicroMark Army Lists | $1.39 |
| B210: British 32nd Tank Brigade, November 22nd-30th 1941, North Africa ... [click here for more] | MicroMark Army Lists | $1.74 $1.71 |
| B211: British 32nd Tank Brigade, May-June 1942, North Africa ... [click here for more] | MicroMark Army Lists | $1.74 $1.71 |
| B212: British 23rd Armoured Brigade, July-September 1942, North Africa ... [click here for more] | MicroMark Army Lists | $1.74 $1.71 |
| B213: British 23rd Armoured Brigade, September-November 1942, North Africa ... [click here for more] | MicroMark Army Lists | $1.74 $1.71 |
| B214: British 23rd Armoured Brigade, January-April 1943, Tunisia ... [click here for more] | MicroMark Army Lists | $1.74 $1.71 |
| B215: British 1st Parachute Brigade, November 1942-May 1943, Tunisia ... [click here for more] | MicroMark Army Lists | $1.74 $1.71 |
| B216: British Tobruk Garrison, November 1941, North Africa ... [click here for more] | MicroMark Army Lists | $1.74 $1.71 |
| B217: British 1st Airborne Division, July-August 1943, Sicily ... [click here for more] | MicroMark Army Lists | $1.74 $1.71 |
| B218: British Crete garrison, November 1940-April 1941, Crete ... [click here for more] | MicroMark Army Lists | $1.74 $1.71 |
| B219: British Crete Garrison (1) 2nd New Zealand Division, May 1941, Malame, Crete ... [click here for more] | MicroMark Army Lists | $1.74 $1.71 |
| B220: British Crete Garrison (2) Royal Marine MNBDO 1, May 1941, Suda Bay, Crete ... [click here for more] | MicroMark Army Lists | $1.74 $1.71 |
| B221: British 5th Airborne Brigade Group, July 1945-August 1946, India, Java, Malaya ... [click here for more] | MicroMark Army Lists | $1.74 $1.71 |
| B222: British 6th Independent Airborne Brigade Group, October 1945-October 1946, Japan (Occupation garrison force) ... [click here for more] | MicroMark Army Lists | $1.74 $1.71 |
| B225: British 6th Airborne Division, September 1945-April 1946, Palestine ... [click here for more] | MicroMark Army Lists | $1.74 $1.71 |
| B227: British Crete Garrison (3) 19th Australian Infantry Brigade & British 14th Infantry Brigade, May 1941, Retimo & Heraklion, Crete ... [click here for more] | MicroMark Army Lists | $1.74 $1.71 |
| B228: British 7th Armoured Brigade & Corps Support, February-May 1942, Burma ... [click here for more] | MicroMark Army Lists | $1.74 $1.71 |
| B229: British Hong Kong Garrison, 1939-1941, Hong Kong (includes Canadian battalions) ... [click here for more] | MicroMark Army Lists | $1.74 $1.71 |
| B22 British Corps & Army Support, August 1942-May 1943, North Africa ... [click here for more] | MicroMark Army Lists | $1.39 |
| B230: British Malaya & Singapore Forces OOB, January-February 1942, Malaya (double list) ... [click here for more] | MicroMark Army Lists | $2.02 |
| B238: British 31st Tank Brigade, June-August 1944, NW Europe ... [click here for more] | MicroMark Army Lists | $1.39 |
| B239: British 4th Armoured Brigade, February 1944-June 1945, Europe ... [click here for more] | MicroMark Army Lists | $1.39 |
| B23A British 4th Light Armoured Brigade, September 1942, North Africa ... [click here for more] | MicroMark Army Lists | $1.39 |