Follow Your Favorites!

Sign in
to get custom notifications of new products!

Featured Product
On Unknown Fields
by Nemo Lionikis

Deceive your enemy! Hide your maneuvers! Launch surprise attacks! In addition to nine scenarios for use with many American Civil War game systems, including "Fire & Fury", this book provides a proven fog-of-war rules system that adds a new dimension to your table-top game. 126 pages.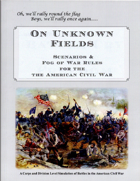 | Products found in this section... | Sort by: |
| --- | --- |
| | | |
| --- | --- | --- |
| Title | Publisher | Price |
| Grab a brace of pistols and strap on your cutlass, as you head for the desperate and blighted isles of the Triangle in pursuit of untold wealth and power! Decide who your hero is by equipping them with feats and influence, then recruit a ragged team of unsavoury ne'er-do-wells and do your best to bash them into something resembling an organized ccrew. Then take to the streets of Devil's Spit in a... [click here for more] | Precinct Omega Publishing | $9.42 |
| Altar of Freedom is a "big battle" game, where you step into the boots of an American Civil War corps or army general, commanding your army at the grand tactical level. The rules are designed to play the largest battles of the war, like Antietam or Chickamauga, in a single evening with multiple players. The smallest tactical unit is a brigade, and your task will be coordinating... [click here for more] | Greg Wagman | $15.00 |
| Special Ops is Multi-Man Publishing's magazine that provides coverage of MMP's line of products.  Each issue has multiple articles covering several of MMP's product lines as well as ASL/ASLSK scenarios. These are just the magazines, no game is included in the PDF version (only the physical print edition includes the game). Articles for this issue: INTERNATIONAL... [click here for more] | Multi-Man Publishing | $6.00 |
| Easy to build: This paper model kit is easy to assemble, requiring just cardstock paper sheets to print on (110 lb. or 199gsm recommended), scissors, hobby knife, paper glue, metal ruler and cutting mat. It may look complicated, but every part of the Country Brewery is simple to assemble on its own, and putting it together is just a matter of building up the simple shapes into the... [click here for more] | Dave Graffam Models | $6.95 $3.00 |
| Easy to build: This paper model kit is easy to assemble, requiring just cardstock paper sheets to print on (110 lb. or 199gsm recommended), scissors, hobby knife, paper glue, metal ruler and cutting mat. Assembly time is about an hour for the whole set. 15mm to 30mm scale: This model is designed at the popular 28mm-30mm gaming scale, and can be shrunk down to 15mm,... [click here for more] | Dave Graffam Models | $2.95 $1.00 |
| Can't find a tabletop wargame opponent? This easily-readable guide provides the tools needed to undertake tabletop wargame campaigns without the need for other players. The guidelines presented within are designed to supplement your favorite wargaming rules set (not included). They can be bent or twisted, even broken and reformed, to suit a wargamer's needs. Novices and veterans alike can employ... [click here for more] | Precis Intermedia | $6.95 |
| Special Ops is Multi-Man Publishing's magazine that provides coverage of MMP's line of products.  Each issue has multiple articles covering several of MMP's product lines as well as ASL/ASLSK scenarios. These are just the magazines, no game is included in the PDF version (only the physical print edition includes the game). Articles for this issue: PERHAPS... [click here for more] | Multi-Man Publishing | $6.00 |
| Easy to build: This paper model kit is easy to assemble, requiring just cardstock paper sheets to print on (110 lb. or 199gsm recommended), scissors, hobby knife, paper glue, aluminum ruler and cutting mat. Assembly time is about an hour. 15mm to 30mm scale: This model is designed at the popular 28mm-30mm gaming scale, and can be shrunk down to... [click here for more] | Dave Graffam Models | $2.95 $1.00 |
| Easy to build: This paper model kit is easy to assemble, requiring just cardstock paper sheets to print on (110 lb. or 199gsm recommended), scissors, hobby knife, paper glue, metal ruler and cutting mat. 15mm to 30mm scale: This model set is designed at the popular 28mm-30mm gaming scale, and can be shrunk down to 15mm, 20mm or 25mm scales by simply adjusting the... [click here for more] | Dave Graffam Models | $2.95 $1.00 |
| Easy to build: This paper model kit is easy to assemble, requiring just 8 cardstock paper sheets to print on (110 lb. or 199gsm recommended), scissors, hobby knife, paper glue, metal ruler and cutting mat. 15mm to 30mm scale: This model is designed at the popular 28mm-30mm gaming scale, and can be shrunk down to 15mm, 20mm or 25mm scales by simply adjusting the... [click here for more] | Dave Graffam Models | $4.95 $2.00 |
| All Quiet on the Potomac is the Eastern Theater scenario supplement for Altar of Freedom. This massive PDF covers every major battle fought in the east from 1861-1865. Each scenario has been carefully researched to include color maps and proper orders of battle for the armies. Historical scenarios include: First Manassas, Seven Pines, Gaines Mill, Glendale, Malvern... [click here for more] | Greg Wagman | $15.00 |
| Five Kilometers From Leipzig is a set of solo miniatures rules for black powder skirmish actions. Take a band of 6 trusted companions and slug it out with enemy military forces, guerrillas or native warbands. Suitable for the era from roughly 1700 to 1870, the rules allow you to play a campaign easily and quickly. Your characters will learn new skills, provided they survive the battle. ... [click here for more] | Nordic Weasel Games | Pay What You Want |
| Easy to build: This paper model kit is easy to assemble, requiring just cardstock paper sheets to print on (110 lb. or 199gsm recommended), scissors, hobby knife, paper glue, metal ruler and cutting mat. Optionally, you can use a piece of foamcore for the base. A fine-line ink marker is recommended for darkening the paper edges, and foamcore is recommended for the ground piece, and... [click here for more] | Dave Graffam Models | $4.95 $2.00 |
| Easy to build: This paper model kit is easy to assemble, requiring just 5 cardstock paper sheets to print on (110 lb. or 199gsm recommended), scissors, hobby knife, paper glue, metal ruler and cutting mat. 15mm to 30mm scale: This model is designed at the popular 28mm-30mm gaming scale, and can be shrunk down to 15mm, 20mm or 25mm scales by simply adjusting the... [click here for more] | Dave Graffam Models | $2.95 $1.00 |
| Easy to build: This paper model kit is easy to assemble, requiring just cardstock paper sheets to print on (110 lb. or 199gsm recommended), scissors, hobby knife, paper glue, aluminum ruler and cutting mat. Assembly time is about an hour. 15mm to 30mm scale: This model is designed at the popular 28mm-30mm gaming scale, and can be shrunk down to 15mm, 20mm or 25mm... [click here for more] | Dave Graffam Models | $1.95 $1.00 |
| Easy to build: This paper model kit is easy to assemble, requiring just 12 cardstock paper sheets to print on (110 lb. or 199gsm recommended), hobby knife, glue, metal ruler and cutting mat. 15mm to 30mm scale: This model is designed at the popular 28mm-30mm gaming scale, and can be shrunk down to 15mm, 20mm or 25mm scales by simply adjusting the print size percentage... [click here for more] | Dave Graffam Models | $4.95 $1.00 |
| Easy to build: This paper model kit is easy to assemble, requiring just 7 cardstock paper sheets to print on (110 lb. or 199gsm recommended), scissors, hobby knife, paper glue, metal ruler and cutting mat. 15mm to 30mm scale: This model is designed at the popular 28mm-30mm gaming scale, and can be shrunk down to 15mm, 20mm or 25mm scales by simply adjusting the... [click here for more] | Dave Graffam Models | $3.95 $2.00 |
| Easy to build: This paper terrain kit is easy to assemble, requiring just 15 cardstock paper sheets to print on (110 lb. or 199gsm recommended), hobby knife, glue, metal ruler and cutting mat. 15mm to 30mm scale: These models are designed at the popular 28mm-30mm gaming scale, and can be shrunk down to 15mm, 20mm or 25mm scales by simply adjusting the print size... [click here for more] | Dave Graffam Models | $2.95 $1.00 |
| Easy to build: This paper model kit is easy to assemble, requiring just 8 cardstock paper sheets to print on (110 lb. or 199gsm recommended), scissors, hobby knife, paper glue, metal ruler and cutting mat. Optionally, you can use a piece of foamcore for the base. 15mm to 30mm scale: This model is designed at the popular 28mm-30mm gaming scale, and can be shrunk... [click here for more] | Dave Graffam Models | $2.95 $1.00 |
| Easy to build: This paper model kit is easy to assemble, requiring just 13 cardstock paper sheets to print on (110 lb. or 199gsm recommended), scissors, hobby knife, paper glue, metal ruler and cutting mat. Optionally, you may use a piece of foamcore cut to 6" x 9" for the ground piece. 15mm to 30mm scale: This model is designed at the popular 28mm-30mm gaming scale,... [click here for more] | Dave Graffam Models | $4.95 $2.00 |
| Easy to build: This paper model kit is easy to assemble, requiring just cardstock paper sheets to print on (110 lb. or 199gsm recommended), scissors, hobby knife, paper glue, aluminum ruler and cutting mat. 15mm to 30mm scale: This model set is designed at the popular 28mm-30mm gaming scale, and can be shrunk down to 15mm, 20mm or 25mm scales by simply adjusting... [click here for more] | Dave Graffam Models | $3.95 $2.00 |
| Easy to build: This paper model kit is easy to assemble, requiring just 10 cardstock paper sheets to print on (110 lb. or 199gsm recommended), scissors, hobby knife, paper glue, metal ruler and cutting mat. 15mm to 30mm scale: This model is designed at the popular 28mm-30mm gaming scale, and can be shrunk down to 15mm, 20mm or 25mm scales by simply adjusting the... [click here for more] | Dave Graffam Models | $4.95 $2.00 |
| THE DEVIL'S TO PAY! The First Day at Gettysburg On the morning of July 1st, 1863 a column of Rebel soldiers from Brig. Gen. James Archer's brigade of the Army of Northern Virginia headed down the Chambersburg Pike from Cashtown, PA towards the town of Gettysburg in search of provisions. Since JEB Stuart's cavalry was nowhere to be found, the Confederate column was actually being led by the cannons... [click here for more] | Tiny Battle Publishing | $12.00 |
| Scenarios and Fog-of-War Rules for Battles of the American Civil War This book provides nine fictional scenarios and fog-of-war rules for the American Civil War for use with many game systems. The scenarios are for medium and large battles. What is a miniature wargame scenario? At least a map, orders of battle, initial deployments and a schedule of reinforcements. So any scenario should... [click here for more] | Nemo Lionikis | $9.99 |
| Smooth&Rifled is a game system designed to recreate skirmish games with 28, 20 or 15mm miniatures. It covers the period from approximately 1700 to approximately 1900. The French and Indian War, the American Revolution, the Napoleonic Wars, the American Civil War and the wars of the Colonial era are just some of the periods you can play with S&R. In the Appendix you will find all the information... [click here for more] | Dadi&Piombo | $11.99 |
| Easy to build: This paper model kit is easy to assemble, requiring just cardstock paper sheets to print on (110 lb. or 199gsm recommended), scissors, hobby knife, paper glue, metal ruler and cutting mat. 15mm to 30mm scale: This model is designed at the popular 28mm-30mm gaming scale, and can be shrunk down to 15mm, 20mm or 25mm scales by simply adjusting the print... [click here for more] | Dave Graffam Models | $3.95 $2.00 |
| Easy to build: This paper model kit is easy to assemble, requiring just 8 cardstock paper sheets to print on (110 lb. or 199gsm recommended), scissors, hobby knife, paper glue, metal ruler and cutting mat. 15mm to 30mm scale: This model is designed at the popular 28mm-30mm gaming scale, and can be shrunk down to 15mm, 20mm or 25mm scales by simply adjusting the... [click here for more] | Dave Graffam Models | $3.95 $2.00 |
| Easy to build: This paper model kit is easy to assemble, requiring just cardstock paper sheets to print on (110 lb. or 199gsm recommended), scissors, hobby knife, paper glue, metal ruler and cutting mat. 15mm to 30mm scale: This model is designed at the popular 28mm-30mm gaming scale, and can be shrunk down to 15mm, 20mm or 25mm scales by simply adjusting the print... [click here for more] | Dave Graffam Models | $2.95 $1.00 |
| Easy to build: This paper model kit is easy to assemble, requiring just 13 cardstock paper sheets to print on (110 lb. or 199gsm recommended), scissors, hobby knife, paper glue, metal ruler and cutting mat. Optionally, you may use a piece of foamcore cut to 6" x 9" for the ground piece. 15mm to 30mm scale: This model is designed at the popular 28mm-30mm gaming scale,... [click here for more] | Dave Graffam Models | $3.95 $2.00 |
| Easy to build: This paper model kit is easy to assemble, requiring just 4 to 5 cardstock paper sheets to print on (110 lb. or 199gsm recommended), scissors, hobby knife, paper glue, aluminum ruler and cutting mat. Assembly time is about an hour. 15mm to 30mm scale: This model is designed at the popular 28mm-30mm gaming scale, and can be shrunk down to 15mm, 20mm... [click here for more] | Dave Graffam Models | $3.95 $2.00 |
| Atlanta is Ours is the Western Theater scenario supplement for Altar of Freedom. This massive PDF covers every major battle fought in the west from 1862-1865. Each scenario has been carefully researched to include color maps and proper orders of battle for the armies. Historical scenarios include: Fort Donelson, Pea Ridge, Shiloh, Corinth, Perryville, Stones River,... [click here for more] | Greg Wagman | $15.00 |
| Easy to build: This paper model kit is easy to assemble, requiring just cardstock paper sheets to print on (110 lb. or 199gsm recommended), scissors, hobby knife, paper glue, aluminum ruler and cutting mat. Optionally, you may also use foamcore. 15mm to 30mm scale: This paper terrain is designed at the popular 28mm-30mm gaming scale, and can be shrunk down to 15mm,... [click here for more] | Dave Graffam Models | $3.95 $1.00 |
| Easy to build: This paper model kit is easy to assemble, requiring just 5 cardstock paper sheets to print on (110 lb. or 199gsm recommended), scissors, hobby knife, paper glue, metal ruler and cutting mat. Optionally, you can use a piece of foamcore for the base. 15mm to 30mm scale: This model is designed at the popular 28mm-30mm gaming scale, and can be shrunk... [click here for more] | Dave Graffam Models | $2.95 $1.00 |
| Easy to build: This paper terrain kit is easy to assemble, requiring just 6 cardstock paper sheets to print on (110 lb. or 199gsm recommended), scissors, hobby knife, paper glue, metal ruler and cutting mat. Optionally, you may make use of other common hobby tools for even better results. Full instructions are included. 10mm to 30mm scale: This model is designed... [click here for more] | Dave Graffam Models | $2.95 $1.00 |
| Easy to build: This paper model kit is easy to assemble, requiring just 6 or 7 cardstock paper sheets to print on (110 lb. or 199gsm matte stock recommended), scissors, hobby knife, paper glue, metal ruler and cutting mat. For better results, a foamcore base can be used. 15mm to 30mm scale: This model is designed at the popular 28mm-30mm gaming scale, and can be... [click here for more] | Dave Graffam Models | $4.95 $2.00 |
| Rifled Empires is a wargame for those megalomaniacs who want to refight the biggest battles of the nineteenth century – now Solferino, Gettysburg and Mukden are all within your grasp! The author's group have played battles of up to 12 divisions in 2 hours. The game's activation system is simple but pushes decisions on players in every round, providing realistic results in reasonable... [click here for more] | Morningstar Productions | $5.00 |
| Easy to build: This paper model kit is easy to assemble, requiring just 5 cardstock paper sheets to print on (110 lb. or 199gsm recommended), scissors, hobby knife, paper glue, metal ruler and cutting mat.Optionally, you may also use a piece of foamcore for the base, and make use of other common hobby tools for even better results. Full instructions are included. 15mm to... [click here for more] | Dave Graffam Models | $3.95 $2.00 |
| This paper model kit is easy to assemble, requiring just 10 cardstock paper sheets to print on (110 lb. or 199gsm recommended), scissors, hobby knife, paper glue, metal ruler and cutting mat. Optionally, you can use a piece of foamcore for the base. This model is designed at the popular 28mm-30mm gaming scale, and can be shrunk down to 15mm, 20mm or 25mm scales by simply adjusting the print... [click here for more] | Dave Graffam Models | $3.95 $2.00 |
| Easy to build: This paper model kit is easy to assemble, requiring just 3 cardstock paper sheets to print on (110 lb. or 199gsm recommended), scissors, hobby knife, paper glue, metal ruler and cutting mat. 15mm to 30mm scale: This model is designed at the popular 28mm-30mm gaming scale, and can be shrunk down to 15mm, 20mm or 25mm scales by simply adjusting the... [click here for more] | Dave Graffam Models | $1.95 $1.00 |
| Three 'print and mount your own ' sets of ACW wargaming armies on bases which accommodate various current base conventions (1"/ 25mm frontage,  40mm frontage - larger figures, and 40mm x 40mm mutiple small figures). Each set includes bases for :  Infantry (various uniforms), Zoaves, irregular foot, howitzer, Heavy Gun, light gun, cavalry, horse holders, dismounted cavalry, limbers, wagons, generals,... [click here for more] | Geoff Curran | $12.67 $5.43 |
| Easy to build: This paper model kit is easy to assemble, requiring just 9 cardstock paper sheets to print on (110 lb. or 199gsm recommended), scissors, hobby knife, paper glue, metal ruler and cutting mat.Optionally, you may also use a piece of foamcore for the base, and make use of other common hobby tools for even better results. Full instructions are included. 15mm to... [click here for more] | Dave Graffam Models | $3.95 $2.00 |
| Easy to build: This paper model kit is easy to assemble, requiring just 5 cardstock paper sheets to print on (110 lb. or 199gsm recommended), scissors, hobby knife, paper glue, metal ruler and cutting mat. Optionally, you can use a piece of foamcore for the base. 15mm to 30mm scale: This model is designed at the popular 28mm-30mm gaming scale, and can be shrunk... [click here for more] | Dave Graffam Models | $2.95 $1.00 |
| "Sire, the reinforcements have arrived on our left flank!" "Excellent Windsor, let's give these French degenerates what for" "But Sire, their uniforms... " "What about their uniforms?" "They look... well Sire, I swear they look like Austrians" "By God man, if they are shooting at the French, what does it matter what they look like?" We all... [click here for more] | Nordic Weasel Games | $12.99 |
| Easy to build: This paper model kit is easy to assemble, requiring just 5 cardstock paper sheets to print on (110 lb. or 199gsm recommended), scissors, hobby knife, paper glue, metal ruler and cutting mat. Optionally, you can use a piece of foamcore for the base. 15mm to 30mm scale: This model is designed at the popular 28mm-30mm gaming scale, and can be shrunk... [click here for more] | Dave Graffam Models | $2.95 $1.00 |
| Easy to build: This paper model kit is easy to assemble, requiring just cardstock paper sheets to print on (110 lb. or 199gsm recommended), scissors, hobby knife, paper glue, aluminum ruler and cutting mat. 15mm to 30mm scale: These models are designed at the popular 28mm-30mm gaming scale, and can be shrunk down to 15mm, 20mm or 25mm scales by simply adjusting... [click here for more] | Dave Graffam Models | $2.95 $1.00 |
| Easy to build: This paper tile set is easy to create, requiring just cardstock paper sheets to print on (110 lb. or 199gsm recommended), scissors, hobby knife, aluminum ruler and cutting mat. For sturdier tiles, use foamcore and spray glue. 15mm to 30mm scale: These tiles are designed with a 1" grid to be used at the popular 28mm-30mm gaming scale, and can be shrunk... [click here for more] | Dave Graffam Models | $2.95 $1.00 |
| Second wave of 6mm building sets, enough to create a small town.This set contains 20 buildings with 3-story  2-story  and single-story houses.  This set also contains ground texture set for your buildings.  Check the previews!!! ... [click here for more] | IliadaGameStudio | $3.00 $2.50 |
| Morningstar's Tactical Two Pager games are a series of simple but engaging games filled with fun and flavour. Each one takes up only two sides of easy-to-print A4, eliminating the need for a quick reference sheet and providing our players with a cheap source of entertainment. Midst Battle's Din is a skirmish game for 10-50 models a side, designed for the period 1745-1856. Recreate the battles... [click here for more] | Morningstar Productions | $5.00 |
| Easy to build: This paper tile set is easy to create, requiring just cardstock paper sheets to print on (110 lb. or 199gsm recommended), scissors, hobby knife, aluminum ruler and cutting mat. For sturdier tiles, use foamcore and spray glue. 15mm to 30mm scale: These tiles are designed with a 1" grid to be used at the popular 28mm-30mm gaming scale, and can be shrunk... [click here for more] | Dave Graffam Models | $2.95 $1.00 |
| Easy to build: This paper model kit is easy to assemble, requiring just cardstock paper sheets to print on (110 lb. or 199gsm recommended), scissors, hobby knife, paper glue, metal ruler and cutting mat. It may look complicated, but every part of the Library is simple to assemble on its own, and putting it together is just a matter of building up the simple shapes into the complete... [click here for more] | Dave Graffam Models | $6.95 $3.00 |