Follow Your Favorites!

Sign in
to get custom notifications of new products!
Featured Product
Austerlitz 05
by Lumaca Games

This Solitaire or two players block game is awaiting for your challenge! Will you manage to crush the Coalition Armies on the hillls of Austerlitz or the newborn French Empire will die in his cradle? The Three Emperors battle is for you!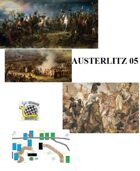 | Products found in this section... | Sort by: |
| --- | --- |
| | | |
| --- | --- | --- |
| Title | Publisher | Price |
| PANZERSCHRECK #17 (Fall 2020) is a wargames magazine that contains three complete games in this 88-page full-color issue, in addition to hobby articles and thumbnail game reviews.  DER TAG, 1916 (solitaire strategic level WWI naval), BATTLE OVER DUNKIRK (tactical two-player WW2 aerial combat card game), and NAPOLEON... [click here for more] | Minden Games | $21.95 $18.95 |
| Bonaparte is wargame system to land battles in the Napoleonic Wars on 6mm to 20mm scale. The basic fighting unit is a company or a battery of artilley. These are grouped into battalions. Turns are performed by alternate activation of battalions, with the quality of the commanders determining some issues. Basic unit types are; infantry, cavalry, artillery and special units (General, Officer, Banner,... [click here for more] | Wargame Brasil | $3.50 |
| Five Kilometers From Leipzig is a set of solo miniatures rules for black powder skirmish actions. Take a band of 6 trusted companions and slug it out with enemy military forces, guerrillas or native warbands. Suitable for the era from roughly 1700 to 1870, the rules allow you to play a campaign easily and quickly. Your characters will learn new skills, provided they survive the battle.... [click here for more] | Nordic Weasel Games | Pay What You Want |
| "There are only two forces in the World, the sword and the spirit. In the long run the sword will always be conquered by the spirit." - Napoleon Bonaparte Rifles in the Peninsula is the third game of Gottardo Zancani's solitaire RIFLES series, which also includes Rifles in the Pacific and Rifles in the Ardennes. The focus of this new title is on the Napoleonic Wars (1799-1815). Rifles... [click here for more] | Tiny Battle Publishing | $12.00 |
| War of 1812 - Andrew Jackson's war is the third and final of our three low complexity hex and counter wargames covering the major battles of the war between Imperial Great Britain and the still young republic of the United States of America. This set contains everything needed to play the 12 scenarios for the Red Stick Creek War and the New Orleans campaign. The battles covered are :  Autossee,... [click here for more] | Fastplay Wargames | $7.50 |
| This paper model kit is easy to assemble, requiring just cardstock paper sheets to print on (110 lb. or 199gsm recommended), scissors, hobby knife, paper glue, metal ruler and cutting mat. It may look complicated, but every part of the Country Brewery is simple to assemble on its own, and putting it together is just a matter of building up the simple shapes into the complete structure you... [click here for more] | Dave Graffam Models | $6.95 |
| This paper model kit is easy to assemble, requiring just cardstock paper sheets to print on (110 lb. or 199gsm recommended), scissors, hobby knife, paper glue, aluminum ruler and cutting mat. Assembly time is about an hour for the whole set. This model is designed at the popular 28mm-30mm gaming scale, and can be shrunk down to 15mm, 20mm or 25mm scales by simply adjusting the print... [click here for more] | Dave Graffam Models | $2.95 |
| Can't find a tabletop wargame opponent? This easily-readable guide provides the tools needed to undertake tabletop wargame campaigns without the need for other players. The guidelines presented within are designed to supplement your favorite wargaming rules set (not included). They can be bent or twisted, even broken and reformed, to suit a wargamer's needs. Novices and veterans alike can employ... [click here for more] | Precis Intermedia | $6.95 |
| War of 1812 - the Early Battles is the first of three low complexity hex and counter wargames covering the major battles of the war between Imperial Great Britain and the still young republic of the United States of America. This set contains everything needed to play the 14 battle scenarios for the period from the start of fighting in 1812 until mid 1813. The battles covered are : Beaver Dams, Brownstown,... [click here for more] | Fastplay Wargames | $7.50 |
| This paper model kit is easy to assemble, requiring just cardstock paper sheets to print on (110 lb. or 199gsm recommended), scissors, hobby knife, paper glue, metal ruler and cutting mat. This model set is designed at the popular 28mm-30mm gaming scale, and can be shrunk down to 15mm, 20mm or 25mm scales by simply adjusting the print size percentage on your printer. Tips and advice... [click here for more] | Dave Graffam Models | $2.95 |
| This paper model is easy to assemble, requiring just cardstock sheets to print on (110# or 199gsm cardstock recommended), scissors, hobby knife and ordinary glue. Included are tips and advice for printing at various popular gaming and model railroad scales. One of the great things about papercraft models is that they can be printed at any popular gaming scale quite easily, so this model can be... [click here for more] | Dave Graffam Models | $4.95 |
| This paper model kit is easy to assemble, requiring just 18 cardstock paper sheets to print on (110 lb. or 199gsm recommended), scissors, hobby knife, paper glue, metal ruler and cutting mat. Optionally, you can use a piece of foamcore for the base. This model is designed at the popular 28mm-30mm gaming scale, and can be shrunk down to 15mm, 20mm or 25mm scales by simply adjusting the... [click here for more] | Dave Graffam Models | $5.95 |
| This paper model kit is easy to assemble, requiring just cardstock paper sheets to print on (110 lb. or 199gsm recommended), scissors, hobby knife, paper glue, metal ruler and cutting mat. Optionally, you can use a piece of foamcore for the base. A fine-line ink marker is recommended for darkening the paper edges, and foamcore is recommended for the ground piece, and a few other common... [click here for more] | Dave Graffam Models | $4.95 |
| This paper model kit is easy to assemble, requiring just cardstock paper sheets to print on (110 lb. or 199gsm recommended), scissors, hobby knife, paper glue, aluminum ruler and cutting mat. Assembly time is about an hour. This model is designed at the popular 28mm-30mm gaming scale, and can be shrunk down to 15mm, 20mm or 25mm scales by simply adjusting the print size percentage on... [click here for more] | Dave Graffam Models | $1.95 |
| This paper model kit is easy to assemble, requiring just cardstock paper sheets to print on (110 lb. or 199gsm recommended), scissors, hobby knife, paper glue, aluminum ruler and cutting mat. This model is designed at the popular 28mm-30mm gaming scale, and can be shrunk down to 15mm, 20mm or 25mm scales by simply adjusting the print size percentage on your printer. Tips and advice... [click here for more] | Dave Graffam Models | $2.95 |
| This paper model kit is easy to assemble, requiring just 12 cardstock paper sheets to print on (110 lb. or 199gsm recommended), hobby knife, glue, metal ruler and cutting mat. This model is designed at the popular 28mm-30mm gaming scale, and can be shrunk down to 15mm, 20mm or 25mm scales by simply adjusting the print size percentage on your printer. Tips and advice for altering the... [click here for more] | Dave Graffam Models | $4.95 |
| This paper model kit is easy to assemble, requiring just 8 cardstock paper sheets to print on (110 lb. or 199gsm recommended), scissors, hobby knife, paper glue, metal ruler and cutting mat. Optionally, you can use a piece of foamcore for the base. This model is designed at the popular 28mm-30mm gaming scale, and can be shrunk down to 15mm, 20mm or 25mm scales by simply adjusting the... [click here for more] | Dave Graffam Models | $2.95 |
| This paper model kit is easy to assemble, requiring just 13 cardstock paper sheets to print on (110 lb. or 199gsm recommended), scissors, hobby knife, paper glue, metal ruler and cutting mat. Optionally, you may use a piece of foamcore cut to 6" x 9" for the ground piece. This model is designed at the popular 28mm-30mm gaming scale, and can be shrunk down to 15mm, 20mm or... [click here for more] | Dave Graffam Models | $4.95 |
| This paper model kit is easy to assemble, requiring just cardstock paper sheets to print on (110 lb. or 199gsm recommended), scissors, hobby knife, paper glue, aluminum ruler and cutting mat. Assembly time is about half an hour. This model is designed at the popular 28mm-30mm gaming scale, and can be shrunk down to 15mm, 20mm or 25mm scales by simply adjusting the print size percentage... [click here for more] | Dave Graffam Models | $2.95 |
| This paper model kit is easy to assemble, requiring just cardstock paper sheets to print on (110 lb. or 199gsm recommended), scissors, hobby knife, paper glue, aluminum ruler and cutting mat. Assembly time is about an hour. This model is designed at the popular 28mm-30mm gaming scale, and can be shrunk down to 15mm, 20mm or 25mm scales by simply adjusting the print size percentage on... [click here for more] | Dave Graffam Models | $1.95 |
| It is your duty to… MARCH TOWARDS THE CANNON. My duty is to execute the Emperor's orders. Or so the story goes. What was the actual conversation between General Gerard and Marshal Grouchy on that fateful day – June 18,1815, the battle of Waterloo, no one really knows. But it brings up a good question. In any battle it is assumed that each soldier will do his... [click here for more] | Rebel Minis | $9.95 |
| This paper terrain kit is easy to assemble, requiring just 15 cardstock paper sheets to print on (110 lb. or 199gsm recommended), hobby knife, glue, metal ruler and cutting mat. These models are designed at the popular 28mm-30mm gaming scale, and can be shrunk down to 15mm, 20mm or 25mm scales by simply adjusting the print size percentage on your printer. Tips and advice for altering... [click here for more] | Dave Graffam Models | $2.95 |
| This paper model kit is easy to assemble, requiring just 10 cardstock paper sheets to print on (110 lb. or 199gsm recommended), scissors, hobby knife, paper glue, metal ruler and cutting mat. This model is designed at the popular 28mm-30mm gaming scale, and can be shrunk down to 15mm, 20mm or 25mm scales by simply adjusting the print size percentage on your printer. Tips and advice... [click here for more] | Dave Graffam Models | $4.95 |
| La Garde est une règle grand-tactique en français pensée pour des figurines 6mm, où les joueurs commandent des corps d'armée, soit en moyenne de 20000 à 50000 hommes. Le format de jeu standard, avec un gros corps d'armée par camp, est calibré pour occuper une soirée en club (entre deux et trois heures), ou une petite après-midi... [click here for more] | Sgt Bourgogne Editeur | $17.70 |
| This paper model kit is easy to assemble, requiring just 13 cardstock paper sheets to print on (110 lb. or 199gsm recommended), scissors, hobby knife, paper glue, metal ruler and cutting mat. Optionally, you may use a piece of foamcore cut to 6" x 9" for the ground piece. This model is designed at the popular 28mm-30mm gaming scale, and can be shrunk down to 15mm, 20mm or... [click here for more] | Dave Graffam Models | $3.95 |
| This large printable map is a beautiful surface for building the seedy side of a medieval town, Victorian neighborhood or steampunk metropolis. It's easy to print in one piece at your local shop, or in sections on your desktop printer. An optional 1-inch grid is included, and this map is tileable in the sense that you can choose any edge of the map and it will "wrap" around to the opposite... [click here for more] | Dave Graffam Models | $4.95 |
| Smooth&Rifled is a game system designed to recreate skirmish games with 28, 20 or 15mm miniatures. It covers the period from approximately 1700 to approximately 1900. The French and Indian War, the American Revolution, the Napoleonic Wars, the American Civil War and the wars of the Colonial era are just some of the periods you can play with S&R. In the Appendix you will find all the... [click here for more] | Dadi&Piombo | $11.99 |
| This paper model kit is easy to assemble, requiring just 8 cardstock paper sheets to print on (110 lb. or 199gsm recommended), scissors, hobby knife, paper glue, metal ruler and cutting mat. This model is designed at the popular 28mm-30mm gaming scale, and can be shrunk down to 15mm, 20mm or 25mm scales by simply adjusting the print size percentage on your printer. Tips and advice for... [click here for more] | Dave Graffam Models | $3.95 |
| This paper model kit is easy to assemble, requiring just cardstock paper sheets to print on (110 lb. or 199gsm recommended), scissors, hobby knife, paper glue, metal ruler and cutting mat. This model is designed at the popular 28mm-30mm gaming scale, and can be shrunk down to 15mm, 20mm or 25mm scales by simply adjusting the print size percentage on your printer. Tips and advice for altering... [click here for more] | Dave Graffam Models | $2.95 |
| This paper model kit is easy to assemble, requiring just 15 cardstock paper sheets to print on (110 lb. or 199gsm recommended), scissors, hobby knife, paper glue, metal ruler and cutting mat. Optionally, you can use a piece of foamcore for the base. This model is designed at the popular 28mm-30mm gaming scale, and can be shrunk down to 15mm, 20mm or 25mm scales by simply adjusting the... [click here for more] | Dave Graffam Models | $5.95 |
| This paper model kit is easy to assemble, requiring just cardstock paper sheets to print on (110 lb. or 199gsm recommended), scissors, hobby knife, paper glue, metal ruler and cutting mat. This model is designed at the popular 28mm-30mm gaming scale, and can be shrunk down to 15mm, 20mm or 25mm scales by simply adjusting the print size percentage on your printer. Tips and advice for... [click here for more] | Dave Graffam Models | $3.95 |
| This paper model kit is easy to assemble, requiring just cardstock paper sheets to print on (110 lb. or 199gsm recommended), scissors, hobby knife, paper glue, aluminum ruler and cutting mat. Assembly time is about an hour. This model is designed at the popular 28mm-30mm gaming scale, and can be shrunk down to 15mm, 20mm or 25mm scales by simply adjusting the print size percentage on... [click here for more] | Dave Graffam Models | $2.95 |
| This paper model kit is easy to assemble, requiring just 4 to 5 cardstock paper sheets to print on (110 lb. or 199gsm recommended), scissors, hobby knife, paper glue, aluminum ruler and cutting mat. Assembly time is about an hour. This model is designed at the popular 28mm-30mm gaming scale, and can be shrunk down to 15mm, 20mm or 25mm scales by simply adjusting the print size percentage... [click here for more] | Dave Graffam Models | $3.95 |
| Austerlitz 05 is a solitaire or two players simulation of one of the most famous and iconic battles of the Napoleonic period: Austerlitz, which was fought during the War of the Third Coalition in Moravia on December 2nd 1805. It is remembered as the Battle of the Three Emperors, because of the presence of Napoleon 1°, French Emperor, Francis 2° of Austria and Alexander 2° Russian Czar. A lot of... [click here for more] | Lumaca Games | $8.00 $3.00 |
| The Napoleonic Wars are in full swing... The familiar sight of long lines of scarlet-coated British infantry advance on their enemies, ready to shatter them with their disciplined volleys... But wait. The opposing soldiers are in line, not an attack column. Some of them wear grey, not blue, and they speak English, albeit with a strange accent. French-speaking troops are on the British side,... [click here for more] | Vandering Publications | $13.99 |
| 5th Edition Standard Rules for Les Bataille dans l'age l'Empereur Napoleon 1er tactical Napoleonic period games. This rule book comes with La Bataille de Ligny Second Edition game. ... [click here for more] | Clash of Arms Games | $6.00 |
| IIf ever there is an historical period that can lay claim to be THE classic subject for wargamers, then surely it must be those early years of the nineteenth century when Europe was gripped by the power of Napoleon Bonaparte, self-crowned Emperor of France and her conquered territories. A sublime hero to some, a tyrannical despot to others, Napoleon is a man... [click here for more] | Baccus 6mm | $22.20 $11.10 |
| The boom of a flintlock musket, a cloud of acrid black powder, and the drumming of feet as they rush towards the fallen foe. A knife is unsheathed, and with a few quick movements, the enemy's bloody scalp is ripped free. Warfare in the Eastern Woodlands of America was one of raids, ambushes and sudden violent encounters. These are the skirmishes that Song of Drums and Tomahawks seeks to recreate.... [click here for more] | Ganesha Games | $14.99 $8.00 |
| This paper model kit is easy to assemble, requiring just cardstock paper sheets to print on (110 lb. or 199gsm recommended), scissors, hobby knife, paper glue, aluminum ruler and cutting mat. Assembly time is about an hour. This model is designed at the popular 28mm-30mm gaming scale, and can be shrunk down to 15mm, 20mm or 25mm scales by simply adjusting the print size percentage on... [click here for more] | Dave Graffam Models | $2.95 |
| This large printable map features cobbled roads in an irregular pattern inspired by real cities. The details are sharp, and it's designed to be the perfect complement to my collection of paper models, giving you a beautiful surface for building your own bustling town or ruined village. It's easy to print in one piece at your local shop, or in sections on your desktop printer. An optional... [click here for more] | Dave Graffam Models | $4.95 |
| This paper model kit is easy to assemble, requiring just cardstock paper sheets to print on (110 lb. or 199gsm recommended), scissors, hobby knife, paper glue, aluminum ruler and cutting mat. Optionally, you may also use foamcore. This paper terrain is designed at the popular 28mm-30mm gaming scale, and can be shrunk down to 15mm, 20mm or 25mm scales by simply adjusting the print size percentage... [click here for more] | Dave Graffam Models | $3.95 |
| This paper model kit is easy to assemble, requiring just 5 cardstock paper sheets to print on (110 lb. or 199gsm recommended), scissors, hobby knife, paper glue, metal ruler and cutting mat. Optionally, you can use a piece of foamcore for the base. This model is designed at the popular 28mm-30mm gaming scale, and can be shrunk down to 15mm, 20mm or 25mm scales by simply adjusting the... [click here for more] | Dave Graffam Models | $2.95 |
| This paper model kit is easy to assemble, requiring just 6 or 7 cardstock paper sheets to print on (110 lb. or 199gsm matte stock recommended), scissors, hobby knife, paper glue, metal ruler and cutting mat. For better results, a foamcore base can be used. This model is designed at the popular 28mm-30mm gaming scale, and can be shrunk down to 15mm, 20mm or 25mm scales by simply adjusting... [click here for more] | Dave Graffam Models | $4.95 |
| This paper model kit is easy to assemble, requiring just cardstock paper sheets to print on (110 lb. or 199gsm recommended), scissors, hobby knife, paper glue, aluminum ruler and cutting mat. It may look complicated, but every part of the Watch Tower is simple to assemble on its own, and putting it together is just a matter of building up the simple shapes into the complete structure you... [click here for more] | Dave Graffam Models | $4.95 |
| This paper model kit is easy to assemble, requiring just 10 cardstock paper sheets to print on (110 lb. or 199gsm recommended), scissors, hobby knife, paper glue, metal ruler and cutting mat. Optionally, you can use a piece of foamcore for the base. This model is designed at the popular 28mm-30mm gaming scale, and can be shrunk down to 15mm, 20mm or 25mm scales by simply adjusting the... [click here for more] | Dave Graffam Models | $3.95 |
| "Sire, the reinforcements have arrived on our left flank!" "Excellent Windsor, let's give these French degenerates what for" "But Sire, their uniforms... " "What about their uniforms?" "They look... well Sire, I swear they look like Austrians" "By God man, if they are shooting at the French,... [click here for more] | Nordic Weasel Games | $12.99 |
| Second wave of 6mm building sets, enough to create a small town.This set contains 20 buildings with 3-story 2-story and single-story houses. This set also contains ground texture set for your buildings. Check the previews!!! ... [click here for more] | IliadaGameStudio | $3.00 $2.50 |
| This paper model kit is easy to assemble, requiring just 5 cardstock paper sheets to print on (110 lb. or 199gsm recommended), scissors, hobby knife, paper glue, metal ruler and cutting mat.Optionally, you may also use a piece of foamcore for the base, and make use of other common hobby tools for even better results. Full instructions are included. This model is designed at the popular... [click here for more] | Dave Graffam Models | $3.95 |
| 1812 Scorched Earth simulates the monumental struggle between Napoleonic France and Russia. The French player must maage a logistics chain longer than the capabilities of the time for long enough to cause the political upheaval in Russia. The politics of morale, burning down cities and the retreat itself are all modeled into a strategic competitive simulation of the most ambitious campaign of the... [click here for more] | Blue Panther LLC | $8.99 |
| This paper model kit is easy to assemble, requiring just 5 cardstock paper sheets to print on (110 lb. or 199gsm recommended), scissors, hobby knife, paper glue, metal ruler and cutting mat. Optionally, you can use a piece of foamcore for the base. This model is designed at the popular 28mm-30mm gaming scale, and can be shrunk down to 15mm, 20mm or 25mm scales by simply adjusting the... [click here for more] | Dave Graffam Models | $2.95 |