Follow Your Favorites!

Sign in
to get custom notifications of new products!
Featured Product
The Nazi Occult
by Osprey Publishing

This book tells the complete history of the Nazi occult programs, from their quests for the Ark of the Covenant, the Spear of Destiny, and the Holy Grail, through their experiments with lycanthrope and zero-point energy.
Written by Kenneth Hite (Trail of Cthulhu, Nights Black Agents, Tour de Lovecraft) with art by Darren Tan.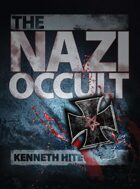 | Products found in this section... | Sort by: |
| --- | --- |
| | | |
| --- | --- | --- |
| Title | Publisher | Price |
| In the dark dungeons beneath Nazi Germany, teams of occult experts delved into ancient and forbidden lore, searching for lost secrets of power. This book tells the complete history of the Nazi occult programs, from their quests for the Ark of the Covenant, the Spear of Destiny, and the Holy Grail, through their experiments with lycanthrope and zero-point energy. It also includes information on the... [click here for more] | Osprey Publishing | $9.95 |
| This is the inspiring true story of what happens when ordinary people unite to make a stand against evil. Lidice was a peaceful and vibrant community in Czechoslovakia with a rich mining heritage. But an act of Nazi revenge saw this village wiped from existence in a horrifying chapter of European history. Disaster struck for Lidice in 1942 when the prominent Nazi official Reinhard Heydrich was... [click here for more] | Shilka Publishing | $2.99 |
| This dictionary gives an enormous amount of basic information on the Third Reich era by listing, and often depicting, German terms connected to Nazism and the Germany of World War II. It includes ranks, badges, insignia, regalia, medals, flags and banners, weapons, uniforms, equipment, vehicles, fortifications, airplanes, battleships, main Nazi concepts and organizations, slogans, sayings, code names,... [click here for more] | McFarland | $19.99 |
| From the moment when the launching of HMS Dreadnought made every capital ship in the world obsolete overnight, we have been fascinated with these powerful surface combatants. Here Robert M. Farley looks at the history and folklore that makes these ships enduring symbols of national power—and sometimes national futility. From Arizona to Yamato, here are more than sixty lavishly illustrated... [click here for more] | Wildside Press | $9.99 |
| Without the support of airlift, the modern American military machine would be brought to a standstill. Since World War II--beginning with the Cold War and continuing up to the present day--the U.S. armed forces have come increasingly to rely upon airlift for mobility. The power to rapidly move and thereafter support a military operation--anywhere in the world, at any time--has become a foundational... [click here for more] | McFarland | $24.99 |
| A History of Trickfilm in Nazi Germany, 1933-1945 Among their many idiosyncrasies, Adolf Hitler and Joseph Goebbels, the Nazi minister of propaganda, remained serious cartoon aficionados throughout their lives. They adored animation and their influence on German animation after World War II continues to this day. This study explores Hitler and Goebbels' efforts to establish a German... [click here for more] | McFarland | $18.99 |
| A Mud Marine's Memoir of the Pacific Island War Chronicling the growth of a recruit from boot camp at Parris Island, South Carolina, to a seasoned troop leader, this memoir also relates the experiences of the 200 marines in A Company, First Battalion, Second Marines, as they engaged in island warfare in the South Pacific at Guadalcanal, Tarawa, Saipan and Tinian. Note: This... [click here for more] | McFarland | $9.99 |
| Inside the OSS with an American Agent in Europe Here is the wartime diary of Wayne Nelson, an OSS officer who served in North Africa and Europe during World War II. A prewar colleague of Allen Dulles, Nelson joined an infant OSS after failing to join the Navy because of a vision disability, and he went on to serve in North Africa, Sicily, Sardinia, Italy, Corsica, and mainland France.... [click here for more] | McFarland | $13.99 |
| ... [click here for more] | History@Books | $6.50 $6.25 |