Follow Your Favorites!

Sign in
to get custom notifications of new products!
Featured Product
Painting Scaly Beasts
by AntiMatter Games

Learn to paint scaly beasts and monster miniatures using the glaze style of painting with artist acrylic inks, a fast method that brings vibrant colors to the tabletop. Step by step instructions take you through different miniatures by AntiMatter Games for DeepWars and ShadowSea.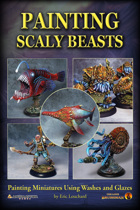 | Products found in this section... | Sort by: |
| --- | --- |
| | | |
| --- | --- | --- |
| Title | Publisher | Price |
| Ancient big birds, flightless, very strong, resistant, can run fast. Apparently the brave managed to tame them, but it's rumors. Apparently they flooded and burned the Romandorf settlement. Meeting them on the road will not be pleasant. Miniatures designed for all RPG, table battle and adventure games, fantasy, modern, science fiction. Miniatures designed for scale... [click here for more] | DarekPages | $2.50 |
| This paper model kit is easy to assemble, requiring just cardstock paper sheets to print on (110 lb. or 199gsm recommended), scissors, hobby knife, paper glue, metal ruler and cutting mat. It may look complicated, but every part of the Country Brewery is simple to assemble on its own, and putting it together is just a matter of building up the simple shapes into the complete structure you... [click here for more] | Dave Graffam Models | $6.95 |
| This paper model kit is easy to assemble, requiring just cardstock paper sheets to print on (110 lb. or 199gsm recommended), scissors, hobby knife, paper glue, aluminum ruler and cutting mat. Assembly time is about an hour for the whole set. This model is designed at the popular 28mm-30mm gaming scale, and can be shrunk down to 15mm, 20mm or 25mm scales by simply adjusting the print... [click here for more] | Dave Graffam Models | $2.95 |
| HI. Thankyou to all those that supported me in teh kickstarter campaign, this would have not been possible without you. In this set you will find what you need to start your first underwater battle with paper miniatures. You only need 6 side dices and a battlemap divided in squares of 12 cm (5 inches) per side. If you don't have it, in the last page you can find a printable grid. I personally... [click here for more] | antohammer the lonely wargamer | $2.50 |
| This paper model kit is easy to assemble, requiring just 12 cardstock paper sheets to print on (110 lb. or 199gsm recommended), hobby knife, glue, metal ruler and cutting mat. This model is designed at the popular 28mm-30mm gaming scale, and can be shrunk down to 15mm, 20mm or 25mm scales by simply adjusting the print size percentage on your printer. Tips and advice for altering the... [click here for more] | Dave Graffam Models | $4.95 |
| This paper model kit is easy to assemble, requiring just cardstock paper sheets to print on (110 lb. or 199gsm recommended), scissors, hobby knife, paper glue, metal ruler and cutting mat. Optionally, you can use a piece of foamcore for the base. A fine-line ink marker is recommended for darkening the paper edges, and foamcore is recommended for the ground piece, and a few other common... [click here for more] | Dave Graffam Models | $4.95 |
| This paper model kit is easy to assemble, requiring just cardstock paper sheets to print on (110 lb. or 199gsm recommended), scissors, hobby knife, paper glue, aluminum ruler and cutting mat. Optionally, you can use a piece of foamcore for the base. This model is designed at the popular 28mm-30mm gaming scale, and can be shrunk down to 15mm, 20mm or 25mm scales by simply adjusting the... [click here for more] | Dave Graffam Models | $2.95 |
| This paper model kit is easy to assemble, requiring just cardstock paper sheets to print on (110 lb. or 199gsm recommended), scissors, hobby knife, paper glue, metal ruler and cutting mat. This model set is designed at the popular 28mm-30mm gaming scale, and can be shrunk down to 15mm, 20mm or 25mm scales by simply adjusting the print size percentage on your printer. Tips and advice... [click here for more] | Dave Graffam Models | $2.95 |
| This paper model kit is easy to assemble, requiring just 7 cardstock paper sheets to print on (110 lb. or 199gsm recommended), scissors, hobby knife, paper glue, metal ruler, black felt-tip pen and cutting mat. Optionally, you may make use of other common hobby tools for even better results. Full instructions are included. This model is designed at the popular 28mm-30mm gaming scale.... [click here for more] | Dave Graffam Models | $4.95 |
| This paper model kit is easy to assemble, requiring just 8 cardstock paper sheets to print on (110 lb. or 199gsm recommended), scissors, hobby knife, paper glue, metal ruler and cutting mat. Optionally, you can use a piece of foamcore for the base. This model is designed at the popular 28mm-30mm gaming scale, and can be shrunk down to 15mm, 20mm or 25mm scales by simply adjusting the... [click here for more] | Dave Graffam Models | $2.95 |
| This paper tiles set is easy to create, requiring just cardstock paper sheets to print on (110 lb. or 199gsm recommended), scissors, hobby knife, aluminum ruler and cutting mat. These tiles are designed at the popular 28mm-30mm gaming scale, and can be shrunk down to 15mm, 20mm or 25mm scales by simply adjusting the print size percentage on your printer. Tips and advice for altering... [click here for more] | Dave Graffam Models | $4.95 |
| A crane house like this is useful in any harbor, and might be the property of a merchant at their private pier or warehouse. It might be owned by a town or individual offering its services to the public, charging a small fee for every hoist. Such a structure would also be vital in an exchange market where bulk goods are being traded, where large freight needs to be moved from one wagon to... [click here for more] | Dave Graffam Models | $2.95 |
| This paper model kit is easy to assemble, requiring just 13 cardstock paper sheets to print on (110 lb. or 199gsm recommended), scissors, hobby knife, paper glue, metal ruler and cutting mat. Optionally, you may use a piece of foamcore cut to 6" x 9" for the ground piece. This model is designed at the popular 28mm-30mm gaming scale, and can be shrunk down to 15mm, 20mm or... [click here for more] | Dave Graffam Models | $4.95 |
| This paper model kit is easy to assemble, requiring just cardstock paper sheets to print on (110 lb. or 199gsm recommended), scissors, hobby knife, paper glue, aluminum ruler and cutting mat. Assembly time is under an hour. This model is designed at the popular 28mm-30mm gaming scale, and can be shrunk down to 15mm, 20mm or 25mm scales by simply adjusting the print size percentage on... [click here for more] | Dave Graffam Models | $2.95 |
| This paper model kit is easy to assemble, requiring just cardstock paper sheets to print on (110 lb. or 199gsm recommended), scissors, hobby knife, paper glue, aluminum ruler and cutting mat. This model is designed at the popular 28mm-30mm gaming scale, and can be shrunk down to 15mm, 20mm or 25mm scales by simply adjusting the print size percentage on your printer. Tips and advice... [click here for more] | Dave Graffam Models | $2.95 |
| This paper model kit is easy to assemble, requiring just cardstock paper sheets to print on (110 lb. or 199gsm recommended), scissors, hobby knife, paper glue, aluminum ruler and cutting mat. Assembly time is about an hour. This model is designed at the popular 28mm-30mm gaming scale, and can be shrunk down to 15mm, 20mm or 25mm scales by simply adjusting the print size percentage on... [click here for more] | Dave Graffam Models | $1.95 |
| Dread Streets is a skirmish game that lets you direct a swashbuckling movie, complete with ridiculous stunts, pirates, musketeers, freaks, drinking, brawling and lots of taunting. The most important rule of Dread Streets is: FIRST YOU ROLL – THEN YOU PLAN! Your turn won't be ruined by bad luck. You roll the dice before you decide what to do, then you plan accordingly. Experience... [click here for more] | Dread Streets | $10.00 |
| This paper model kit is easy to assemble, requiring just 13 cardstock paper sheets to print on (110 lb. or 199gsm recommended), scissors, hobby knife, paper glue, metal ruler and cutting mat. Optionally, you may use a piece of foamcore cut to 6" x 9" for the ground piece. This model is designed at the popular 28mm-30mm gaming scale, and can be shrunk down to 15mm, 20mm or... [click here for more] | Dave Graffam Models | $3.95 |
| This paper model kit is easy to assemble, requiring just cardstock paper sheets to print on (110 lb. or 199gsm recommended), scissors, hobby knife, paper glue, aluminum ruler and cutting mat. Assembly time is about half an hour. This model is designed at the popular 28mm-30mm gaming scale, and can be shrunk down to 15mm, 20mm or 25mm scales by simply adjusting the print size percentage... [click here for more] | Dave Graffam Models | $2.95 |
| in this set you will find 10 paper miniatures usable in the genpei war period. this period is a feudal period in japan before the samurai becomes the dominant caste and this set is made to rapresent the main body of that time armies. This levy soldier was the backbone of every army in that period, but the samurai that later will rule the japan covered the fact that the war in that period was mainly... [click here for more] | antohammer the lonely wargamer | $1.00 |
| This paper model kit is easy to assemble, requiring just 10 cardstock paper sheets to print on (110 lb. or 199gsm recommended), scissors, hobby knife, paper glue, metal ruler and cutting mat. This model is designed at the popular 28mm-30mm gaming scale, and can be shrunk down to 15mm, 20mm or 25mm scales by simply adjusting the print size percentage on your printer. Tips and advice... [click here for more] | Dave Graffam Models | $4.95 |
| This paper model kit is easy to assemble, requiring just 8 cardstock paper sheets to print on (110 lb. or 199gsm recommended), scissors, hobby knife, paper glue, metal ruler and cutting mat. This model is designed at the popular 28mm-30mm gaming scale, and can be shrunk down to 15mm, 20mm or 25mm scales by simply adjusting the print size percentage on your printer. Tips and advice for... [click here for more] | Dave Graffam Models | $3.95 |
| This paper model kit is easy to assemble, requiring just cardstock paper sheets to print on (110 lb. or 199gsm recommended), scissors, hobby knife, paper glue, aluminum ruler and cutting mat. Assembly time is about an hour. This model is designed at the popular 28mm-30mm gaming scale, and can be shrunk down to 15mm, 20mm or 25mm scales by simply adjusting the print size percentage on... [click here for more] | Dave Graffam Models | $1.95 |
| This paper model kit is easy to assemble, requiring just cardstock paper sheets to print on (110 lb. or 199gsm recommended), scissors, hobby knife, paper glue, metal ruler and cutting mat. This model is designed at the popular 28mm-30mm gaming scale, and can be shrunk down to 15mm, 20mm or 25mm scales by simply adjusting the print size percentage on your printer. Tips and advice for... [click here for more] | Dave Graffam Models | $3.95 |
| This paper model kit is easy to assemble, requiring just 4 to 5 cardstock paper sheets to print on (110 lb. or 199gsm recommended), scissors, hobby knife, paper glue, aluminum ruler and cutting mat. Assembly time is about an hour. This model is designed at the popular 28mm-30mm gaming scale, and can be shrunk down to 15mm, 20mm or 25mm scales by simply adjusting the print size percentage... [click here for more] | Dave Graffam Models | $3.95 |
| This paper model kit is easy to assemble, requiring just cardstock paper sheets to print on (110 lb. or 199gsm recommended), scissors, hobby knife, paper glue, metal ruler and cutting mat. Optionally, you can use a piece of foamcore for the base. This model is designed at the popular 28mm-30mm gaming scale, and can be shrunk down to 15mm, 20mm or 25mm scales by simply adjusting the... [click here for more] | Dave Graffam Models | $2.95 |
| This paper model kit is easy to assemble, requiring just 10 cardstock paper sheets to print on (110 lb. or 199gsm recommended), scissors, hobby knife, paper glue, metal ruler and cutting mat. Optionally, you can use a piece of foamcore for the base. This model is designed at the popular 28mm-30mm gaming scale, and can be shrunk down to 15mm, 20mm or 25mm scales by simply adjusting the... [click here for more] | Dave Graffam Models | $3.95 |
| This paper model kit is easy to assemble, requiring just cardstock paper sheets to print on (110 lb. or 199gsm recommended), scissors, hobby knife, paper glue, aluminum ruler and cutting mat. Assembly time is about an hour. This model is designed at the popular 28mm-30mm gaming scale, and can be shrunk down to 15mm, 20mm or 25mm scales by simply adjusting the print size percentage on... [click here for more] | Dave Graffam Models | $2.95 |
| This paper model kit is easy to assemble, requiring just cardstock paper sheets to print on (110 lb. or 199gsm recommended), scissors, hobby knife, paper glue, aluminum ruler and cutting mat. Assembly time is about an hour. This model is designed at the popular 28mm-30mm gaming scale, and can be shrunk down to 15mm, 20mm or 25mm scales by simply adjusting the print size percentage on... [click here for more] | Dave Graffam Models | $1.95 |
| This paper model kit is easy to assemble, requiring just cardstock paper sheets to print on (110 lb. or 199gsm recommended), scissors, hobby knife, paper glue, aluminum ruler and cutting mat. Optionally, you may also use foamcore. This paper terrain is designed at the popular 28mm-30mm gaming scale, and can be shrunk down to 15mm, 20mm or 25mm scales by simply adjusting the print size percentage... [click here for more] | Dave Graffam Models | $3.95 |
| These beautiful miniatures by noted fantasy artist Amanda Kahl are the ideal addition to any sort of tabletop fantasy RPG or wargame and can be used to enhance encounters or even serve as the basis for them. This set of downloadable Cardstock CharactersTM miniatures contains 10 different figures, including seven Myrmidons representing members of various iconic classes, a Myrmidon... [click here for more] | Skirmisher Publishing | $1.99 |
| This paper model kit is easy to assemble, requiring just 5 cardstock paper sheets to print on (110 lb. or 199gsm recommended), scissors, hobby knife, paper glue, metal ruler and cutting mat. Optionally, you can use a piece of foamcore for the base. This model is designed at the popular 28mm-30mm gaming scale, and can be shrunk down to 15mm, 20mm or 25mm scales by simply adjusting the... [click here for more] | Dave Graffam Models | $2.95 |
| This paper model kit is easy to assemble, requiring just cardstock paper sheets to print on (110 lb. or 199gsm recommended), scissors, hobby knife, paper glue, aluminum ruler and cutting mat. Assembly time is about an hour. This model is designed at the popular 28mm-30mm gaming scale, and can be shrunk down to 15mm, 20mm or 25mm scales by simply adjusting the print size percentage on... [click here for more] | Dave Graffam Models | $1.95 |
| This paper model kit is easy to assemble, requiring just cardstock paper sheets to print on (110 lb. or 199gsm recommended), scissors, hobby knife, paper glue, aluminum ruler and cutting mat. Assembly time is about an hour. This model is designed at the popular 28mm-30mm gaming scale, and can be shrunk down to 15mm, 20mm or 25mm scales by simply adjusting the print size percentage on... [click here for more] | Dave Graffam Models | $1.95 |
| This paper model kit is easy to assemble, requiring just 6 or 7 cardstock paper sheets to print on (110 lb. or 199gsm matte stock recommended), scissors, hobby knife, paper glue, metal ruler and cutting mat. For better results, a foamcore base can be used. This model is designed at the popular 28mm-30mm gaming scale, and can be shrunk down to 15mm, 20mm or 25mm scales by simply adjusting... [click here for more] | Dave Graffam Models | $4.95 |
| This paper model kit is easy to assemble, requiring just cardstock paper sheets to print on (110 lb. or 199gsm recommended), scissors, hobby knife, paper glue, aluminum ruler and cutting mat. Assembly time is about an hour. This model is designed at the popular 28mm-30mm gaming scale, and can be shrunk down to 15mm, 20mm or 25mm scales by simply adjusting the print size percentage on... [click here for more] | Dave Graffam Models | $2.95 |
| This paper model kit is easy to assemble, requiring just cardstock paper sheets to print on (110 lb. or 199gsm recommended), scissors, hobby knife, paper glue, aluminum ruler and cutting mat. It may look complicated, but every part of the Watch Tower is simple to assemble on its own, and putting it together is just a matter of building up the simple shapes into the complete structure you... [click here for more] | Dave Graffam Models | $4.95 |
| This paper model kit is easy to assemble, requiring just cardstock paper sheets to print on (110 lb. or 199gsm recommended), scissors, hobby knife, paper glue, aluminum ruler and cutting mat. Assembly time is just a few minutes per log, lumber stack or hay bale. These models are designed at the popular 28mm-30mm gaming scale, but if you are very meticulous you can shrink them down to... [click here for more] | Dave Graffam Models | $1.95 |
| Warband provides all the rules you need to bring great battles between fantasy armies to your tabletop. Using miniature figures and terrain, you can fight battles from the glorious sword and sorcery epics you've read about. You can play games against your friends or competitive battles against worthy opponents. Whilst the rules have been written with the 10mm Pendraken Miniatures... [click here for more] | Pendraken Miniatures | $12.90 |
| This paper model kit is easy to assemble, requiring just 5 cardstock paper sheets to print on (110 lb. or 199gsm recommended), scissors, hobby knife, paper glue, metal ruler and cutting mat. Optionally, you can use a piece of foamcore for the base. This model is designed at the popular 28mm-30mm gaming scale, and can be shrunk down to 15mm, 20mm or 25mm scales by simply adjusting the... [click here for more] | Dave Graffam Models | $2.95 |
| This paper model kit is easy to assemble, requiring just 5 cardstock paper sheets to print on (110 lb. or 199gsm recommended), scissors, hobby knife, paper glue, metal ruler and cutting mat. Optionally, you can use a piece of foamcore for the base. This model is designed at the popular 28mm-30mm gaming scale, and can be shrunk down to 15mm, 20mm or 25mm scales by simply adjusting the... [click here for more] | Dave Graffam Models | $2.95 |
| This paper model kit is easy to assemble, requiring just 5 cardstock paper sheets to print on (110 lb. or 199gsm recommended), scissors, hobby knife, paper glue, metal ruler and cutting mat.Optionally, you may also use a piece of foamcore for the base, and make use of other common hobby tools for even better results. Full instructions are included. This model is designed at the popular... [click here for more] | Dave Graffam Models | $3.95 |
| This paper model kit is easy to assemble, requiring just cardstock paper sheets to print on (110 lb. or 199gsm recommended), scissors, hobby knife, paper glue, metal ruler and cutting mat. It may look complicated, but every part of the Library is simple to assemble on its own, and putting it together is just a matter of building up the simple shapes into the complete structure you see here.... [click here for more] | Dave Graffam Models | $6.95 |
| This paper model kit is easy to assemble, requiring just 9 cardstock paper sheets to print on (110 lb. or 199gsm recommended), scissors, hobby knife, paper glue, metal ruler and cutting mat.Optionally, you may also use a piece of foamcore for the base, and make use of other common hobby tools for even better results. Full instructions are included. This model is designed at the popular... [click here for more] | Dave Graffam Models | $3.95 |
| Sci-fi Style Buildings "The Old Colony Settlement" This paper model set (High Quality PDF file) of the Sci-fi style buildings. The set included PDF-files: A4 (sf_a4_01.zip: 36 sheets, sf_gal_Letter.zip: 4 sheets) and US Letter (sf_Letter.zip: 36 sheets, sf_gal_Letter.zip: 4 sheets, arb_tnt_Letter.zip 1 sheet).... [click here for more] | WargamePrint | $11.00 |
| This set collects a nice bunch of paper minis previously released as promotional pieces and also includes a brand new figure exclusive to this set. This set contains a variety of beings with an elemental theme, bound to add some substance in your RPG campaigns! Miniatures in this set: • Ice Archon • Clay Golem • Dust Devil • Efreet • Fire Elemental • Sylph •... [click here for more] | Kev's Lounge | Pay What You Want |
| Waterloo Style Buildings This paper model set (High Quality PDF file) of the Waterloo style buildings. The set included PDF-file: A4 (16 sheets) and Letter (16 sheets). Multi layer PDF-file - 3 walls textures; - 3 sets of the windows; - 3 roof covering textures;... [click here for more] | WargamePrint | $11.00 $8.00 |
| Modular paper set The Roads 1:285 (6mm) A set of picturestic 6 mm urban terrain. Compatibility This models is designed at the 1/285 gaming scale. We suggest our paper buildings as a proper choice for BattleTech, Team Yankee (FoW) 6mm and other 1/285 wargames. 2D modular Paper Scenery System: - simple assembly; - easy storage; -... [click here for more] | WargamePrint | $4.00 |
| This bundle includes a selection of 35 of my fantasy/medieval themed single-layered models in 28mm/30mm scale. Up until now, there was no other way to get a hold of these models without going in for a whole multi-layered kit. With this bundle, you get 35 single-layered models for less than $1 each. They're ready to print right away, without involving any extra skins or textures. A great choice for... [click here for more] | Dave Graffam Models | $29.95 |
| THIS SET IS COMPOSED BY 12 WARRIOR MONKS. THEY ARE A GOOD BASE FOR A WARRIOR MONKS IKKO IKKI FACTION OR FOR RPG SET IN A FANTASY JAPAN. THEY ARE GOOD FOR TEST OF HONOUR GAME FROM WARLORD GAMES AND FOR EVERY RPG SETTED IN FANTASY ASIA. UPCOMING TITLES: * WARRIOR MONKS WITH KATANA AND NODAICHI * WARRIOR MONKS WITH BOW * WARRIOR MONKS COMMAND SET WITH BANNERS AND OTHER DECORATIVE ELEMENTS... [click here for more] | antohammer the lonely wargamer | $1.00 |