Follow Your Favorites!

Sign in
to get custom notifications of new products!
Featured Product
Achtung! Cthulhu Skirmish Intro & Catalogue
by Modiphius

Set around the events of 'the Secret War' Achtung! Cthulhu Skirmish introduces players to the terrifying conflict fought to stop the sorcerous Nazi cult of the Black Sun from unleashing a tide of Mythos horrors against the Allies. Download this free guide to the incredible Mythos miniatures line and skirmish system!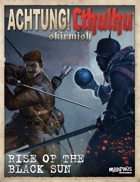 | Products found in this section... | Sort by: |
| --- | --- |
| | | |
| --- | --- | --- |
| Title | Publisher | Price |
| Wargame counters based on the standard frontage of 40mm. showing generic mannaquin figures for 46 different unit types to cover the period 3000 BC to 1200 AD. In addition the set includes counters for camps and villages, and terrain sheets which can be mounted and cut to the sizes required by the player's rules for woods, rough, fields, hills Etc. Counters will never replace the look of actual... [click here for more] | Geoff Curran | $6.43 $5.06 |
| The long awaited Core Rule Book from Wiley Games, makers of Fistful of Lead, is finally here. The long-time favorite Fistful of Lead started as a Wild West game with card-driven mechanics that created Hollywood action. Now Wiley Games presents the Core Rule Book. The Core Rule Book can be used with multiple periods and genres, while still giving you the unique card driven mechanics... [click here for more] | Jaye Wiley | $6.99 |
| Fistful of Lead: Tales of Horror is a supplement for Fistful of Lead. This is not a stand alone game. You will need a copy of Fistful of Lead Core rules or Fistful of Lead: Galactic Heroes to play. As with previous Fistful of Lead rules each player only needs 5 or 6 miniatures to start gaming. You can play 1 on 1 games or larger skirmishes with up to 6... [click here for more] | Jaye Wiley | $5.99 |
| Three 'print and mount your own ' sets of ACW wargaming counters to accommodate various current base conventions (1"/ 25mm frontage, 40mm frontage - larger figures, and 40mm x 40mm mutiple small figures). Each set includes bases for : Infantry (various uniforms), Zoaves, irregular foot, howitzer, Heavy Gun, light gun, cavalry, horse holders, dismounted cavalry, limbers, wagons, generals, and camps.... [click here for more] | Geoff Curran | $5.23 |
| THE ERA OF 3D PRINTABLE WARGAMES IS HERE! World War Tesla™ is an alternate-history wargame by James M. Ward (author of TSR's Gamma World, Deities & Demigods, and Metamorphis Alpha) and Thomas A. Tullis, where Nikola Tesla's more radical ideas such as death rays and force fields have come to fruition, changing the face of a world at war. Giant walking... [click here for more] | Fat Dragon Games | $19.99 |
| 3D paper models and 2D paper miniatures 28 mm for low Sci-Fi wargames. This set includes: 1. Ngen-Ashar - Otlok attack aircraft. Tree removable weapon modules: three-barreled machine guns, bombs and cannon (only central pylon) 2. Ngen-Ashar 2D miniature - Flat "lazy" version 3. Stand Flat 2D version ... [click here for more] | Tomoko's Paper Miniatures | $7.00 |
| This paper model kit is easy to assemble, requiring just cardstock paper sheets to print on (110 lb. or 199gsm recommended), scissors, hobby knife, paper glue, aluminum ruler and cutting mat. It may look complicated, but every part of the Village Chapel is simple to assemble on its own, and putting it together is just a matter of building up the simple shapes into the complete structure... [click here for more] | Dave Graffam Models | $5.95 |
| This paper model kit is easy to assemble, requiring just cardstock paper sheets to print on (110 lb. or 199gsm recommended), scissors, hobby knife, paper glue, aluminum ruler and cutting mat. Assembly time is about half an hour. This model is designed at the popular 28mm-30mm gaming scale, and can be shrunk down to 15mm, 20mm or 25mm scales by simply adjusting the print size percentage on your... [click here for more] | Dave Graffam Models | $2.95 |
| In Galactic Heroes, or GH for short, you'll take on the role of a Hero or Villain, leading a scruffy pirate crew looking for adventure, or maybe a troop of faceless soldiers of the Empire in search of bringing order to the galaxy. It's really up to you! Galactic Heroes allows you to play a small-scale wargame in the far-flung future, a galaxy, far, far away, a grim,... [click here for more] | Jaye Wiley | $6.99 |
| This paper model kit is easy to assemble, requiring just cardstock paper sheets to print on (110 lb. or 199gsm recommended), scissors, hobby knife, paper glue, metal ruler and cutting mat. It may look complicated, but every part of the Country Brewery is simple to assemble on its own, and putting it together is just a matter of building up the simple shapes into the complete structure you... [click here for more] | Dave Graffam Models | $6.95 |
| This paper model kit is easy to assemble, requiring just cardstock paper sheets to print on (110 lb. or 199gsm recommended), scissors, hobby knife, paper glue, aluminum ruler and cutting mat. This model is designed at the popular 28mm-30mm gaming scale, and can be shrunk down to 15mm, 20mm or 25mm scales by simply adjusting the print size percentage on your printer. Tips and advice... [click here for more] | Dave Graffam Models | $4.95 |
| This paper model kit is easy to assemble, requiring just cardstock paper sheets to print on (110 lb. or 199gsm recommended), scissors, hobby knife, paper glue, aluminum ruler and cutting mat. Assembly time is about an hour. This model is designed at the popular 28mm-30mm gaming scale, and can be shrunk down to 15mm, 20mm or 25mm scales by simply adjusting the print size percentage on... [click here for more] | Dave Graffam Models | $2.95 |
| This paper model kit is easy to assemble, requiring just cardstock paper sheets to print on (110 lb. or 199gsm recommended), scissors, hobby knife, paper glue, aluminum ruler and cutting mat. Assembly time is about an hour for the whole set. This model is designed at the popular 28mm-30mm gaming scale, and can be shrunk down to 15mm, 20mm or 25mm scales by simply adjusting the print... [click here for more] | Dave Graffam Models | $2.95 |
| Kampfgruppe Commander maintains an emphasis on command and control, but uses entirely new, and fast-playing, game mechanics. We have built in a great dea of historical flavor with rules that foster constant back-and-forth action. At conventions, Kampfgruppe Commander has consistently played in half the time of other rules sets. Our local gaming group of a dozen people runs evening... [click here for more] | Studio Capitan | $12.66 |
| You will get all files to print this items. Includes all necessary STL files to print the model on your own 3D printer. (No physical model included with your order.) This parts are included: Minimum printbed needed is 15 x 15 cm and 15 cm high. Scale is for 28mm Miniatures (approx 1/48) you can rescale it: Example Scale factor: 10mm = 40 - 45 % 15mm = 65 % (H0 Railroad) 20mm = 75... [click here for more] | ESLO | $14.95 $12.95 |
| The Codex Galactica, a compendium of Peoples, Creatures and Alien Threats from across the galaxy. This essential handbook will give you a tool kit for building forces based off your favorite sci-fi genres.YOU NEED A COPY OF GALACTIC HEROES to fully enjoy this product. In Galactic Heroes, or GH for short, you'll take on the role of a Hero or Villain, leading a scruffy pirate crew looking... [click here for more] | Jaye Wiley | $2.99 |
| This paper model kit is easy to assemble, requiring just cardstock paper sheets to print on (110 lb. or 199gsm recommended), scissors, hobby knife, paper glue, aluminum ruler and cutting mat. Assembly time is about an hour. This model is designed at the popular 28mm-30mm gaming scale, and can be shrunk down to 15mm, 20mm or 25mm scales by simply adjusting the print size percentage on... [click here for more] | Dave Graffam Models | $1.95 |
| This paper model kit is easy to assemble, requiring just cardstock paper sheets to print on (110 lb. or 199gsm recommended), scissors, hobby knife, paper glue, aluminum ruler and cutting mat. This model is designed at the popular 28mm-30mm gaming scale, and can be shrunk down to 15mm, 20mm or 25mm scales by simply adjusting the print size percentage on your printer. Tips and advice... [click here for more] | Dave Graffam Models | $4.95 |
| This paper model kit is easy to assemble, requiring just cardstock paper sheets to print on (110 lb. or 199gsm recommended), scissors, hobby knife, paper glue, aluminum ruler and cutting mat. Assembly time is about an hour. This model is designed at the popular 28mm-30mm gaming scale, and can be shrunk down to 15mm, 20mm or 25mm scales by simply adjusting the print size percentage on... [click here for more] | Dave Graffam Models | $3.95 |
| 5150 No Quarter - Mecha Combat What: Mech specific Sci Fi military combat. Scale: Mech on Mech combat. 1 model equals 1 Mech. Your Role: Players can command from one Mech up to ten or more. Playability: Designed for solo, same side and head to head play. 5150 No Quarter can be played in a variety of ways: · You can play as... [click here for more] | Rebel Minis | $9.95 |
| What's a Sci-Fi game without Out-of-this-World vehicles? This handy manual gives you extra rules for adding skimmers, hover bikes and other mechanical mayhem to your games. A copy of Galactic Heroes is required. This is not a stand alone product. In Galactic Heroes, or GH for short, you'll take on the role of a Hero or Villain, leading a scruffy pirate crew looking for adventure, or... [click here for more] | Jaye Wiley | $2.99 |
| This paper model kit is easy to assemble, requiring just cardstock paper sheets to print on (110 lb. or 199gsm recommended), scissors, hobby knife, paper glue, aluminum ruler and cutting mat. Assembly time is about two hours. This model is designed at the popular 28mm-30mm gaming scale, and can be shrunk down to 15mm, 20mm or 25mm scales by simply adjusting the print size percentage... [click here for more] | Dave Graffam Models | $3.95 |
| This paper model kit is easy to assemble, requiring just cardstock paper sheets to print on (110 lb. or 199gsm recommended), scissors, hobby knife, paper glue, aluminum ruler and cutting mat. This model set is designed at the popular 28mm-30mm gaming scale, and can be shrunk down to 15mm, 20mm or 25mm scales by simply adjusting the print size percentage on your printer. Tips and advice... [click here for more] | Dave Graffam Models | $4.95 |
| This paper model kit is easy to assemble, requiring just cardstock paper sheets to print on (110 lb. or 199gsm recommended), scissors, hobby knife, paper glue, aluminum ruler and cutting mat. It may look complicated, but every part of the West Gate is simple to assemble on its own, and putting it together is just a matter of building up the simple shapes into the complete structure you... [click here for more] | Dave Graffam Models | $5.95 |
| This paper model kit is easy to assemble, requiring just cardstock paper sheets to print on (110 lb. or 199gsm recommended), scissors, hobby knife, paper glue, aluminum ruler and cutting mat. Optionally, you can use a piece of foamcore for the base. This model is designed at the popular 28mm-30mm gaming scale, and can be shrunk down to 15mm, 20mm or 25mm scales by simply adjusting the... [click here for more] | Dave Graffam Models | $2.95 |
| This paper model kit is easy to assemble, requiring just cardstock paper sheets to print on (110 lb. or 199gsm recommended), scissors, hobby knife, paper glue, metal ruler and cutting mat. Optionally, you can use a piece of foamcore for the base. A fine-line ink marker is recommended for darkening the paper edges, and foamcore is recommended for the ground piece, and a few other common... [click here for more] | Dave Graffam Models | $4.95 |
| This paper model kit is easy to assemble, requiring just cardstock paper sheets to print on (110 lb. or 199gsm recommended), scissors, hobby knife, paper glue, metal ruler and cutting mat. This model set is designed at the popular 28mm-30mm gaming scale, and can be shrunk down to 15mm, 20mm or 25mm scales by simply adjusting the print size percentage on your printer. Tips and advice... [click here for more] | Dave Graffam Models | $2.95 |
| This paper model kit is easy to assemble, requiring just cardstock paper sheets to print on (110 lb. or 199gsm recommended), scissors, hobby knife, paper glue, aluminum ruler and cutting mat. Assembly time is about an hour. This model is designed at the popular 28mm-30mm gaming scale, and can be shrunk down to 15mm, 20mm or 25mm scales by simply adjusting the print size percentage on... [click here for more] | Dave Graffam Models | $2.95 |
| This paper model kit is easy to assemble, requiring just cardstock paper sheets to print on (110 lb. or 199gsm recommended), scissors, hobby knife, paper glue, aluminum ruler and cutting mat. It may look complicated, but every part of the Village Pub is simple to assemble on its own, and putting it together is just a matter of building up the simple shapes into the complete structure you... [click here for more] | Dave Graffam Models | $3.95 |
| This paper model kit is easy to assemble, requiring just 8 cardstock paper sheets to print on (110 lb. or 199gsm recommended), scissors, hobby knife, paper glue, metal ruler and cutting mat. This model is designed at the popular 28mm-30mm gaming scale, and can be shrunk down to 15mm, 20mm or 25mm scales by simply adjusting the print size percentage on your printer. Tips and advice for... [click here for more] | Dave Graffam Models | $4.95 |
| This paper model kit is easy to assemble, requiring just 12 cardstock paper sheets to print on (110 lb. or 199gsm recommended), hobby knife, glue, metal ruler and cutting mat. This model is designed at the popular 28mm-30mm gaming scale, and can be shrunk down to 15mm, 20mm or 25mm scales by simply adjusting the print size percentage on your printer. Tips and advice for altering the... [click here for more] | Dave Graffam Models | $4.95 |
| This paper tiles set is easy to create, requiring just cardstock paper sheets to print on (110 lb. or 199gsm recommended), scissors, hobby knife, aluminum ruler and cutting mat. These tiles are designed at the popular 28mm-30mm gaming scale, and can be shrunk down to 15mm, 20mm or 25mm scales by simply adjusting the print size percentage on your printer. Tips and advice for altering... [click here for more] | Dave Graffam Models | $4.95 |
| This paper model kit is easy to assemble, requiring just cardstock paper sheets to print on (110 lb. or 199gsm recommended), scissors, hobby knife, paper glue, aluminum ruler and cutting mat. Assembly time is under an hour. This model is designed at the popular 28mm-30mm gaming scale, and can be shrunk down to 15mm, 20mm or 25mm scales by simply adjusting the print size percentage on... [click here for more] | Dave Graffam Models | $2.95 |
| A crane house like this is useful in any harbor, and might be the property of a merchant at their private pier or warehouse. It might be owned by a town or individual offering its services to the public, charging a small fee for every hoist. Such a structure would also be vital in an exchange market where bulk goods are being traded, where large freight needs to be moved from one wagon to... [click here for more] | Dave Graffam Models | $2.95 |
| There can be only one! Make sure it's yours. In the far future, Terran colonies are warring amongst themselves, even as a hostile xenophobic race approaches, bent on scouring all 'alien' life from the galaxy. Take control of a task force of starships from your colony world and lead your fleet to victory or die a horrible death in the cold vacuum of space! Anything from a stealth destroyer to a mighty... [click here for more] | Steel Dreadnought Games | $24.95 $19.95 |
| This paper model kit is easy to assemble, requiring just 8 cardstock paper sheets to print on (110 lb. or 199gsm recommended), scissors, hobby knife, paper glue, metal ruler and cutting mat. Optionally, you can use a piece of foamcore for the base. This model is designed at the popular 28mm-30mm gaming scale, and can be shrunk down to 15mm, 20mm or 25mm scales by simply adjusting the... [click here for more] | Dave Graffam Models | $2.95 |
| This paper model kit is easy to assemble, requiring just cardstock paper sheets to print on (110 lb. or 199gsm recommended), scissors, hobby knife, paper glue, aluminum ruler and cutting mat. Assembly time is about an hour. This model is designed at the popular 28mm-30mm gaming scale, and can be shrunk down to 15mm, 20mm or 25mm scales by simply adjusting the print size percentage on... [click here for more] | Dave Graffam Models | $1.95 |
| This paper model kit is easy to assemble, requiring just 7 cardstock paper sheets to print on (110 lb. or 199gsm recommended), scissors, hobby knife, paper glue, metal ruler, black felt-tip pen and cutting mat. Optionally, you may make use of other common hobby tools for even better results. Full instructions are included. This model is designed at the popular 28mm-30mm gaming scale.... [click here for more] | Dave Graffam Models | $4.95 |
| This paper model kit is easy to assemble, requiring just cardstock paper sheets to print on (110 lb. or 199gsm recommended), scissors, hobby knife, paper glue, aluminum ruler and cutting mat. This model is designed at the popular 28mm-30mm gaming scale, and can be shrunk down to 15mm, 20mm or 25mm scales by simply adjusting the print size percentage on your printer. Tips and advice... [click here for more] | Dave Graffam Models | $2.95 |
| This paper model kit is easy to assemble, requiring just cardstock paper sheets to print on (110 lb. or 199gsm recommended), scissors, hobby knife, paper glue, aluminum ruler and cutting mat. Assembly time is about an hour. This model is designed at the popular 28mm-30mm gaming scale, and can be shrunk down to 15mm, 20mm or 25mm scales by simply adjusting the print size percentage on... [click here for more] | Dave Graffam Models | $2.95 |
| This paper model kit is easy to assemble, requiring just cardstock paper sheets to print on (110 lb. or 199gsm recommended), scissors, hobby knife, paper glue, aluminum ruler and cutting mat. Assembly time is about an hour. This model is designed at the popular 28mm-30mm gaming scale, and can be shrunk down to 15mm, 20mm or 25mm scales by simply adjusting the print size percentage on... [click here for more] | Dave Graffam Models | $3.95 |
| This paper model kit is easy to assemble, requiring just cardstock paper sheets to print on (110 lb. or 199gsm recommended), scissors, hobby knife, paper glue, aluminum ruler and cutting mat. Assembly time is about an hour. This model is designed at the popular 28mm-30mm gaming scale, and can be shrunk down to 15mm, 20mm or 25mm scales by simply adjusting the print size percentage on... [click here for more] | Dave Graffam Models | $2.95 |
| TABLE AIR COMBAT Table Air Combat is a fast, simple air combat game that can be played on any flat surface. All you need are some six-sided dice and some coins to provide weight for the aircraft counters. Everything else can be printed from this ruleset. Download a free set of the complete rules here: Flight Operations Manual Watch how to play Here Each player has a flight of four... [click here for more] | Paper Forge | $1.99 |
| This paper model kit is easy to assemble, requiring just cardstock paper sheets to print on (110 lb. or 199gsm recommended), scissors, hobby knife, paper glue, aluminum ruler and cutting mat. It may look complicated, but every part of the Willow Brook Inn is simple to assemble on its own, and putting it together is just a matter of building up the simple shapes into the complete structure... [click here for more] | Dave Graffam Models | $5.95 |
| This paper model kit is easy to assemble, requiring just 13 cardstock paper sheets to print on (110 lb. or 199gsm recommended), scissors, hobby knife, paper glue, metal ruler and cutting mat. Optionally, you may use a piece of foamcore cut to 6" x 9" for the ground piece. This model is designed at the popular 28mm-30mm gaming scale, and can be shrunk down to 15mm, 20mm or... [click here for more] | Dave Graffam Models | $4.95 |
| This paper model kit is easy to assemble, requiring just cardstock paper sheets to print on (110 lb. or 199gsm recommended), scissors, hobby knife, paper glue, aluminum ruler and cutting mat. Assembly time is about two hours. This model is designed at the popular 28mm-30mm gaming scale, and can be shrunk down to 15mm, 20mm or 25mm scales by simply adjusting the print size percentage... [click here for more] | Dave Graffam Models | $4.95 |
| This paper model kit is easy to assemble, requiring just cardstock paper sheets to print on (110 lb. or 199gsm recommended), scissors, hobby knife, paper glue, aluminum ruler and cutting mat. Assembly time is about an hour. This model is designed at the popular 28mm-30mm gaming scale, and can be shrunk down to 15mm, 20mm or 25mm scales by simply adjusting the print size percentage on... [click here for more] | Dave Graffam Models | $1.95 |
| This paper model kit is easy to assemble, requiring just 13 cardstock paper sheets to print on (110 lb. or 199gsm recommended), scissors, hobby knife, paper glue, metal ruler and cutting mat. Optionally, you may use a piece of foamcore cut to 6" x 9" for the ground piece. This model is designed at the popular 28mm-30mm gaming scale, and can be shrunk down to 15mm, 20mm or... [click here for more] | Dave Graffam Models | $3.95 |
| This paper model kit is easy to assemble, requiring just cardstock paper sheets to print on (110 lb. or 199gsm recommended), scissors, hobby knife, paper glue, aluminum ruler and cutting mat. Assembly time is about half an hour. This model is designed at the popular 28mm-30mm gaming scale, and can be shrunk down to 15mm, 20mm or 25mm scales by simply adjusting the print size percentage... [click here for more] | Dave Graffam Models | $2.95 |
| This paper model kit is easy to assemble, requiring just cardstock paper sheets to print on (110 lb. or 199gsm recommended), scissors, hobby knife, paper glue, aluminum ruler and cutting mat. This model set is designed at the popular 28mm-30mm gaming scale, and can be shrunk down to 15mm, 20mm or 25mm scales by simply adjusting the print size percentage on your printer. Tips and advice... [click here for more] | Dave Graffam Models | $3.95 |