Follow Your Favorites!

Sign in
to get custom notifications of new products!

Featured Product
Kupfer House Card Models Kit
by Dave Graffam Models

Cardstock models like the Kupfer House are a great way to fill up your tabletop with affordable terrain. This PDF card models kit is designed for easy printing and assembly, and includes several stand-alone models that can be combined into larger structures. In just one afternoon you can build a sprawling complex to represent a manor house, a massive inn, or government offices.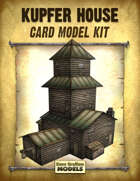 | Products found in this section... | Sort by: |
| --- | --- |
| | | |
| --- | --- | --- |
| Title | Publisher | Price |
| Modular Kit: Haunted Manor   Modular Kit: Haunted Manor is a printable dungeon tileset compatible with any RPG/Dungeon-Crawl game. It can be used as a standalone set, or combined with any same-scale tileset. Modular Kit: Haunted Manor is a modular set containing 176 modular tiles. Dozens of rooms are provided - typical manor house rooms like a parlour, dining... [click here for more] | Heroic Maps | $12.99 $6.50 |
| Easy to build: This paper model kit is easy to assemble, requiring just cardstock paper sheets to print on (110 lb. or 199gsm recommended), scissors, hobby knife, paper glue, aluminum ruler and cutting mat. Assembly time is about half an hour. 15mm to 30mm scale: This model is designed at the popular 28mm-30mm gaming scale, and can be shrunk down to 15mm, 20mm or... [click here for more] | Dave Graffam Models | $2.95 $1.00 |
| Easy to build: This paper model kit is easy to assemble, requiring just cardstock paper sheets to print on (110 lb. or 199gsm recommended), scissors, hobby knife, paper glue, aluminum ruler and cutting mat. It may look complicated, but every part of the Village Chapel is simple to assemble on its own, and putting it together is just a matter of building up the simple shapes into... [click here for more] | Dave Graffam Models | $5.95 $3.00 |
| RPG Props - Crossroads MODKIT: Landmarks, Milestones, Signposts - PERMES Easy Scenery Series Set #15 This set contains total 42 front and back artwork ready to cut papercraft pieces. MODKIT Crossroads RPG props and elements of scenery include various Landmarks, Milestones, Signposts, Bulletin Boards, Warning Signs and other props and elements in... [click here for more] | PERMES | $2.99 $1.99 |
| Easy to build: This paper model kit is easy to assemble, requiring just cardstock paper sheets to print on (110 lb. or 199gsm recommended), scissors, hobby knife, paper glue, aluminum ruler and cutting mat. 15mm to 30mm scale: This model is designed at the popular 28mm-30mm gaming scale, and can be shrunk down to 15mm, 20mm or 25mm scales by simply adjusting the... [click here for more] | Dave Graffam Models | $4.95 $2.00 |
| Easy to build: This paper model kit is easy to assemble, requiring just cardstock paper sheets to print on (110 lb. or 199gsm recommended), scissors, hobby knife, paper glue, aluminum ruler and cutting mat. Assembly time is about an hour. 15mm to 30mm scale: This model is designed at the popular 28mm-30mm gaming scale, and can be shrunk down to 15mm, 20mm or 25mm... [click here for more] | Dave Graffam Models | $2.95 $1.00 |
| Easy to build: This paper model kit is easy to assemble, requiring just cardstock paper sheets to print on (110 lb. or 199gsm recommended), scissors, hobby knife, paper glue, metal ruler and cutting mat. It may look complicated, but every part of the Country Brewery is simple to assemble on its own, and putting it together is just a matter of building up the simple shapes into the... [click here for more] | Dave Graffam Models | $6.95 $3.00 |
| Easy to build: This paper model kit is easy to assemble, requiring just cardstock paper sheets to print on (110 lb. or 199gsm recommended), scissors, hobby knife, paper glue, metal ruler and cutting mat. Assembly time is about an hour for the whole set. 15mm to 30mm scale: This model is designed at the popular 28mm-30mm gaming scale, and can be shrunk down to 15mm,... [click here for more] | Dave Graffam Models | $2.95 $1.00 |
| Easy to build: This paper model kit is easy to assemble, requiring just cardstock paper sheets to print on (110 lb. or 199gsm recommended), scissors, hobby knife, paper glue, aluminum ruler and cutting mat. 15mm to 30mm scale: This model is designed at the popular 28mm-30mm gaming scale, and can be shrunk down to 15mm, 20mm or 25mm scales by simply adjusting the... [click here for more] | Dave Graffam Models | $4.95 $2.00 |
| Easy to build: This paper model kit is easy to assemble, requiring just cardstock paper sheets to print on (110 lb. or 199gsm recommended), scissors, hobby knife, paper glue, aluminum ruler and cutting mat. Assembly time is about an hour. 15mm to 30mm scale: This model is designed at the popular 28mm-30mm gaming scale, and can be shrunk down to 15mm, 20mm or 25mm... [click here for more] | Dave Graffam Models | $1.95 $1.00 |
| Easy to build: This paper model kit is easy to assemble, requiring just cardstock paper sheets to print on (110 lb. or 199gsm recommended), scissors, hobby knife, paper glue, aluminum ruler and cutting mat. It may look complicated, but every part of the Inventor's House is simple to assemble on its own, and putting it together is just a matter of building up the simple shapes into... [click here for more] | Dave Graffam Models | $5.95 $3.00 |
| This terrain supplement for COLD WAR3! includes three sets of Nuclear Power Station hazzard and warning signs for SELAFIELD in the UK; GRAFENRHEINFELD in West Germany and CHERNOBYL in Ukraine/Soviet Union. Included are warning, keep out, radiation hazzard signage as well as road signs pointing to the various power plants. Additionally included are SIX (6) different cut out fold petrol stations common... [click here for more] | Rooksdown Games | $6.89 $4.86 |
| Easy to build: This paper model kit is easy to assemble, requiring just cardstock paper sheets to print on (110 lb. or 199gsm recommended), scissors, hobby knife, paper glue, aluminum ruler and cutting mat. Assembly time is about two hours. 15mm to 30mm scale: This model is designed at the popular 28mm-30mm gaming scale, and can be shrunk down to 15mm, 20mm or 25mm... [click here for more] | Dave Graffam Models | $3.95 $2.00 |
| Easy to build: This paper model kit is easy to assemble, requiring just cardstock paper sheets to print on (110 lb. or 199gsm recommended), scissors, hobby knife, paper glue, metal ruler and cutting mat. 15mm to 30mm scale: This model set is designed at the popular 28mm-30mm gaming scale, and can be shrunk down to 15mm, 20mm or 25mm scales by simply adjusting the... [click here for more] | Dave Graffam Models | $2.95 $1.00 |
| Easy to build at 15mm to 30mm scale: This paper model is easy to assemble, requiring just cardstock sheets to print on (110# or 199gsm cardstock recommended), scissors, hobby knife and ordinary glue. Included are tips and advice for printing at various popular gaming and model railroad scales. One of the great things about papercraft models is that they can be printed at any popular... [click here for more] | Dave Graffam Models | $3.95 $2.00 |
| Easy to build: This paper model kit is easy to assemble, requiring just cardstock paper sheets to print on (110 lb. or 199gsm recommended), scissors, hobby knife, paper glue, aluminum ruler and cutting mat. It may look complicated, but every part of the West Gate is simple to assemble on its own, and putting it together is just a matter of building up the simple shapes into the complete... [click here for more] | Dave Graffam Models | $5.95 $3.00 |
| Easy to build: This paper model kit is easy to assemble, requiring just cardstock paper sheets to print on (110 lb. or 199gsm recommended), scissors, hobby knife, paper glue, aluminum ruler and cutting mat. 15mm to 30mm scale: This model set is designed at the popular 28mm-30mm gaming scale, and can be shrunk down to 15mm, 20mm or 25mm scales by simply adjusting... [click here for more] | Dave Graffam Models | $4.95 $2.00 |
| Easy to build: This paper model kit is easy to assemble, requiring just cardstock paper sheets to print on (110 lb. or 199gsm recommended), scissors, hobby knife, paper glue, aluminum ruler and cutting mat. It may look complicated, but every part of the Village Pub is simple to assemble on its own, and putting it together is just a matter of building up the simple shapes into the... [click here for more] | Dave Graffam Models | $3.95 $1.00 |
| Easy to build: This paper model kit is easy to assemble, requiring just cardstock paper sheets to print on (110 lb. or 199gsm recommended), scissors, hobby knife, paper glue, aluminum ruler and cutting mat. Assembly time is about an hour. 15mm to 30mm scale: This model is designed at the popular 28mm-30mm gaming scale, and can be shrunk down to 15mm, 20mm or 25mm... [click here for more] | Dave Graffam Models | $2.95 $1.00 |
| Easy to build: This paper model kit is easy to assemble, requiring just cardstock paper sheets to print on (110 lb. or 199gsm recommended), scissors, hobby knife, paper glue, aluminum ruler and cutting mat. Optionally, you can use a piece of foamcore for the base. 15mm to 30mm scale: This model is designed at the popular 28mm-30mm gaming scale, and can be shrunk... [click here for more] | Dave Graffam Models | $2.95 $1.00 |
| Easy to build: This paper model kit is easy to assemble, requiring just cardstock paper sheets to print on (110 lb. or 199gsm recommended), scissors, hobby knife, paper glue, aluminum ruler and cutting mat. Assembly time is about an hour. 15mm to 30mm scale: This model is designed at the popular 28mm-30mm gaming scale, and can be shrunk down to 15mm, 20mm or 25mm... [click here for more] | Dave Graffam Models | $3.95 $2.00 |
| Easy to build: This paper model is easy to assemble, requiring just cardstock sheets to print on (110# or 199gsm cardstock recommended), scissors, hobby knife and ordinary glue. Included are tips and advice for printing at various popular gaming and model railroad scales.  15mm to 30mm scale: One of the great things about papercraft models is that they can be... [click here for more] | Dave Graffam Models | $4.95 $2.00 |
| Easy to build: This paper model kit is easy to assemble, requiring just cardstock paper sheets to print on (110 lb. or 199gsm recommended), scissors, hobby knife, paper glue, aluminum ruler and cutting mat. Assembly time is about an hour. 15mm to 30mm scale: This model is designed at the popular 28mm-30mm gaming scale, and can be shrunk down to 15mm, 20mm or 25mm... [click here for more] | Dave Graffam Models | $2.95 $1.00 |
| This paper model kit is easy to assemble, requiring just cardstock paper sheets to print on (110 lb. or 199gsm recommended), scissors, hobby knife, paper glue, aluminum ruler and cutting mat. Assembly time is about an hour. This model is designed at the popular 28mm-30mm gaming scale, and can be shrunk down to 15mm, 20mm or 25mm scales by simply adjusting the print size percentage on your... [click here for more] | Dave Graffam Models | $1.95 $1.00 |
| Easy to build: This paper model kit is easy to assemble, requiring just 18 cardstock paper sheets to print on (110 lb. or 199gsm recommended), scissors, hobby knife, paper glue, metal ruler and cutting mat. Optionally, you can use a piece of foamcore for the base. 15mm to 30mm scale: This model is designed at the popular 28mm-30mm gaming scale, and can be shrunk... [click here for more] | Dave Graffam Models | $4.95 $2.00 |
| Easy to build: This paper model kit is easy to assemble, requiring just cardstock paper sheets to print on (110 lb. or 199gsm recommended), scissors, hobby knife, paper glue, aluminum ruler and cutting mat. Assembly time is under an hour. 15mm to 30mm scale: This model is designed at the popular 28mm-30mm gaming scale, and can be shrunk down to 15mm, 20mm or 25mm... [click here for more] | Dave Graffam Models | $2.95 $1.00 |
| Easy to build: This paper tiles set is easy to create, requiring just cardstock paper sheets to print on (110 lb. or 199gsm recommended), scissors, hobby knife, aluminum ruler and cutting mat. 15mm to 30mm scale: These tiles are designed at the popular 28mm-30mm gaming scale, and can be shrunk down to 15mm, 20mm or 25mm scales by simply adjusting the print size... [click here for more] | Dave Graffam Models | $4.95 $2.00 |
| Easy to build: This paper model kit is easy to assemble, requiring just cardstock paper sheets to print on (110 lb. or 199gsm recommended), scissors, hobby knife, paper glue, aluminum ruler and cutting mat. Assembly time is about two hours. 15mm to 30mm scale: This model is designed at the popular 28mm-30mm gaming scale, and can be shrunk down to 15mm, 20mm or... [click here for more] | Dave Graffam Models | $4.95 $2.00 |
| Easy to build: This paper model kit is easy to assemble, requiring just cardstock paper sheets to print on (110 lb. or 199gsm recommended), scissors, hobby knife, paper glue, aluminum ruler and cutting mat. 15mm to 30mm scale: This model is designed at the popular 28mm-30mm gaming scale, and can be shrunk down to 15mm, 20mm or 25mm scales by simply adjusting the... [click here for more] | Dave Graffam Models | $2.95 $1.00 |
| Easy to build: This paper model kit is easy to assemble, requiring just cardstock paper sheets to print on (110 lb. or 199gsm recommended), scissors, hobby knife, paper glue, metal ruler and cutting mat. Optionally, you can use a piece of foamcore for the base. A fine-line ink marker is recommended for darkening the paper edges, and foamcore is recommended for the ground piece, and... [click here for more] | Dave Graffam Models | $4.95 $2.00 |
| Easy to build: This cardstock print-and-build terrain kit is easy to assemble, requiring just 2 or 3 cardstock paper sheets to print on (index weight, 110#, or 199gsm recommended), hobby knife, paper glue, metal ruler and cutting mat. 15mm to 30mm scale: This model is designed at the popular 28mm-30mm gaming scale (1 inch equals 5 feet or 2 meters), and can be shrunk... [click here for more] | Dave Graffam Models | $1.95 |
| Easy to build: This paper model kit is easy to assemble, requiring just cardstock paper sheets to print on (110 lb. or 199gsm recommended), scissors, hobby knife, paper glue, aluminum ruler and cutting mat. Assembly time is about an hour. 15mm to 30mm scale: This model is designed at the popular 28mm-30mm gaming scale, and can be shrunk down to 15mm, 20mm or 25mm... [click here for more] | Dave Graffam Models | $1.95 $1.00 |
| Easy to build: This paper model kit is easy to assemble, requiring just cardstock paper sheets to print on (110 lb. or 199gsm recommended), scissors, hobby knife, paper glue, aluminum ruler and cutting mat. Assembly time is about an hour. 15mm to 30mm scale: This model is designed at the popular 28mm-30mm gaming scale, and can be shrunk down to 15mm, 20mm or 25mm... [click here for more] | Dave Graffam Models | $2.95 $1.00 |
| Easy to build: This paper tile set is easy to create, requiring just cardstock paper sheets to print on (110 lb. or 199gsm recommended), scissors, hobby knife, aluminum ruler and cutting mat. For sturdier tiles, use foamcore and spray glue. 15mm to 30mm scale: These tiles are designed with a 1" grid to be used at the popular 28mm-30mm gaming scale, and can be shrunk... [click here for more] | Dave Graffam Models | $2.95 $1.00 |
| A crane house like this is useful in any harbor, and might be the property of a merchant at their private pier or warehouse. It might be owned by a town or individual offering its services to the public, charging a small fee for every hoist. Such a structure would also be vital in an exchange market where bulk goods are being traded, where large freight needs to be moved from one wagon to another... [click here for more] | Dave Graffam Models | $2.95 $1.00 |
| Easy to build: This paper model kit is easy to assemble, requiring just cardstock paper sheets to print on (110 lb. or 199gsm recommended), scissors, hobby knife, paper glue, aluminum ruler and cutting mat. Assembly time is about an hour. 15mm to 30mm scale: This model is designed at the popular 28mm-30mm gaming scale, and can be shrunk down to 15mm, 20mm or 25mm... [click here for more] | Dave Graffam Models | $2.95 $1.00 |
| Easy to build: This paper model kit is easy to assemble, requiring just 12 cardstock paper sheets to print on (110 lb. or 199gsm recommended), hobby knife, glue, metal ruler and cutting mat. 15mm to 30mm scale: This model is designed at the popular 28mm-30mm gaming scale, and can be shrunk down to 15mm, 20mm or 25mm scales by simply adjusting the print size percentage... [click here for more] | Dave Graffam Models | $4.95 $1.00 |
| Easy to build: This paper model kit is easy to assemble, requiring just cardstock paper sheets to print on (110 lb. or 199gsm recommended), scissors, hobby knife, paper glue, aluminum ruler and cutting mat. Assembly time is about half an hour. 15mm to 30mm scale: This model is designed at the popular 28mm-30mm gaming scale, and can be shrunk down to 15mm, 20mm or... [click here for more] | Dave Graffam Models | $2.95 $1.00 |
| Easy to build: This paper model kit is easy to assemble, requiring just cardstock paper sheets to print on (110 lb. or 199gsm recommended), scissors, hobby knife, paper glue, aluminum ruler and cutting mat. Assembly time is about an hour. 15mm to 30mm scale: This model is designed at the popular 28mm-30mm gaming scale, and can be shrunk down to 15mm, 20mm or 25mm... [click here for more] | Dave Graffam Models | $1.95 $1.00 |
| Easy to build: This paper terrain kit is easy to assemble, requiring just 15 cardstock paper sheets to print on (110 lb. or 199gsm recommended), hobby knife, glue, metal ruler and cutting mat. 15mm to 30mm scale: These models are designed at the popular 28mm-30mm gaming scale, and can be shrunk down to 15mm, 20mm or 25mm scales by simply adjusting the print size... [click here for more] | Dave Graffam Models | $2.95 $1.00 |
| Easy to build: This paper model kit is easy to assemble, requiring just cardstock paper sheets to print on (110 lb. or 199gsm recommended), scissors, hobby knife, paper glue, aluminum ruler and cutting mat. It may look complicated, but every part of the Willow Brook Inn is simple to assemble on its own, and putting it together is just a matter of building up the simple shapes into... [click here for more] | Dave Graffam Models | $5.95 $3.00 |
| Easy to build: This paper model kit is easy to assemble, requiring just cardstock paper sheets to print on (110 lb. or 199gsm recommended), scissors, hobby knife, paper glue, aluminum ruler and cutting mat. Assembly time is about an hour. 15mm to 30mm scale: This model is designed at the popular 28mm-30mm gaming scale, and can be shrunk down to 15mm, 20mm or 25mm... [click here for more] | Dave Graffam Models | $1.95 $1.00 |
| Easy to build: This paper model kit is easy to assemble, requiring just 8 cardstock paper sheets to print on (110 lb. or 199gsm recommended), scissors, hobby knife, paper glue, metal ruler and cutting mat. Optionally, you can use a piece of foamcore for the base. 15mm to 30mm scale: This model is designed at the popular 28mm-30mm gaming scale, and can be shrunk... [click here for more] | Dave Graffam Models | $2.95 $1.00 |
| Easy to build: This paper model kit is easy to assemble, requiring just 13 cardstock paper sheets to print on (110 lb. or 199gsm recommended), scissors, hobby knife, paper glue, metal ruler and cutting mat. Optionally, you may use a piece of foamcore cut to 6" x 9" for the ground piece. 15mm to 30mm scale: This model is designed at the popular 28mm-30mm gaming scale,... [click here for more] | Dave Graffam Models | $4.95 $2.00 |
| Easy to build: This paper model kit is easy to assemble, requiring just cardstock paper sheets to print on (110 lb. or 199gsm recommended), scissors, hobby knife, paper glue, aluminum ruler and cutting mat. 15mm to 30mm scale: This model set is designed at the popular 28mm-30mm gaming scale, and can be shrunk down to 15mm, 20mm or 25mm scales by simply adjusting... [click here for more] | Dave Graffam Models | $3.95 $2.00 |
| Easy to build: This paper model kit is easy to assemble, requiring just cardstock paper sheets to print on (110 lb. or 199gsm recommended), scissors, hobby knife, paper glue, aluminum ruler and cutting mat. Assembly time is about an hour. 15mm to 30mm scale: This model is designed at the popular 28mm-30mm gaming scale, and can be shrunk down to 15mm, 20mm or 25mm... [click here for more] | Dave Graffam Models | $3.95 $2.00 |
| This is a short collection of 21 pre-drawn dungeons for Four Against Darkness and for other dungeon-exploration games. Each dungeon comes with a map of numbered rooms on the left page and a corresponding form on the right page that you fill in as you progress through the maze. You may photocopy or print out the dungeons and reuse them as many times as you want. This is not a stand alone game. This... [click here for more] | Ganesha Games | $5.99 $2.99 |
| Easy to build: This paper model kit is easy to assemble, requiring just cardstock paper sheets to print on (110 lb. or 199gsm recommended), scissors, hobby knife, paper glue, aluminum ruler and cutting mat. Assembly time is about an hour. 15mm to 30mm scale: This model set is designed at the popular 28mm-30mm gaming scale, and can be shrunk down... [click here for more] | Dave Graffam Models | $4.95 $2.00 |
| Easy to build: This paper model kit is easy to assemble, requiring just 7 cardstock paper sheets to print on (110 lb. or 199gsm recommended), scissors, hobby knife, paper glue, metal ruler, black felt-tip pen and cutting mat. Optionally, you may make use of other common hobby tools for even better results. Full instructions are included. 28mm-30mm scale: This model is designed... [click here for more] | Dave Graffam Models | $4.95 $2.00 |
| Easy to build: This paper model kit is easy to assemble, requiring just 10 cardstock paper sheets to print on (110 lb. or 199gsm recommended), scissors, hobby knife, paper glue, metal ruler and cutting mat. 15mm to 30mm scale: This model is designed at the popular 28mm-30mm gaming scale, and can be shrunk down to 15mm, 20mm or 25mm scales by simply adjusting the... [click here for more] | Dave Graffam Models | $4.95 $2.00 |