Follow Your Favorites!

Sign in
to get custom notifications of new products!

Featured Product
Arkadon Castle
by Draken Games
Arkadon Castle isn't a mighty fortress: it's an unfashionable fortified manor house, owned by minor aristocracy of modest means. With a full set of plans at varying scales, including room plans (both furnished and generic) suitable for use with miniatures, this resource gives you the ideal setting for a scenario or skirmish.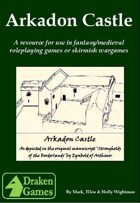 | Products found in this section... | Sort by: |
| --- | --- |
| | | |
| --- | --- | --- |
| Title | Publisher | Price |
| Introducing the Grenzwacht Outpost Builder series: Watchtower. Ideal for roleplaying or wargames. Combine with paper, plastic or metal miniatures. Build with many optional skins and color options. INCLUDES Main Tower (base 3x3", height 7-9" depending on configuration) Customizable door and window positions via layers Light and Dark Tower skin with different color tint options Optional... [click here for more] | Papierschnitzel | $3.00 |
| Easy to build: This paper model kit is easy to assemble, requiring just cardstock paper sheets to print on (110 lb. or 199gsm recommended), scissors, hobby knife, paper glue, aluminum ruler and cutting mat. Assembly time is about half an hour. 15mm to 30mm scale: This model is designed at the popular 28mm-30mm gaming scale, and can be shrunk down to 15mm, 20mm or... [click here for more] | Dave Graffam Models | $2.95 |
| Easy to build: This paper model kit is easy to assemble, requiring just cardstock paper sheets to print on (110 lb. or 199gsm recommended), scissors, hobby knife, paper glue, aluminum ruler and cutting mat. It may look complicated, but every part of the Village Chapel is simple to assemble on its own, and putting it together is just a matter of building up the simple shapes into... [click here for more] | Dave Graffam Models | $5.95 |
| Welcome to THE BLUE AND THE RED! This is an exciting new, easy to learn skirmish game that the whole family can easily learn and enjoy! Taking place in a medieval fantasy world, this game takes place during a civil war in a once prosperous realm. The Red Protectorate has seized control and are losing their way, and the people suffer. The House of Blue has stepped up to the challenge of bringing... [click here for more] | Sundered Vault | $4.99 |
| Easy to build: This paper model kit is easy to assemble, requiring just cardstock paper sheets to print on (110 lb. or 199gsm recommended), scissors, hobby knife, paper glue, aluminum ruler and cutting mat. 15mm to 30mm scale: This model is designed at the popular 28mm-30mm gaming scale, and can be shrunk down to 15mm, 20mm or 25mm scales by simply adjusting the... [click here for more] | Dave Graffam Models | $4.95 |
| Easy to build: This paper model kit is easy to assemble, requiring just cardstock paper sheets to print on (110 lb. or 199gsm recommended), scissors, hobby knife, paper glue, aluminum ruler and cutting mat. Assembly time is about an hour. 15mm to 30mm scale: This model is designed at the popular 28mm-30mm gaming scale, and can be shrunk down to 15mm, 20mm or 25mm... [click here for more] | Dave Graffam Models | $2.95 |
| Easy to build: This paper model kit is easy to assemble, requiring just cardstock paper sheets to print on (110 lb. or 199gsm recommended), scissors, hobby knife, paper glue, metal ruler and cutting mat. Assembly time is about an hour for the whole set. 15mm to 30mm scale: This model is designed at the popular 28mm-30mm gaming scale, and can be shrunk down to 15mm,... [click here for more] | Dave Graffam Models | $2.95 |
| Easy to build: This paper model kit is easy to assemble, requiring just cardstock paper sheets to print on (110 lb. or 199gsm recommended), scissors, hobby knife, paper glue, metal ruler and cutting mat. It may look complicated, but every part of the Country Brewery is simple to assemble on its own, and putting it together is just a matter of building up the simple shapes into the... [click here for more] | Dave Graffam Models | $6.95 |
| Easy to build: This paper model kit is easy to assemble, requiring just cardstock paper sheets to print on (110 lb. or 199gsm recommended), scissors, hobby knife, paper glue, aluminum ruler and cutting mat. 15mm to 30mm scale: This model is designed at the popular 28mm-30mm gaming scale, and can be shrunk down to 15mm, 20mm or 25mm scales by simply adjusting the... [click here for more] | Dave Graffam Models | $4.95 |
| Easy to build: This paper model kit is easy to assemble, requiring just cardstock paper sheets to print on (110 lb. or 199gsm recommended), scissors, hobby knife, paper glue, aluminum ruler and cutting mat. Assembly time is about an hour. 15mm to 30mm scale: This model is designed at the popular 28mm-30mm gaming scale, and can be shrunk down to 15mm, 20mm or 25mm... [click here for more] | Dave Graffam Models | $1.95 |
| Easy to build: This paper model kit is easy to assemble, requiring just cardstock paper sheets to print on (110 lb. or 199gsm recommended), scissors, hobby knife, paper glue, aluminum ruler and cutting mat. Assembly time is about an hour. 15mm to 30mm scale: This model is designed at the popular 28mm-30mm gaming scale, and can be shrunk down to 15mm, 20mm or 25mm... [click here for more] | Dave Graffam Models | $3.95 |
| Easy to build: This paper model kit is easy to assemble, requiring just cardstock paper sheets to print on (110 lb. or 199gsm recommended), scissors, hobby knife, paper glue, aluminum ruler and cutting mat. It may look complicated, but every part of the Inventor's House is simple to assemble on its own, and putting it together is just a matter of building up the simple shapes into... [click here for more] | Dave Graffam Models | $5.95 |
| Easy to build: This paper model kit is easy to assemble, requiring just cardstock paper sheets to print on (110 lb. or 199gsm recommended), scissors, hobby knife, paper glue, aluminum ruler and cutting mat. Assembly time is about two hours. 15mm to 30mm scale: This model is designed at the popular 28mm-30mm gaming scale, and can be shrunk down to 15mm, 20mm or 25mm... [click here for more] | Dave Graffam Models | $3.95 |
| Easy to build: This paper model kit is easy to assemble, requiring just cardstock paper sheets to print on (110 lb. or 199gsm recommended), scissors, hobby knife, paper glue, metal ruler and cutting mat. 15mm to 30mm scale: This model set is designed at the popular 28mm-30mm gaming scale, and can be shrunk down to 15mm, 20mm or 25mm scales by simply adjusting the... [click here for more] | Dave Graffam Models | $2.95 |
| Easy to build at 15mm to 30mm scale: This paper model is easy to assemble, requiring just cardstock sheets to print on (110# or 199gsm cardstock recommended), scissors, hobby knife and ordinary glue. Included are tips and advice for printing at various popular gaming and model railroad scales. One of the great things about papercraft models is that they can be printed at any popular... [click here for more] | Dave Graffam Models | $3.95 |
| Easy to build: This paper model kit is easy to assemble, requiring just cardstock paper sheets to print on (110 lb. or 199gsm recommended), scissors, hobby knife, paper glue, aluminum ruler and cutting mat. 15mm to 30mm scale: This model set is designed at the popular 28mm-30mm gaming scale, and can be shrunk down to 15mm, 20mm or 25mm scales by simply adjusting... [click here for more] | Dave Graffam Models | $4.95 |
| Easy to build: This paper model kit is easy to assemble, requiring just cardstock paper sheets to print on (110 lb. or 199gsm recommended), scissors, hobby knife, paper glue, aluminum ruler and cutting mat. It may look complicated, but every part of the West Gate is simple to assemble on its own, and putting it together is just a matter of building up the simple shapes into the complete... [click here for more] | Dave Graffam Models | $5.95 |
| Easy to build: This paper model kit is easy to assemble, requiring just cardstock paper sheets to print on (110 lb. or 199gsm recommended), scissors, hobby knife, paper glue, aluminum ruler and cutting mat. Assembly time is about an hour. 15mm to 30mm scale: This model is designed at the popular 28mm-30mm gaming scale, and can be shrunk down to 15mm, 20mm or 25mm... [click here for more] | Dave Graffam Models | $2.95 |
| Easy to build: This paper model kit is easy to assemble, requiring just cardstock paper sheets to print on (110 lb. or 199gsm recommended), scissors, hobby knife, paper glue, aluminum ruler and cutting mat. Assembly time is about an hour. 15mm to 30mm scale: This model is designed at the popular 28mm-30mm gaming scale, and can be shrunk down to 15mm, 20mm or 25mm... [click here for more] | Dave Graffam Models | $3.95 |
| Easy to build: This paper model kit is easy to assemble, requiring just cardstock paper sheets to print on (110 lb. or 199gsm recommended), scissors, hobby knife, paper glue, aluminum ruler and cutting mat. Assembly time is about an hour. 15mm to 30mm scale: This model is designed at the popular 28mm-30mm gaming scale, and can be shrunk down to 15mm, 20mm or 25mm... [click here for more] | Dave Graffam Models | $2.95 |
| Easy to build: This paper model kit is easy to assemble, requiring just cardstock paper sheets to print on (110 lb. or 199gsm recommended), scissors, hobby knife, paper glue, aluminum ruler and cutting mat. It may look complicated, but every part of the Village Pub is simple to assemble on its own, and putting it together is just a matter of building up the simple shapes into the... [click here for more] | Dave Graffam Models | $3.95 |
| Easy to build: This paper model kit is easy to assemble, requiring just cardstock paper sheets to print on (110 lb. or 199gsm recommended), scissors, hobby knife, paper glue, aluminum ruler and cutting mat. Optionally, you can use a piece of foamcore for the base. 15mm to 30mm scale: This model is designed at the popular 28mm-30mm gaming scale, and can be shrunk... [click here for more] | Dave Graffam Models | $2.95 |
| This paper model kit is easy to assemble, requiring just cardstock paper sheets to print on (110 lb. or 199gsm recommended), scissors, hobby knife, paper glue, aluminum ruler and cutting mat. Assembly time is about an hour. This model is designed at the popular 28mm-30mm gaming scale, and can be shrunk down to 15mm, 20mm or 25mm scales by simply adjusting the print size percentage on your... [click here for more] | Dave Graffam Models | $1.95 |
| Easy to build: This paper model is easy to assemble, requiring just cardstock sheets to print on (110# or 199gsm cardstock recommended), scissors, hobby knife and ordinary glue. Included are tips and advice for printing at various popular gaming and model railroad scales.  15mm to 30mm scale: One of the great things about papercraft models is that they can be... [click here for more] | Dave Graffam Models | $4.95 |
| Easy to build: This paper model kit is easy to assemble, requiring just cardstock paper sheets to print on (110 lb. or 199gsm recommended), scissors, hobby knife, paper glue, aluminum ruler and cutting mat. Assembly time is under an hour. 15mm to 30mm scale: This model is designed at the popular 28mm-30mm gaming scale, and can be shrunk down to 15mm, 20mm or 25mm... [click here for more] | Dave Graffam Models | $2.95 |
| Easy to build: This paper tiles set is easy to create, requiring just cardstock paper sheets to print on (110 lb. or 199gsm recommended), scissors, hobby knife, aluminum ruler and cutting mat. 15mm to 30mm scale: These tiles are designed at the popular 28mm-30mm gaming scale, and can be shrunk down to 15mm, 20mm or 25mm scales by simply adjusting the print size... [click here for more] | Dave Graffam Models | $4.95 |
| Easy to build: This paper model kit is easy to assemble, requiring just cardstock paper sheets to print on (110 lb. or 199gsm recommended), scissors, hobby knife, paper glue, aluminum ruler and cutting mat. 15mm to 30mm scale: This model is designed at the popular 28mm-30mm gaming scale, and can be shrunk down to 15mm, 20mm or 25mm scales by simply adjusting the... [click here for more] | Dave Graffam Models | $2.95 |
| Easy to build: This paper model kit is easy to assemble, requiring just cardstock paper sheets to print on (110 lb. or 199gsm recommended), scissors, hobby knife, paper glue, aluminum ruler and cutting mat. Assembly time is about two hours. 15mm to 30mm scale: This model is designed at the popular 28mm-30mm gaming scale, and can be shrunk down to 15mm, 20mm or... [click here for more] | Dave Graffam Models | $4.95 |
| Easy to build: This paper model kit is easy to assemble, requiring just cardstock paper sheets to print on (110 lb. or 199gsm recommended), scissors, hobby knife, paper glue, aluminum ruler and cutting mat. Assembly time is just a few minutes per wall section. 15mm to 30mm scale: This model set is designed at the popular 28mm-30mm gaming scale, and can be shrunk... [click here for more] | Dave Graffam Models | $1.95 |
| Easy to build: This paper model kit is easy to assemble, requiring just cardstock paper sheets to print on (110 lb. or 199gsm recommended), scissors, hobby knife, paper glue, aluminum ruler and cutting mat. Assembly time is about an hour. 15mm to 30mm scale: This model is designed at the popular 28mm-30mm gaming scale, and can be shrunk down to 15mm, 20mm or 25mm... [click here for more] | Dave Graffam Models | $1.95 |
| Easy to build: This paper model kit is easy to assemble, requiring just cardstock paper sheets to print on (110 lb. or 199gsm recommended), scissors, hobby knife, paper glue, aluminum ruler and cutting mat. Assembly time is about an hour. 15mm to 30mm scale: This model is designed at the popular 28mm-30mm gaming scale, and can be shrunk down to 15mm, 20mm or 25mm... [click here for more] | Dave Graffam Models | $2.95 |
| Easy to build: This paper model kit is easy to assemble, requiring just 18 cardstock paper sheets to print on (110 lb. or 199gsm recommended), scissors, hobby knife, paper glue, metal ruler and cutting mat. Optionally, you can use a piece of foamcore for the base. 15mm to 30mm scale: This model is designed at the popular 28mm-30mm gaming scale, and can be shrunk... [click here for more] | Dave Graffam Models | $4.95 |
| Easy to build: This paper model kit is easy to assemble, requiring just cardstock paper sheets to print on (110 lb. or 199gsm recommended), scissors, hobby knife, paper glue, aluminum ruler and cutting mat. Assembly time is about an hour. 15mm to 30mm scale: This model is designed at the popular 28mm-30mm gaming scale, and can be shrunk down to 15mm, 20mm or 25mm... [click here for more] | Dave Graffam Models | $2.95 |
| Easy to build: This paper model kit is easy to assemble, requiring just cardstock paper sheets to print on (110 lb. or 199gsm recommended), scissors, hobby knife, paper glue, metal ruler and cutting mat. Optionally, you can use a piece of foamcore for the base. A fine-line ink marker is recommended for darkening the paper edges, and foamcore is recommended for the ground piece, and... [click here for more] | Dave Graffam Models | $4.95 |
| Easy to build: This paper model kit is easy to assemble, requiring just cardstock paper sheets to print on (110 lb. or 199gsm recommended), scissors, hobby knife, paper glue, aluminum ruler and cutting mat. Assembly time is about an hour. 15mm to 30mm scale: This model is designed at the popular 28mm-30mm gaming scale, and can be shrunk down to 15mm, 20mm or 25mm... [click here for more] | Dave Graffam Models | $2.95 |
| Easy to build: This paper tile set is easy to create, requiring just cardstock paper sheets to print on (110 lb. or 199gsm recommended), scissors, hobby knife, aluminum ruler and cutting mat. For sturdier tiles, use foamcore and spray glue. 15mm to 30mm scale: These tiles are designed with a 1" grid to be used at the popular 28mm-30mm gaming scale, and can be shrunk... [click here for more] | Dave Graffam Models | $2.95 |
| Easy to build: This paper model kit is easy to assemble, requiring just cardstock paper sheets to print on (110 lb. or 199gsm recommended), scissors, hobby knife, paper glue, aluminum ruler and cutting mat. Assembly time is about an hour. 15mm to 30mm scale: This model is designed at the popular 28mm-30mm gaming scale, and can be shrunk down to 15mm, 20mm or 25mm... [click here for more] | Dave Graffam Models | $1.95 |
| A crane house like this is useful in any harbor, and might be the property of a merchant at their private pier or warehouse. It might be owned by a town or individual offering its services to the public, charging a small fee for every hoist. Such a structure would also be vital in an exchange market where bulk goods are being traded, where large freight needs to be moved from one wagon to another... [click here for more] | Dave Graffam Models | $2.95 |
| Easy to build: This paper model kit is easy to assemble, requiring just cardstock paper sheets to print on (110 lb. or 199gsm recommended), scissors, hobby knife, paper glue, aluminum ruler and cutting mat. Assembly time is about half an hour. 15mm to 30mm scale: This model is designed at the popular 28mm-30mm gaming scale, and can be shrunk down to 15mm, 20mm or... [click here for more] | Dave Graffam Models | $2.95 |
| Easy to build: This paper model kit is easy to assemble, requiring just cardstock paper sheets to print on (110 lb. or 199gsm recommended), scissors, hobby knife, paper glue, aluminum ruler and cutting mat. Assembly time is about an hour. 15mm to 30mm scale: This model is designed at the popular 28mm-30mm gaming scale, and can be shrunk down to 15mm, 20mm or 25mm... [click here for more] | Dave Graffam Models | $1.95 |
| Easy to build: This paper model kit is easy to assemble, requiring just cardstock paper sheets to print on (110 lb. or 199gsm recommended), scissors, hobby knife, paper glue, aluminum ruler and cutting mat. It may look complicated, but every part of the Willow Brook Inn is simple to assemble on its own, and putting it together is just a matter of building up the simple shapes into... [click here for more] | Dave Graffam Models | $5.95 |
| Easy to build: This paper terrain kit is easy to assemble, requiring just 15 cardstock paper sheets to print on (110 lb. or 199gsm recommended), hobby knife, glue, metal ruler and cutting mat. 15mm to 30mm scale: These models are designed at the popular 28mm-30mm gaming scale, and can be shrunk down to 15mm, 20mm or 25mm scales by simply adjusting the print size... [click here for more] | Dave Graffam Models | $2.95 |
| Easy to build: This paper model kit is easy to assemble, requiring just cardstock paper sheets to print on (110 lb. or 199gsm recommended), scissors, hobby knife, paper glue, aluminum ruler and cutting mat. 15mm to 30mm scale: This model set is designed at the popular 28mm-30mm gaming scale, and can be shrunk down to 15mm, 20mm or 25mm scales by simply adjusting... [click here for more] | Dave Graffam Models | $3.95 |
| Easy to build: This paper model kit is easy to assemble, requiring just 8 cardstock paper sheets to print on (110 lb. or 199gsm recommended), scissors, hobby knife, paper glue, metal ruler and cutting mat. Optionally, you can use a piece of foamcore for the base. 15mm to 30mm scale: This model is designed at the popular 28mm-30mm gaming scale, and can be shrunk... [click here for more] | Dave Graffam Models | $2.95 |
| Easy to build: This paper model kit is easy to assemble, requiring just 12 cardstock paper sheets to print on (110 lb. or 199gsm recommended), hobby knife, glue, metal ruler and cutting mat. 15mm to 30mm scale: This model is designed at the popular 28mm-30mm gaming scale, and can be shrunk down to 15mm, 20mm or 25mm scales by simply adjusting the print size percentage... [click here for more] | Dave Graffam Models | $4.95 |
| Easy to build: This paper model kit is easy to assemble, requiring just cardstock paper sheets to print on (110 lb. or 199gsm recommended), scissors, hobby knife, paper glue, aluminum ruler and cutting mat. Assembly time is about an hour. 15mm to 30mm scale: This model is designed at the popular 28mm-30mm gaming scale, and can be shrunk down to 15mm, 20mm or 25mm... [click here for more] | Dave Graffam Models | $3.95 |
| Easy to build: This paper model kit is easy to assemble, requiring just cardstock paper sheets to print on (110 lb. or 199gsm recommended), scissors, hobby knife, paper glue, aluminum ruler and cutting mat. Assembly time is about an hour. 15mm to 30mm scale: This model set is designed at the popular 28mm-30mm gaming scale, and can be shrunk down... [click here for more] | Dave Graffam Models | $4.95 |
| Easy to build: This paper model kit is easy to assemble, requiring just 13 cardstock paper sheets to print on (110 lb. or 199gsm recommended), scissors, hobby knife, paper glue, metal ruler and cutting mat. Optionally, you may use a piece of foamcore cut to 6" x 9" for the ground piece. 15mm to 30mm scale: This model is designed at the popular 28mm-30mm gaming scale,... [click here for more] | Dave Graffam Models | $4.95 |
| Easy to build: This paper model kit is easy to assemble, requiring just cardstock paper sheets to print on (110 lb. or 199gsm recommended), scissors, hobby knife, paper glue, aluminum ruler and cutting mat. Assembly time is about an hour. 15mm to 30mm scale: This model is designed at the popular 28mm-30mm gaming scale, and can be shrunk down to 15mm, 20mm or 25mm... [click here for more] | Dave Graffam Models | $1.95 |
| Easy to build: This paper model kit is easy to assemble, requiring just cardstock paper sheets to print on (110 lb. or 199gsm recommended), scissors, hobby knife, paper glue, aluminum ruler and cutting mat. 15mm to 30mm scale: This paper terrain is designed at the popular 28mm-30mm gaming scale, and can be shrunk down to 15mm, 20mm or 25mm scales by simply adjusting... [click here for more] | Dave Graffam Models | $2.95 |