Follow Your Favorites!

Sign in
to get custom notifications of new products!

Featured Product
Storage Modules Type 03 Card Models Kit
by Dave Graffam Models
This card models kit includes 24 ready-to-print shipping containers for your sci-fi RPGs and wargames, and layered PDFs that let you easily design and customize dozens more. These models are fun to customize, easy to assemble, and loaded with details. With this single kit you can easy print, cut, score, fold, and glue your way to a table full of great-looking terrain.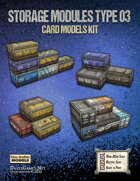 | Products found in this section... | Sort by: |
| --- | --- |
| | | |
| --- | --- | --- |
| Title | Publisher | Price |
| Easy to build: This paper model kit is easy to assemble, requiring just cardstock paper sheets to print on (110 lb. or 199gsm recommended), scissors, hobby knife, paper glue, aluminum ruler and cutting mat. Assembly time is about an hour. 15mm to 30mm scale: This model is designed at the popular 28mm-30mm gaming scale, and can be shrunk down to 15mm, 20mm or 25mm... [click here for more] | Dave Graffam Models | $1.95 |
| Easy to build: This cardstock print-and-build terrain kit is easy to assemble, requiring just 4 cardstock paper sheets to print on (index weight, 110#, or 199gsm recommended), hobby knife, paper glue, metal ruler and cutting mat. 15mm to 30mm scale: This model is designed at the popular 28mm-30mm gaming scale (1 inch equals 5 feet or 2 meters), and can be shrunk... [click here for more] | Dave Graffam Models | $2.95 |
| Easy to build: This paper model kit is easy to assemble, requiring just cardstock paper sheets to print on (110 lb. or 199gsm recommended), scissors, hobby knife, paper glue, aluminum ruler and cutting mat. Assembly time is about an hour. 15mm to 30mm scale: This model is designed at the popular 28mm-30mm gaming scale, and can be shrunk down to 15mm, 20mm or 25mm... [click here for more] | Dave Graffam Models | $2.95 |
| Easy to build: This paper model kit is easy to assemble, requiring just 5 cardstock paper sheets to print on (110 lb. or 199gsm recommended), scissors, hobby knife, paper glue, metal ruler and cutting mat. 15mm to 30mm scale: This model is designed at the popular 28mm-30mm gaming scale, and can be shrunk down to 15mm, 20mm or 25mm scales by simply adjusting the... [click here for more] | Dave Graffam Models | $2.95 |
| This is a scanned copy of the Nhpum Ga Historical map that was included in the ASL Annual '97. The map is 22"x18" and includes a small white border around each edge. * The product image is only part of the map. The file includes the entire map. * This was scanned at 300 dpi and cleaned up where possible. ... [click here for more] | Multi-Man Publishing | $4.00 |
| Easy to build: This paper model kit is easy to assemble, requiring just cardstock paper sheets to print on (110 lb. or 199gsm recommended), scissors, hobby knife, paper glue, aluminum ruler and cutting mat. Assembly time is about an hour. 15mm to 30mm scale: This model is designed at the popular 28mm-30mm gaming scale, and can be shrunk down to 15mm, 20mm or 25mm... [click here for more] | Dave Graffam Models | $2.95 |
| Easy to build: This paper model kit is easy to assemble, requiring just cardstock paper sheets to print on (110 lb. or 199gsm recommended), scissors, hobby knife, paper glue, metal ruler and cutting mat. Optionally, you can use a piece of foamcore for the base. A fine-line ink marker is recommended for darkening the paper edges, and foamcore is recommended for the ground piece, and... [click here for more] | Dave Graffam Models | $4.95 |
| WELCOME TO GAME OVER MAN! the game of dark, atmospheric science fiction gaming, made for SOLO and COOPERATIVE PLAY! In this game you'll be tasked with creating a Marine Strike Team, and heading out on one of 4 different Situation types! These are missions that range from your typical bughunt, to escorting scientists who need to gather research, protecting engineers... [click here for more] | Sundered Vault | $4.99 |
| Easy to build: This paper tile set is easy to create, requiring just cardstock paper sheets to print on (110 lb. or 199gsm recommended), scissors, hobby knife, aluminum ruler and cutting mat. For sturdier tiles, use foamcore and spray glue. 15mm to 30mm scale: These tiles are designed with a 1" grid to be used at the popular 28mm-30mm gaming scale, and can be shrunk... [click here for more] | Dave Graffam Models | $2.95 |
| Welcome to THE BLUE AND THE RED: VIKING INVASION! This is an expansion to our easy to learn skirmish game of cartoony medieval battles that the whole family can easily learn and enjoy! Taking place in a fairy-tale fantasy world, the original game focused on the civil war of Lansey, a once prosperous realm. Now, Vikings, defeated in the past, have come to reclaim lost relics, and settle an... [click here for more] | Sundered Vault | $3.00 |
| Easy to build: This paper model kit is easy to assemble, requiring just 18 cardstock paper sheets to print on (110 lb. or 199gsm recommended), scissors, hobby knife, paper glue, metal ruler and cutting mat. Optionally, you can use a piece of foamcore for the base. 15mm to 30mm scale: This model is designed at the popular 28mm-30mm gaming scale, and can be shrunk... [click here for more] | Dave Graffam Models | $4.95 |
| The OPR Mixed Terrain Pack contains the following terrain in 4 different color schemes, as well as a black & white line art version: 2 Fields 2 Groups of Scatter Terrain 2 Barricades 2 Forests 3 Ruins These printable paper miniatures are formated for easy printing and cutting, so that you can start playing with them in no-time. They are intended for tabletop wargames and RPGs,... [click here for more] | onepagerules | $2.99 |
| Easy to build: This paper model kit is easy to assemble, requiring just cardstock paper sheets to print on (110 lb. or 199gsm recommended), scissors, hobby knife, paper glue, aluminum ruler and cutting mat. Assembly time is about an hour. 15mm to 30mm scale: This model is designed at the popular 28mm-30mm gaming scale, and can be shrunk down to 15mm, 20mm or 25mm... [click here for more] | Dave Graffam Models | $1.95 |
| Easy to build: This paper model kit is easy to assemble, requiring just cardstock paper sheets to print on (110 lb. or 199gsm recommended), scissors, hobby knife, paper glue, aluminum ruler and cutting mat. Assembly time is about an hour. 15mm to 30mm scale: This model is designed at the popular 28mm-30mm gaming scale, and can be shrunk down to 15mm, 20mm or 25mm... [click here for more] | Dave Graffam Models | $1.95 |
| A crane house like this is useful in any harbor, and might be the property of a merchant at their private pier or warehouse. It might be owned by a town or individual offering its services to the public, charging a small fee for every hoist. Such a structure would also be vital in an exchange market where bulk goods are being traded, where large freight needs to be moved from one wagon to another... [click here for more] | Dave Graffam Models | $2.95 |
| Easy to build: This paper model kit is easy to assemble, requiring just cardstock paper sheets to print on (110 lb. or 199gsm recommended), scissors, hobby knife, paper glue, aluminum ruler and cutting mat. Assembly time is about half an hour. 15mm to 30mm scale: This model is designed at the popular 28mm-30mm gaming scale, and can be shrunk down to 15mm, 20mm or... [click here for more] | Dave Graffam Models | $2.95 |
| Welcome to 1-48TACTIC: action-packed rules for brutal ONE-HOUR GAMES! Wouldn't be great to have a WW2 game you could play with as few as 4 figures over a chess size board in less than an hour, but that grows with you as your collection expands? Welcome to the most innovative and exciting WWII skirmish game around! 1-48TACTIC is a brutal fast-paced skirmish scale tabletop miniatures... [click here for more] | BAUEDA WARGAMES S.a.s. | $18.50 $12.00 |
| Easy to build: This paper model kit is easy to assemble, requiring just 7 cardstock paper sheets to print on (110 lb. or 199gsm recommended), scissors, hobby knife, paper glue, metal ruler and cutting mat. 15mm to 30mm scale: This model is designed at the popular 28mm-30mm gaming scale, and can be shrunk down to 15mm, 20mm or 25mm scales by simply adjusting the... [click here for more] | Dave Graffam Models | $3.95 |
| Easy to build: This paper model kit is easy to assemble, requiring just cardstock paper sheets to print on (110 lb. or 199gsm recommended), scissors, hobby knife, paper glue, aluminum ruler and cutting mat. It may look complicated, but every part of the Willow Brook Inn is simple to assemble on its own, and putting it together is just a matter of building up the simple shapes into... [click here for more] | Dave Graffam Models | $5.95 |
| Scratch builder monthly is mj hobby corner's monthly publication on scratch building models, terrain and other low budget ideas for wargaming. Some months will also  include a written battle report that shows the scratch built models in action on the table top. Filled with pictures that show how the models are made, scratch builder monthly also shows tools used for building, lists inexpensive products... [click here for more] | MJ hobby corner | $2.99 |
| Easy to build: This paper model kit is easy to assemble, requiring just cardstock paper sheets to print on (110 lb. or 199gsm recommended), scissors, hobby knife, paper glue, aluminum ruler and cutting mat. 15mm to 30mm scale: This model set is designed at the popular 28mm-30mm gaming scale, and can be shrunk down to 15mm, 20mm or 25mm scales by simply adjusting... [click here for more] | Dave Graffam Models | $3.95 |
| Easy to build: This paper terrain kit is easy to assemble, requiring just 15 cardstock paper sheets to print on (110 lb. or 199gsm recommended), hobby knife, glue, metal ruler and cutting mat. 15mm to 30mm scale: These models are designed at the popular 28mm-30mm gaming scale, and can be shrunk down to 15mm, 20mm or 25mm scales by simply adjusting the print size... [click here for more] | Dave Graffam Models | $2.95 |
| Easy to build: This paper model kit is easy to assemble, requiring just cardstock paper sheets to print on (110 lb. or 199gsm recommended), scissors, hobby knife, paper glue, aluminum ruler and cutting mat. Assembly time is about an hour. 15mm to 30mm scale: This model is designed at the popular 28mm-30mm gaming scale, and can be shrunk down to 15mm, 20mm or 25mm... [click here for more] | Dave Graffam Models | $3.95 |
| The Robot Legions Terrain Pack contains the following terrain in 2 different color schemes, as well as a black & white line art version: 2 Square Buildings (3"x3"x3") 2 Rectangular Buildings (4"x2"x2") 4 Straight Walls (3"x2") 2 Corner Walls (4"x2") 3 Tall Scatter Pieces (2"x3") 2 Short Scatter Pieces (1.5"x1.5" & 1.5"x1") These printable paper miniatures are formated for... [click here for more] | onepagerules | $4.99 |
| Easy to build: This cardstock print-and-build terrain kit is easy to assemble, requiring just 4 or 5 cardstock paper sheets to print on (index weight, 110#, or 199gsm recommended), hobby knife, paper glue, metal ruler and cutting mat. 15mm to 30mm scale: This model is designed at the popular 28mm-30mm gaming scale (1 inch equals 5 feet or 2 meters), and can be shrunk... [click here for more] | Dave Graffam Models | $2.95 |
| Easy to build: This paper model kit is easy to assemble, requiring just 8 cardstock paper sheets to print on (110 lb. or 199gsm recommended), scissors, hobby knife, paper glue, metal ruler and cutting mat. Optionally, you can use a piece of foamcore for the base. 15mm to 30mm scale: This model is designed at the popular 28mm-30mm gaming scale, and can be shrunk... [click here for more] | Dave Graffam Models | $2.95 |
| Easy to build: This paper model kit is easy to assemble, requiring just cardstock paper sheets to print on (110 lb. or 199gsm recommended), scissors, hobby knife, paper glue, aluminum ruler and cutting mat. Assembly time is about an hour. 15mm to 30mm scale: This model set is designed at the popular 28mm-30mm gaming scale, and can be shrunk down... [click here for more] | Dave Graffam Models | $4.95 |
| Easy to build: This paper model kit is easy to assemble, requiring just 12 cardstock paper sheets to print on (110 lb. or 199gsm recommended), hobby knife, glue, metal ruler and cutting mat. 15mm to 30mm scale: This model is designed at the popular 28mm-30mm gaming scale, and can be shrunk down to 15mm, 20mm or 25mm scales by simply adjusting the print size percentage... [click here for more] | Dave Graffam Models | $4.95 |
| Easy to build: This paper model kit is easy to assemble, requiring just cardstock paper sheets to print on (110 lb. or 199gsm recommended), scissors, hobby knife, paper glue, aluminum ruler and cutting mat. Assembly time is about an hour. 15mm to 30mm scale: This model is designed at the popular 28mm-30mm gaming scale, and can be shrunk down to 15mm, 20mm or 25mm... [click here for more] | Dave Graffam Models | $1.95 |
| Easy to build: This paper model kit is easy to assemble, requiring just cardstock paper sheets to print on (110 lb. or 199gsm recommended), scissors, hobby knife, paper glue, aluminum ruler and cutting mat. Assembly time is just a few minutes per wall section. 15mm to 30mm scale: This model set is designed at the popular 28mm-30mm gaming scale, and can be shrunk... [click here for more] | Dave Graffam Models | $1.95 |
| Easy to build: This paper model kit is easy to assemble, requiring just cardstock paper sheets to print on (110 lb. or 199gsm recommended), scissors, hobby knife, paper glue, aluminum ruler and cutting mat. 15mm to 30mm scale: This paper terrain is designed at the popular 28mm-30mm gaming scale, and can be shrunk down to 15mm, 20mm or 25mm scales by simply adjusting... [click here for more] | Dave Graffam Models | $2.95 |
| Easy to build: This paper model kit is easy to assemble, requiring just 13 cardstock paper sheets to print on (110 lb. or 199gsm recommended), scissors, hobby knife, paper glue, metal ruler and cutting mat. Optionally, you may use a piece of foamcore cut to 6" x 9" for the ground piece. 15mm to 30mm scale: This model is designed at the popular 28mm-30mm gaming scale,... [click here for more] | Dave Graffam Models | $4.95 |
| This is a pdf copy of the Suicide Creek Historical map that was included in the ASL Journal #9. The map is approximatley 24"x26". Due to the size and detail on this map, this is a large download. * The product image is only part of the map. The file includes the entire map. * This is not a scan of the map, it is from the orignal file. * The map has been rotated so that the watermark will... [click here for more] | Multi-Man Publishing | $4.00 |
| Easy to build: This paper model kit is easy to assemble, requiring just cardstock paper sheets to print on (110 lb. or 199gsm recommended), scissors, hobby knife, paper glue, aluminum ruler and cutting mat. Assembly time is just a few minutes per wall section. 15mm to 30mm scale: This model set is designed at the popular 28mm-30mm gaming scale, and can be shrunk... [click here for more] | Dave Graffam Models | $1.95 |
| This pdf file contains all the textures you'll need to make the stairs & walkways featured in video below. So grab them for free, or pay as little (or as much) as you like! ... [click here for more] | Crooked Staff Publishing | Pay What You Want |
| This large printable map is a beautiful surface for building the seedy side of a medieval town, Victorian neighborhood or steampunk metropolis. It's easy to print in one piece at your local shop, or in sections on your desktop printer. An optional 1-inch grid is included, and this map is tileable in the sense that you can choose any edge of the map and it will "wrap" around to the opposite side.... [click here for more] | Dave Graffam Models | $4.95 |
| Easy to build: This paper model kit is easy to assemble, requiring just cardstock paper sheets to print on (110 lb. or 199gsm recommended), scissors, hobby knife, paper glue, aluminum ruler and cutting mat. It may look complicated, but every part of the Townhouse is simple to assemble on its own, and putting it together is just a matter of building up the simple shapes into the complete... [click here for more] | Dave Graffam Models | $5.95 |
| Includes 12 different river sections to create any river system: Trees and roads NOT INCLUDED, for display only. Included pieces: 1 River Split 3 Straights 1 30 degree bend 1 60 degree bend 1 120 degree bend 2 straight with bridge (2 inch and 1 inch wide bridges) 1 straight with ford 1 jog 1 twist Standalone bridges also available A straight is 6 inches long and ~2 inches wide. They are... [click here for more] | Two Inches of Felt | $4.50 |
| Easy to build: This paper model kit is easy to assemble, requiring just 10 cardstock paper sheets to print on (110 lb. or 199gsm recommended), scissors, hobby knife, paper glue, metal ruler and cutting mat. 15mm to 30mm scale: This model is designed at the popular 28mm-30mm gaming scale, and can be shrunk down to 15mm, 20mm or 25mm scales by simply adjusting the... [click here for more] | Dave Graffam Models | $4.95 |
| Easy to build: This paper model kit is easy to assemble, requiring just cardstock paper sheets to print on (110 lb. or 199gsm recommended), scissors, hobby knife, paper glue, aluminum ruler and cutting mat. Assembly time is about an hour. 15mm to 30mm scale: This model is designed at the popular 28mm-30mm gaming scale, and can be shrunk down to 15mm, 20mm or 25mm... [click here for more] | Dave Graffam Models | $1.95 |
| The Eternal Dynasty Terrain Pack contains the following terrain in 2 different color schemes, as well as a black & white line art version: 2 Square Buildings (3"x3"x3") 2 Rectangular Buildings (4"x2"x2") 4 Straight Walls (3"x2") 2 Corner Walls (4"x2") 3 Tall Scatter Pieces (2"x3") 2 Short Scatter Pieces (1.5"x1.5" & 1.5"x1") These printable paper miniatures are formated for... [click here for more] | onepagerules | $4.99 |
| PANZERSCHRECK #17 (Fall 2020) is a wargames magazine that contains three complete games in this 88-page full-color issue, in addition to hobby articles and thumbnail game reviews.  DER TAG, 1916 (solitaire strategic level WWI naval), BATTLE OVER DUNKIRK (tactical two-player WW2 aerial combat card game), and NAPOLEON... [click here for more] | Minden Games | $21.95 $19.95 |
| Easy to build: This cardstock print-and-build terrain kit is easy to assemble, requiring just cardstock paper sheets to print on (index weight, 110#, or 199gsm recommended), hobby knife, paper glue, metal ruler and cutting mat. 15mm to 30mm scale: These crates are designed at the popular 28mm-30mm gaming scale (1 inch equals 5 feet or 2 meters), and can be shrunk... [click here for more] | Dave Graffam Models | $5.95 |
| Easy to build: This paper model kit is easy to assemble, requiring just 7 cardstock paper sheets to print on (110 lb. or 199gsm recommended), scissors, hobby knife, paper glue, metal ruler, black felt-tip pen and cutting mat. Optionally, you may make use of other common hobby tools for even better results. Full instructions are included. 28mm-30mm scale: This model is designed... [click here for more] | Dave Graffam Models | $4.95 |
| Easy to build: This paper model kit is easy to assemble, requiring just cardstock paper sheets to print on (110 lb. or 199gsm recommended), scissors, hobby knife, paper glue, aluminum ruler and cutting mat. 15mm to 30mm scale: This paper terrain is designed at the popular 28mm-30mm gaming scale, and can be shrunk down to 15mm, 20mm or 25mm scales by simply adjusting... [click here for more] | Dave Graffam Models | $1.95 |
| A sniper is a class of military that attacks targets from hidden positions or at distances that exceed the target's detection capabilities. Snipers generally have specialized training and are equipped with high-precision rifles and high-magnification optical equipment. Can ervir also serve as scouts/observers who provide tactical information to their units or command units. Exclusive rules for Iron... [click here for more] | Voxelhouse | Pay What You Want |
| Easy to build: This paper model kit is easy to assemble, requiring just cardstock paper sheets to print on (110 lb. or 199gsm recommended), scissors, hobby knife, paper glue, aluminum ruler and cutting mat. Assembly time is about an hour. 15mm to 30mm scale: This model is designed at the popular 28mm-30mm gaming scale, and can be shrunk down to 15mm, 20mm or 25mm... [click here for more] | Dave Graffam Models | $2.95 |
| Easy to build: This paper model kit is easy to assemble, requiring just cardstock paper sheets to print on (110 lb. or 199gsm recommended), scissors, hobby knife, paper glue, metal ruler and cutting mat. 15mm to 30mm scale: This model is designed at the popular 28mm-30mm gaming scale, and can be shrunk down to 15mm, 20mm or 25mm scales by simply adjusting the print... [click here for more] | Dave Graffam Models | $2.95 |
| Easy to build: This paper model kit is easy to assemble, requiring just cardstock paper sheets to print on (110 lb. or 199gsm recommended), scissors, hobby knife, paper glue, metal ruler and cutting mat. 15mm to 30mm scale: This model is designed at the popular 28mm-30mm gaming scale, and can be shrunk down to 15mm, 20mm or 25mm scales by simply adjusting the print... [click here for more] | Dave Graffam Models | $3.95 |
| Easy to build: This paper model kit is easy to assemble, requiring just 15 cardstock paper sheets to print on (110 lb. or 199gsm recommended), scissors, hobby knife, paper glue, metal ruler and cutting mat. Optionally, you can use a piece of foamcore for the base. 15mm to 30mm scale: This model is designed at the popular 28mm-30mm gaming scale, and can be shrunk... [click here for more] | Dave Graffam Models | $4.95 |