Follow Your Favorites!

Sign in
to get custom notifications of new products!
Featured Product
Fire As She Bears! 2nd Edition (2.1)
by Starboard Tack Press

"The best Age of Sail large battle rules available." --- LittleWarsTV.com
Origins Award winning rules for naval combat. Rules that stress command control and the chaos of fleet actions without written orders or excessive paperwork. Each player commands a squadron of several ships, or perhaps an entire fleet.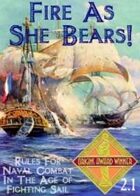 | Products found in this section... | Sort by: |
| --- | --- |
| | | |
| --- | --- | --- |
| Title | Publisher | Price |
| Five Kilometers From Leipzig is a set of solo miniatures rules for black powder skirmish actions. Take a band of 6 trusted companions and slug it out with enemy military forces, guerrillas or native warbands. Suitable for the era from roughly 1700 to 1870, the rules allow you to play a campaign easily and quickly. Your characters will learn new skills, provided they survive the battle.... [click here for more] | Nordic Weasel Games | Pay What You Want |
| Pirate Hexes is a simple fast-paced set of rules for naval combat in the age of sail. It is played with miniatures on a hex mat. The object of the game is to capture enemy ships and islands, and with optional rules one can also collect treasure and rescue marooned captives. The movement and combat mechanics are so simple that after playing for a short time no tables or reference sheets are needed,... [click here for more] | Chris Pagano | $7.00 |
| "There are only two forces in the World, the sword and the spirit. In the long run the sword will always be conquered by the spirit." - Napoleon Bonaparte Rifles in the Peninsula is the third game of Gottardo Zancani's solitaire RIFLES series, which also includes Rifles in the Pacific and Rifles in the Ardennes. The focus of this new title is on the Napoleonic Wars (1799-1815). Rifles... [click here for more] | Tiny Battle Publishing | $12.00 |
| Bote Action - 1550 - 1815 War by Sail is a simple yet comprehensive age of sail wargame, aimed at small fleet actions of 3 to 30 ships per side, with a focus on historical accuracy and flavor. Researched and playtested for 10 months, War by Sail includes detailed ship rosters for 20 different conflicts, spanning from 1563 to 1812. Generic units are also provided... [click here for more] | Ostfront Publishing | $12.00 |
| A smell of gunpowder Six ready to go scenarios enabling you to refight some of the most iconic battles of the struggle.  Each has a map, full orders of battle, special rules and explanations, and a brief historical summary.  Designed for use with "Whuppin' Jonathon", Vandering Publication's wargames rules for recreating land warfare in the War of 1812, but capable of being adapted for any... [click here for more] | Vandering Publications | $8.99 |
| This paper model kit is easy to assemble, requiring just cardstock paper sheets to print on (110 lb. or 199gsm recommended), scissors, hobby knife, paper glue, aluminum ruler and cutting mat. It may look complicated, but every part of the Village Chapel is simple to assemble on its own, and putting it together is just a matter of building up the simple shapes into the complete structure... [click here for more] | Dave Graffam Models | $5.95 |
| This paper model kit is easy to assemble, requiring just cardstock paper sheets to print on (110 lb. or 199gsm recommended), scissors, hobby knife, paper glue, aluminum ruler and cutting mat. Assembly time is about an hour. This model is designed at the popular 28mm-30mm gaming scale, and can be shrunk down to 15mm, 20mm or 25mm scales by simply adjusting the print size percentage on... [click here for more] | Dave Graffam Models | $2.95 |
| This paper model kit is easy to assemble, requiring just cardstock paper sheets to print on (110 lb. or 199gsm recommended), scissors, hobby knife, paper glue, metal ruler and cutting mat. It may look complicated, but every part of the Country Brewery is simple to assemble on its own, and putting it together is just a matter of building up the simple shapes into the complete structure you... [click here for more] | Dave Graffam Models | $6.95 |
| This paper model kit is easy to assemble, requiring just cardstock paper sheets to print on (110 lb. or 199gsm recommended), scissors, hobby knife, paper glue, aluminum ruler and cutting mat. Assembly time is about an hour for the whole set. This model is designed at the popular 28mm-30mm gaming scale, and can be shrunk down to 15mm, 20mm or 25mm scales by simply adjusting the print... [click here for more] | Dave Graffam Models | $2.95 |
| Can't find a tabletop wargame opponent? This easily-readable guide provides the tools needed to undertake tabletop wargame campaigns without the need for other players. The guidelines presented within are designed to supplement your favorite wargaming rules set (not included). They can be bent or twisted, even broken and reformed, to suit a wargamer's needs. Novices and veterans alike can employ... [click here for more] | Precis Intermedia | $14.95 $6.95 |
| This paper model kit is easy to assemble, requiring just cardstock paper sheets to print on (110 lb. or 199gsm recommended), scissors, hobby knife, paper glue, aluminum ruler and cutting mat. Assembly time is about an hour. This model is designed at the popular 28mm-30mm gaming scale, and can be shrunk down to 15mm, 20mm or 25mm scales by simply adjusting the print size percentage on... [click here for more] | Dave Graffam Models | $1.95 |
| This paper model kit is easy to assemble, requiring just cardstock paper sheets to print on (110 lb. or 199gsm recommended), scissors, hobby knife, paper glue, aluminum ruler and cutting mat. This model is designed at the popular 28mm-30mm gaming scale, and can be shrunk down to 15mm, 20mm or 25mm scales by simply adjusting the print size percentage on your printer. Tips and advice... [click here for more] | Dave Graffam Models | $4.95 |
| MWAN Vol. 5, Number 4 A nostalgic look back at where wargaming was in 1987. Long past wargaming events and product reviews, interviews, complete rule sets and Hal Thinglum's editorial, which is always entertaining! This was MWAN's "SPECIAL" issue for 1987, BRITISH COLONIAL & FRENCH-INDIAN WAR. 3- Editorial (Hal Thinglum) 9- Hart's Annual Army List (Paul Hlnsen) 10- The NNC & The... [click here for more] | Don Perrin | $2.00 |
| This paper model kit is easy to assemble, requiring just cardstock paper sheets to print on (110 lb. or 199gsm recommended), scissors, hobby knife, paper glue, aluminum ruler and cutting mat. Assembly time is about two hours. This model is designed at the popular 28mm-30mm gaming scale, and can be shrunk down to 15mm, 20mm or 25mm scales by simply adjusting the print size percentage... [click here for more] | Dave Graffam Models | $3.95 |
| Buy peace with none. Six ready to go scenarios enabling you to refight some of the most iconic battles of the struggle.  Each has a map, full orders of battle, special rules and explanations, and a brief historical summary.  Designed for use with "Whuppin' Jonathon", Vandering Publication's wargames rules for recreating land warfare in the War of 1812, but capable of being adapted for any... [click here for more] | Vandering Publications | $8.99 |
| This paper model kit is easy to assemble, requiring just cardstock paper sheets to print on (110 lb. or 199gsm recommended), scissors, hobby knife, paper glue, aluminum ruler and cutting mat. Assembly time is about an hour. This model is designed at the popular 28mm-30mm gaming scale, and can be shrunk down to 15mm, 20mm or 25mm scales by simply adjusting the print size percentage on... [click here for more] | Dave Graffam Models | $2.95 |
| This paper model kit is easy to assemble, requiring just cardstock paper sheets to print on (110 lb. or 199gsm recommended), scissors, hobby knife, paper glue, aluminum ruler and cutting mat. This model set is designed at the popular 28mm-30mm gaming scale, and can be shrunk down to 15mm, 20mm or 25mm scales by simply adjusting the print size percentage on your printer. Tips and advice... [click here for more] | Dave Graffam Models | $4.95 |
| This paper model kit is easy to assemble, requiring just cardstock paper sheets to print on (110 lb. or 199gsm recommended), scissors, hobby knife, paper glue, aluminum ruler and cutting mat. It may look complicated, but every part of the West Gate is simple to assemble on its own, and putting it together is just a matter of building up the simple shapes into the complete structure you... [click here for more] | Dave Graffam Models | $5.95 |
| 1812 Scorched Earth simulates the monumental struggle between Napoleonic France and Russia. The French player must maage a logistics chain longer than the capabilities of the time for long enough to cause the political upheaval in Russia. The politics of morale, burning down cities and the retreat itself are all modeled into a strategic competitive simulation of the most ambitious campaign of the... [click here for more] | Blue Panther LLC | $8.99 |
| This paper model kit is easy to assemble, requiring just cardstock paper sheets to print on (110 lb. or 199gsm recommended), scissors, hobby knife, paper glue, aluminum ruler and cutting mat. Optionally, you can use a piece of foamcore for the base. This model is designed at the popular 28mm-30mm gaming scale, and can be shrunk down to 15mm, 20mm or 25mm scales by simply adjusting the... [click here for more] | Dave Graffam Models | $2.95 |
| Austerlitz 05 is a solitaire or two players simulation of one of the most famous and iconic battles of the Napoleonic period: Austerlitz, which was fought during the War of the Third Coalition in Moravia on December 2nd 1805. It is remembered as the Battle of the Three Emperors, because of the presence of Napoleon 1°, French Emperor, Francis 2° of Austria and Alexander 2° Russian Czar. A lot of... [click here for more] | Lumaca Games | $8.00 $3.00 |
| This paper model kit is easy to assemble, requiring just 8 cardstock paper sheets to print on (110 lb. or 199gsm recommended), scissors, hobby knife, paper glue, metal ruler and cutting mat. This model is designed at the popular 28mm-30mm gaming scale, and can be shrunk down to 15mm, 20mm or 25mm scales by simply adjusting the print size percentage on your printer. Tips and advice for... [click here for more] | Dave Graffam Models | $4.95 |
| This paper model kit is easy to assemble, requiring just cardstock paper sheets to print on (110 lb. or 199gsm recommended), scissors, hobby knife, paper glue, aluminum ruler and cutting mat. It may look complicated, but every part of the Village Pub is simple to assemble on its own, and putting it together is just a matter of building up the simple shapes into the complete structure you... [click here for more] | Dave Graffam Models | $3.95 |
| This paper model kit is easy to assemble, requiring just cardstock paper sheets to print on (110 lb. or 199gsm recommended), scissors, hobby knife, paper glue, metal ruler and cutting mat. Optionally, you can use a piece of foamcore for the base. A fine-line ink marker is recommended for darkening the paper edges, and foamcore is recommended for the ground piece, and a few other common... [click here for more] | Dave Graffam Models | $4.95 |
| This paper model kit is easy to assemble, requiring just cardstock paper sheets to print on (110 lb. or 199gsm recommended), scissors, hobby knife, paper glue, aluminum ruler and cutting mat. Assembly time is about an hour. This model is designed at the popular 28mm-30mm gaming scale, and can be shrunk down to 15mm, 20mm or 25mm scales by simply adjusting the print size percentage on... [click here for more] | Dave Graffam Models | $1.95 |
| This paper model kit is easy to assemble, requiring just cardstock paper sheets to print on (110 lb. or 199gsm recommended), scissors, hobby knife, paper glue, aluminum ruler and cutting mat. Assembly time is about an hour. This model is designed at the popular 28mm-30mm gaming scale, and can be shrunk down to 15mm, 20mm or 25mm scales by simply adjusting the print size percentage on... [click here for more] | Dave Graffam Models | $2.95 |
| This paper model kit is easy to assemble, requiring just cardstock paper sheets to print on (110 lb. or 199gsm recommended), scissors, hobby knife, paper glue, aluminum ruler and cutting mat. Assembly time is about an hour. This model is designed at the popular 28mm-30mm gaming scale, and can be shrunk down to 15mm, 20mm or 25mm scales by simply adjusting the print size percentage on... [click here for more] | Dave Graffam Models | $2.95 |
| This paper model kit is easy to assemble, requiring just cardstock paper sheets to print on (110 lb. or 199gsm recommended), scissors, hobby knife, paper glue, aluminum ruler and cutting mat. Assembly time is under an hour. This model is designed at the popular 28mm-30mm gaming scale, and can be shrunk down to 15mm, 20mm or 25mm scales by simply adjusting the print size percentage on... [click here for more] | Dave Graffam Models | $2.95 |
| This paper model kit is easy to assemble, requiring just cardstock paper sheets to print on (110 lb. or 199gsm recommended), scissors, hobby knife, paper glue, aluminum ruler and cutting mat. This model is designed at the popular 28mm-30mm gaming scale, and can be shrunk down to 15mm, 20mm or 25mm scales by simply adjusting the print size percentage on your printer. Tips and advice... [click here for more] | Dave Graffam Models | $2.95 |
| A crane house like this is useful in any harbor, and might be the property of a merchant at their private pier or warehouse. It might be owned by a town or individual offering its services to the public, charging a small fee for every hoist. Such a structure would also be vital in an exchange market where bulk goods are being traded, where large freight needs to be moved from one wagon to... [click here for more] | Dave Graffam Models | $2.95 |
| This paper model kit is easy to assemble, requiring just cardstock paper sheets to print on (110 lb. or 199gsm recommended), scissors, hobby knife, paper glue, aluminum ruler and cutting mat. Assembly time is about two hours. This model is designed at the popular 28mm-30mm gaming scale, and can be shrunk down to 15mm, 20mm or 25mm scales by simply adjusting the print size percentage... [click here for more] | Dave Graffam Models | $4.95 |
| La Garde est une règle grand-tactique en français pensée pour des figurines 6mm, où les joueurs commandent des corps d'armée, soit en moyenne de 20000 à 50000 hommes. Le format de jeu standard, avec un gros corps d'armée par camp, est calibré pour occuper une soirée en club (entre deux et trois heures), ou une petite après-midi... [click here for more] | Sgt Bourgogne Editeur | $16.98 |
| This paper model kit is easy to assemble, requiring just 12 cardstock paper sheets to print on (110 lb. or 199gsm recommended), hobby knife, glue, metal ruler and cutting mat. This model is designed at the popular 28mm-30mm gaming scale, and can be shrunk down to 15mm, 20mm or 25mm scales by simply adjusting the print size percentage on your printer. Tips and advice for altering the... [click here for more] | Dave Graffam Models | $4.95 |
| This paper model kit is easy to assemble, requiring just cardstock paper sheets to print on (110 lb. or 199gsm recommended), scissors, hobby knife, paper glue, aluminum ruler and cutting mat. Assembly time is about an hour. This model is designed at the popular 28mm-30mm gaming scale, and can be shrunk down to 15mm, 20mm or 25mm scales by simply adjusting the print size percentage on... [click here for more] | Dave Graffam Models | $1.95 |
| This paper model kit is easy to assemble, requiring just 8 cardstock paper sheets to print on (110 lb. or 199gsm recommended), scissors, hobby knife, paper glue, metal ruler and cutting mat. Optionally, you can use a piece of foamcore for the base. This model is designed at the popular 28mm-30mm gaming scale, and can be shrunk down to 15mm, 20mm or 25mm scales by simply adjusting the... [click here for more] | Dave Graffam Models | $2.95 |
| This paper model kit is easy to assemble, requiring just 5 cardstock paper sheets to print on (110 lb. or 199gsm recommended), scissors, hobby knife, paper glue, metal ruler and cutting mat. This model is designed at the popular 28mm-30mm gaming scale, and can be shrunk down to 15mm, 20mm or 25mm scales by simply adjusting the print size percentage on your printer. Tips and advice for... [click here for more] | Dave Graffam Models | $2.95 |
| This paper model kit is easy to assemble, requiring just 13 cardstock paper sheets to print on (110 lb. or 199gsm recommended), scissors, hobby knife, paper glue, metal ruler and cutting mat. Optionally, you may use a piece of foamcore cut to 6" x 9" for the ground piece. This model is designed at the popular 28mm-30mm gaming scale, and can be shrunk down to 15mm, 20mm or... [click here for more] | Dave Graffam Models | $4.95 |
| This paper model kit is easy to assemble, requiring just cardstock paper sheets to print on (110 lb. or 199gsm recommended), scissors, hobby knife, paper glue, aluminum ruler and cutting mat. It may look complicated, but every part of the Willow Brook Inn is simple to assemble on its own, and putting it together is just a matter of building up the simple shapes into the complete structure... [click here for more] | Dave Graffam Models | $5.95 |
| The Napoleonic Wars are in full swing... The familiar sight of long lines of scarlet-coated British infantry advance on their enemies, ready to shatter them with their disciplined volleys... But wait. The opposing soldiers are in line, not an attack column. Some of them wear grey, not blue, and they speak English, albeit with a strange accent. French-speaking troops are on the British side,... [click here for more] | Vandering Publications | $13.99 |
| This paper model kit is easy to assemble, requiring just cardstock paper sheets to print on (110 lb. or 199gsm recommended), scissors, hobby knife, paper glue, aluminum ruler and cutting mat. Assembly time is about an hour. This model is designed at the popular 28mm-30mm gaming scale, and can be shrunk down to 15mm, 20mm or 25mm scales by simply adjusting the print size percentage on... [click here for more] | Dave Graffam Models | $2.95 |
| This paper model kit is easy to assemble, requiring just cardstock paper sheets to print on (110 lb. or 199gsm recommended), scissors, hobby knife, paper glue, aluminum ruler and cutting mat. Assembly time is about half an hour. This model is designed at the popular 28mm-30mm gaming scale, and can be shrunk down to 15mm, 20mm or 25mm scales by simply adjusting the print size percentage... [click here for more] | Dave Graffam Models | $2.95 |
| It is your duty to… MARCH TOWARDS THE CANNON. My duty is to execute the Emperor's orders. Or so the story goes. What was the actual conversation between General Gerard and Marshal Grouchy on that fateful day – June 18,1815, the battle of Waterloo, no one really knows. But it brings up a good question. In any battle it is assumed that each soldier will do his... [click here for more] | Rebel Minis | $9.95 |
| This paper model kit is easy to assemble, requiring just cardstock paper sheets to print on (110 lb. or 199gsm recommended), scissors, hobby knife, paper glue, aluminum ruler and cutting mat. Assembly time is about an hour. This model is designed at the popular 28mm-30mm gaming scale, and can be shrunk down to 15mm, 20mm or 25mm scales by simply adjusting the print size percentage on... [click here for more] | Dave Graffam Models | $1.95 |
| This paper model kit is easy to assemble, requiring just cardstock paper sheets to print on (110 lb. or 199gsm recommended), scissors, hobby knife, paper glue, aluminum ruler and cutting mat. Assembly time is just a few minutes per wall section. This model set is designed at the popular 28mm-30mm gaming scale, and can be shrunk down to 15mm, 20mm or 25mm scales by simply adjusting the... [click here for more] | Dave Graffam Models | $1.95 |
| This paper model kit is easy to assemble, requiring just cardstock paper sheets to print on (110 lb. or 199gsm recommended), scissors, hobby knife, paper glue, aluminum ruler and cutting mat. Assembly time is about an hour. This model is designed at the popular 28mm-30mm gaming scale, and can be shrunk down to 15mm, 20mm or 25mm scales by simply adjusting the print size percentage on... [click here for more] | Dave Graffam Models | $2.95 |
| This paper model kit is easy to assemble, requiring just cardstock paper sheets to print on (110 lb. or 199gsm recommended), scissors, hobby knife, paper glue, aluminum ruler and cutting mat. This model set is designed at the popular 28mm-30mm gaming scale, and can be shrunk down to 15mm, 20mm or 25mm scales by simply adjusting the print size percentage on your printer. Tips and advice... [click here for more] | Dave Graffam Models | $3.95 |
| This paper model kit is easy to assemble, requiring just 7 cardstock paper sheets to print on (110 lb. or 199gsm recommended), scissors, hobby knife, paper glue, metal ruler and cutting mat. This model is designed at the popular 28mm-30mm gaming scale, and can be shrunk down to 15mm, 20mm or 25mm scales by simply adjusting the print size percentage on your printer. Tips and advice for... [click here for more] | Dave Graffam Models | $3.95 |
| This paper model kit is easy to assemble, requiring just 10 cardstock paper sheets to print on (110 lb. or 199gsm recommended), scissors, hobby knife, paper glue, metal ruler and cutting mat. This model is designed at the popular 28mm-30mm gaming scale, and can be shrunk down to 15mm, 20mm or 25mm scales by simply adjusting the print size percentage on your printer. Tips and advice... [click here for more] | Dave Graffam Models | $4.95 |
| This paper model kit is easy to assemble, requiring just 13 cardstock paper sheets to print on (110 lb. or 199gsm recommended), scissors, hobby knife, paper glue, metal ruler and cutting mat. Optionally, you may use a piece of foamcore cut to 6" x 9" for the ground piece. This model is designed at the popular 28mm-30mm gaming scale, and can be shrunk down to 15mm, 20mm or... [click here for more] | Dave Graffam Models | $3.95 |
| Smooth&Rifled is a game system designed to recreate skirmish games with 28, 20 or 15mm miniatures. It covers the period from approximately 1700 to approximately 1900. The French and Indian War, the American Revolution, the Napoleonic Wars, the American Civil War and the wars of the Colonial era are just some of the periods you can play with S&R. In the Appendix you will find all the... [click here for more] | Dadi&Piombo | $11.99 |