Follow Your Favorites!

Sign in
to get custom notifications of new products!
Featured Product
Modern Armor Scenario - Eagle Troop at the Battle of Easting 73
by Walter Moore Games

Micro-armor scenario recreating the historical battle, with variants to explore what would have happened if the Iraqis had been better prepared, luckier, or btter trained.
This scenario contains:
Historical information on units and deployment suitable for use with any micro-armor system.
Unit statistics and scenario rules for Modern Armor rules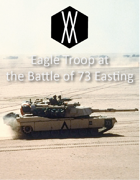 | Products found in this section... | Sort by: |
| --- | --- |
| | | |
| --- | --- | --- |
| Title | Publisher | Price |
| X101: Aggressor Force 37th Tank Division, Germany, May 1951 (double list)         Aggressor Nation was an American designed fictional nation used for training purposes, covering Spain, Portugal, eastern & southern France, northern Italy, Tyrol, western and southern Germany, Bavaria, Belgium, Holland and Spanish Morocco. Here is presented the 37th Tank Division of 6th Armoured Corps,... [click here for more] | MicroMark Army Lists | $3.18 $2.55 |
| The Naval SITREP is published twice a year by the Admiralty Trilogy Group. It supports the Admiralty Trilogy game system with scenarios, articles on history and technology, and rules expansions & corrections. The Naval SITREP Issue #46 was published in April of 2014. Table of contents: The 2012 Damage Standard Updating Persian Incursion ... [click here for more] | Admiralty Trilogy Group | $3.00 |
| THIS IS A PRINT AND PLAY READY SCENARIO FILE - COMES WITH PAGES OF UNIT COUNTERS, SCENARIO BOOKLET AND OF COURSE A LARGE MAP - ALL FORMATTED AND READY TO GET PRINTED ON YOUR HOME INKJET. ALL YOU NEED IS SOME LETTER OR A4 PAPER... Hypothetical Turkish - Iraqi engagement during Operation Desert Storm. First scenario of the campaign sees a Turkish armored recon column from the 10th Zirhli Tumen Division... [click here for more] | Obscure Battles | $7.99 $4.00 |
| THIS IS A PRINT AND PLAY READY SCENARIO FILE - COMES WITH PAGES OF UNIT COUNTERS, SCENARIO BOOKLET AND OF COURSE A LARGE MAP - ALL FORMATTED AND READY TO GET PRINTED ON YOUR HOME INKJET. ALL YOU NEED IS SOME LETTER OR A4 PAPER... This scenario follows the Asal Uttar Scenario. As the Pakistani 1st Armored Division grinds to a halt, Indians prepare for a counter-attack to encircle and destroy the Pakistani... [click here for more] | Obscure Battles | $7.99 $4.00 |
| X116: Aggressor Force 19th Mechanised Division, France, May 1951 (double list) Aggressor Nation was an American designed fictional nation used for training purposes, covering Spain, Portugal, eastern & southern France, northern Italy, Tyrol, western and southern Germany, Bavaria, Belgium, Holland and Spanish Morocco. Here is presented the 19th Mechanised Division of 10th Corps in 7th Army.... [click here for more] | MicroMark Army Lists | $3.18 $2.55 |
| X117: Aggressor Force 9th Rifle Division & 612th Ski Battalion, Austria, May 1951 (double list) Aggressor Nation was an American designed fictional nation used for training purposes, covering Spain, Portugal, eastern & southern France, northern Italy, Tyrol, western and southern Germany, Bavaria, Belgium, Holland and Spanish Morocco. Here is presented the 9th Rifle Division of the 34th... [click here for more] | MicroMark Army Lists | $3.18 $2.55 |
| X118: Aggressor Force 40th Fusilier Rifle Division, Austria, May 1951 Aggressor Nation was an American designed fictional nation used for training purposes, covering Spain, Portugal, eastern & southern France, northern Italy, Tyrol, western and southern Germany, Bavaria, Belgium, Holland and Spanish Morocco. Here is presented the 40th Fusilier Rifle Division of 34th Corps in Austria, part... [click here for more] | MicroMark Army Lists | $3.18 $2.55 |
| X119: Aggressor Force 36th Artillery Division, 10th Army, Germany, May 1951 Aggressor Nation was an American designed fictional nation used for training purposes, covering Spain, Portugal, eastern & southern France, northern Italy, Tyrol, western and southern Germany, Bavaria, Belgium, Holland and Spanish Morocco. Here is presented the 36th Artillery Division of 10th Army in Army Group North.... [click here for more] | MicroMark Army Lists | $1.59 $1.27 |
| X120: Aggressor Force 7th Rifle Division, Germany, May 1951 (double list) Aggressor Nation was an American designed fictional nation used for training purposes, covering Spain, Portugal, eastern & southern France, northern Italy, Tyrol, western and southern Germany, Bavaria, Belgium, Holland and Spanish Morocco. Here is presented the 7th Rifle Division of 18th Corps in 10th Army. ... [click here for more] | MicroMark Army Lists | $3.18 $1.91 |
| X121: Aggressor Force 34th Rifle Division, Germany, May 1951 (double list) Aggressor Nation was an American designed fictional nation used for training purposes, covering Spain, Portugal, eastern & southern France, northern Italy, Tyrol, western and southern Germany, Bavaria, Belgium, Holland and Spanish Morocco. Here is presented the 34th Rifle Division of 18th Corps in 10th Army. ... [click here for more] | MicroMark Army Lists | $3.18 $1.91 |
| X128: Aggressor Force 10th Army Support, Germany, May 1951 Aggressor Nation was an American designed fictional nation used for training purposes, covering Spain, Portugal, eastern & southern France, northern Italy, Tyrol, western and southern Germany, Bavaria, Belgium, Holland and Spanish Morocco. Here is presented the 10th Army in Army Group North, showing support units and order of battle... [click here for more] | MicroMark Army Lists | $1.59 $1.27 |
| This download includes the TECHNO BOWL rule book, MORE FUN! LEAGUE team guide, Quick Reference Sheets, score board, player/game tokens, down markers, and an official MFL playing field. It does NOT include team cards. Team cards are availble now on DriveThruCards.com- use the link below! The Legacy League™ Expansion is available HERE now! TECH? NO!... [click here for more] | Brent Spivey Creations | $9.99 |
| Don't settle for a small patch of dirt - Conquer the entire world! Strike Legion: Planetary Operations takes your tabletop command abilities to a higher level. Command full regiments and divisions, engage and defeat the enemy - and still be home in time for supper. Planetary Operations presents futuristic ground combat at a Grand Tactical scale,... [click here for more] | Legionnaire Games | $9.95 |
| Missile Age is an expansion product for Above the Clouds! (which is required for use). Missile Age takes air combat beyond the age of gunfighters which fought in the skies over Korea, incorporating early missile armed air combat. In addition to expanding the rules to cover missile combat between aircraft (including RADAR, rudimentary ECM, etc.), Missile Age also... [click here for more] | GT Publishing | $12.00 |
| Out Run. Out Gun. Out Last. Outrider is a game of post-apocalyptic vehicular combat that utilizes a unique blend of dice and card mechanics that create a fast-playing, highly detailed and customizable player experience. Outrider is a 2D print-and-play game designed to quickly turn your pre-apocalyptic kitchen table into a post-apocalyptic warzone. Outrider features easy-to-construct components... [click here for more] | Dice Fest Games | $4.99 |
| Ultimate Rescue Force just got MORE bombastic with a Second Wave of awesome Action Force! Fight the forces of Fang with brand new Agents, or face even more ultimate challenges with new Fang heroes! Inside every Action Force pack you'll get 2 awesome and fully non-posable Action Pixel Figs representing heroic Rescue Force Agents or wicked Fang Heroes! Each comes with... [click here for more] | Sundered Vault | $1.25 |
| Factory model with a walled area. ... [click here for more] | IliadaGameStudio | $3.00 $2.50 |
| The AirWar: C21 bomber annex is a supplement for AirWar: C21 (2nd edition) available exclusively from Wargame Vault. The supplement provides statistical tables for 20 new bombers including the Russian Bear and British Vulcan. All royalties from the sale of this product will be donated to the XH558 Vulcan Restoration Fund: http://www.vulcantothesky.org/ PLEASE NOTE: This product... [click here for more] | Wessex Games | $1.27 |
| THIS IS A PRINT AND PLAY READY SCENARIO FILE - COMES WITH PAGES OF UNIT COUNTERS, SCENARIO BOOKLET AND OF COURSE A LARGE MAP - ALL FORMATTED AND READY TO GET PRINTED ON YOUR HOME INKJET. ALL YOU NEED IS SOME LETTER OR A4 PAPER...Reeling from their initial setback Turks form a larger task force and try for a second time to penetrate the Iraqi defense while Iraqi commander bolsters his defenses for... [click here for more] | Obscure Battles | $7.99 $4.00 |
| X113: Aggressor Force 80th Rifle Division, Germany, May 1951 (double list) Aggressor Nation was an American designed fictional nation used for training purposes, covering Spain, Portugal, eastern & southern France, northern Italy, Tyrol, western and southern Germany, Bavaria, Belgium, Holland and Spanish Morocco. Here is presented the 80th Rifle Division of 10th Corps in 7th Army. ... [click here for more] | MicroMark Army Lists | $3.18 $2.55 |
| X114: Aggressor Force 18th Fusilier Rifle Division, Germany, May 1951 (double list) Aggressor Nation was an American designed fictional nation used for training purposes, covering Spain, Portugal, eastern & southern France, northern Italy, Tyrol, western and southern Germany, Bavaria, Belgium, Holland and Spanish Morocco. Here is presented the 18th Fusilier Rifle Division of 10th Corps in... [click here for more] | MicroMark Army Lists | $3.18 $2.55 |
| X115: Aggressor Force 19th Rifle Division, Germany, May 1951 (double list) Aggressor Nation was an American designed fictional nation used for training purposes, covering Spain, Portugal, eastern & southern France, northern Italy, Tyrol, western and southern Germany, Bavaria, Belgium, Holland and Spanish Morocco. Here is presented the 19th Rifle Division of 10th Corps in 7th Army. ... [click here for more] | MicroMark Army Lists | $3.18 $2.55 |
| The seventh issue of Yaah! Magazine is another gorgeous grab-bag of mirth, merriment, and awesomeness-- great articles, great scenarios, a great pack-in game, and two great expansions! For starters, there's a titanic triptych of Old School Tactical (OST) material: an interview with designer Shayne Logan, a brand-new scenario from Shayne designed just for the magazine, and a great AAR from Eddie... [click here for more] | Flying Pig Games | $14.99 |
| FAST ATTACK CRAFT RULES FOR THE PERIOD FROM 1950 New Listing 19th May 2019 ·         Current Edition 2.0 (PDF); 2.0 (Print on Demand) ·         Recommended scale 1/600 or 1/700 ·         Complexity: 6/10 ·         Level of detail: 5/10 ·         Dice required: D6, D10, d20 A SET OF QUICK REFERENCE SHEETS IS AVAILABLE THROUGH THE PUBLISHER'S... [click here for more] | A and A Games | $15.52 |
| THIS PACK INCLUDES UNITED STATES AIR FORCE, MARINE CORPS AND NAVY JET POWERED AIR UNITS FROM THE EARLY COLD WAR ERA SO THAT YOU CAN INCLUDE THEM IN YOUR OWN SCENARIOS. ALL ARE INSTANTLY READY FOR PRINT FORMATTED FOR YOUR HOME PRINTER. ( THE UNIT SPECS ARE ALREADY IN THE DATABASE PROVIDED WITH THE GAME ) UNITS INCLUDE : F7 TIGERCAT MARINE AU-1 VARIANTS THE A26 BOMBER VARIANTS A1 SKY RAIDER WITH... [click here for more] | Obscure Battles | $6.99 $3.99 |
| A must have product for 6mm modern and sci-fi wargamers. 4 different shape and many different color for each shape of buildings. Check the pages! ... [click here for more] | IliadaGameStudio | $5.00 |
| Strike Legion: Skunk Works brings new optional and "advanced" rules to your gaming table. The fourth volume in the Strike Legion tactical series includes: *Rules for Scout EW, Tank Riders, Psionic combat, capturing enemy vehicles and troops, Aimed Shots, Ambushes, Drones, and more. *Complete rules for rail movement, trains, and land trains. *Solitaire gaming rules... [click here for more] | Legionnaire Games | $3.95 |
| Whilst you may use any scale models from 6mm up to 28mm if you have worlds largest wargames table, it is designed to be played with 6mm or 1:285th scale models. For 10mm 1/200th scale models just use the rules as written. If using 15 or 20mm models, I recommend doubling all distances. I realise some of you may have 15mm Team Yankee models, whilst you may play Red Dawn with those models I think you... [click here for more] | Dawn Gaming | $6.99 $5.99 |
| Welcome to Green Vs. Tan: Where Dingo's Dare! An exciting new, easy to learn skirmish game that the whole family can enjoy! Utilizing a fluid, fun dynamic of mechanics that are very straightforward and simple, this game can be read and played like a pro today! The game also includes print and play minis and objectives for your convience!  IN THIS REINFORCEMENTS... [click here for more] | Sundered Vault | $1.50 |
| The Naval SITREP is published twice a year by the Admiralty Trilogy Group. It supports the Admiralty Trilogy game system with scenarios, articles on history and technology, and rules expansions & corrections. The Naval SITREP Issue #45 was published in October of 2013. Table of contents: Special Feature: Fix the Littoral Combat Ship! Defining Vulnerability ... [click here for more] | Admiralty Trilogy Group | $3.00 |
| X106: Aggressor Force 5th Army, Belgium, Holland, May 1951 Aggressor Nation was an American designed fictional nation used for training purposes, covering Spain, Portugal, eastern & southern France, northern Italy, Tyrol, western and southern Germany, Bavaria, Belgium, Holland and Spanish Morocco. Here is presented the 5th Army in Army Group North, showing support units and order of battle... [click here for more] | MicroMark Army Lists | $1.59 $1.27 |
| X107: Aggressor Force 24th Artillery Division, 5th Army, Belgium, May 1951 Aggressor Nation was an American designed fictional nation used for training purposes, covering Spain, Portugal, eastern & southern France, northern Italy, Tyrol, western and southern Germany, Bavaria, Belgium, Holland and Spanish Morocco. Here is presented the 24th Artillery Division of 5th Army in Army Group North.... [click here for more] | MicroMark Army Lists | $1.59 $1.27 |
| X109: Aggressor Force 40th Rifle Division, Belgium, May 1951 (double list) Aggressor Nation was an American designed fictional nation used for training purposes, covering Spain, Portugal, eastern & southern France, northern Italy, Tyrol, western and southern Germany, Bavaria, Belgium, Holland and Spanish Morocco. Here is presented the 40th Rifle Division found in 11th Corps of 5th Army. ... [click here for more] | MicroMark Army Lists | $3.18 $1.91 |
| X110: Aggressor Force 51st Rifle Division, Belgium, May 1951(double list) Aggressor Nation was an American designed fictional nation used for training purposes, covering Spain, Portugal, eastern & southern France, northern Italy, Tyrol, western and southern Germany, Bavaria, Belgium, Holland and Spanish Morocco. Here is presented the 51st Rifle Division found in 23rd Corps of 5th Army. ... [click here for more] | MicroMark Army Lists | $3.18 $1.91 |
| X111 Aggressor Force 16th Fusilier Rifle Division, Germany, May 1951 (double list) Aggressor Nation was an American designed fictional nation used for training purposes, covering Spain, Portugal, eastern & southern France, northern Italy, Tyrol, western and southern Germany, Bavaria, Belgium, Holland and Spanish Morocco. Here is presented the 16th Fusilier Rifle Division found in 5th Corps... [click here for more] | MicroMark Army Lists | $3.18 $1.91 |
| X112: Aggressor Force 16th Mechanised Division, Germany, May 1951(double list) Aggressor Nation was an American designed fictional nation used for training purposes, covering Spain, Portugal, eastern & southern France, northern Italy, Tyrol, western and southern Germany, Bavaria, Belgium, Holland and Spanish Morocco. Here is presented the 16th Mechanised Division found in 5th Corps of 7th... [click here for more] | MicroMark Army Lists | $3.18 $2.55 |
| X127: Aggressor Force 7th Army Support, Germany, May 1951 Aggressor Nation was an American designed fictional nation used for training purposes, covering Spain, Portugal, eastern & southern France, northern Italy, Tyrol, western and southern Germany, Bavaria, Belgium, Holland and Spanish Morocco. Here is presented the 7th Army in Army Group North, showing support units and order of battle... [click here for more] | MicroMark Army Lists | $1.59 $1.27 |
| X129: Aggressor Force 37th Rifle Division, Germany, May 1951 (double list) Aggressor Nation was an American designed fictional nation used for training purposes, covering Spain, Portugal, eastern & southern France, northern Italy, Tyrol, western and southern Germany, Bavaria, Belgium, Holland and Spanish Morocco. Here is presented the 37th Rifle Division found in 5th Corps of 7th Army. ... [click here for more] | MicroMark Army Lists | $3.18 $1.91 |
| "Before the military coup in Chile, we had the idea that military coups happen in Banana Republics, somewhere in Central America. It would never happen in Chile. Chile was such a solid democracy. And when it happened, it had brutal characteristics." - Isabel Allende Coup d'etats are a messy business. Far from carefully orchestrated military precision, when various factions of a populace... [click here for more] | Tiny Battle Publishing | $10.00 |
| The Lost World of Lemuria is the seventh Pulp Alley book. This is an expansion, not a stand-alone game. To fully use this book, we recommend having our Pulp Alley rulebook and Pulp Leagues. The Lost World of Lemuria was inspired by some of our favorite lost world classics. Our goal is to provide a challenging and fun setting for your own thrilling lost-world adventures. All eleven... [click here for more] | Pulp Alley | $9.99 |
| This paper model kit is easy to assemble, requiring just cardstock paper sheets to print on (110 lb. or 199gsm recommended), scissors, hobby knife, paper glue, aluminum ruler and cutting mat. This model is designed at the popular 28mm-30mm gaming scale, and can be shrunk down to 15mm, 20mm or 25mm scales by simply adjusting the print size percentage on your printer. Tips and advice for altering... [click here for more] | Dave Graffam Models | $0.95 |
| Fields of Fire(tm) is an Origins Award winning tactical combat miniatures game. It uses a 1:1 scale, so that each vehicle on the board represents one vehicle in reality. It can be used for skirmish, company, or battalion level games with equal playability and accuracy. Join the great tank commanders of history and play scenarios from the Fulda Gap to 73 Easting to the Battle of Baghdad. With this... [click here for more] | Proving Ground Games | $19.00 |
| Game Design: Mark H. Walker Art: Christian Sperling Players: 2 Duration: 60-90 minutes Complexity: Medium Solitaire Suitability: High There's no tactical game on the market quite like Mark H. Walker's PLATOON COMMANDER. Color-coded range values abstract weapon capabilities, allowing you to focus on making things go boom. Back-and-forth fire give you the dynamic impression of a fast-paced firefight.... [click here for more] | Tiny Battle Publishing | $9.99 |
| Modern industrial set with containers! and a A4 base! Check the pages. ... [click here for more] | IliadaGameStudio | $3.00 $2.50 |
|    THIS PACK INCLUDES NATO ANTI-AIRCRAFT AND ARTILLERY UNITS FROM THE COLD WAR ERA SO THAT YOU CAN INCLUDE THEM IN YOUR OWN SCENARIOS. ( THE UNIT SPECS ARE ALREADY IN THE DATABASE PROVIDED WITH THE GAME ) UNITS INCLUDE : M107,M108 AND BRITISH ABBOT RM202 20 MM , M55 QUAD 50 CAL AND THE BOFORS 40 MM M17 , M163 VULCAN AND M24 DUSTER UNITS ASTROS, M270 AND THE TYPE63 MLRS UNITS M110 AND M115 FOR... [click here for more] | Obscure Battles | $6.00 $3.00 |
| The Naval SITREP is published twice a year by the Admiralty Trilogy Group. It supports the Admiralty Trilogy game system with scenarios, articles on history and technology, and rules expansions & corrections. The Naval SITREP Issue #43 was published in October of 2012. Table of contents: Indian Carrier Developments Harpoon Scenario: Gray Seas, Gray Skies... [click here for more] | Admiralty Trilogy Group | $3.00 |
| Game design: Brian Train Map art: Jose R. Faura Counters: Tom Russell Hex number: 43 Duration: 120 minutes Players: 2 Solitaire Suitability: Low Weight: Medium Theme: Modern Brian Train's District Commander is a series of operational games on counterinsurgency... [click here for more] | Hollandspiele | $12.00 |
| NIGHTMARES BECOME REAL, AND THE DEAD WALK THE EARTH!All the monsters from man's worst nightmares come alive in this set of fast-playing horror miniature rules which is based on the popular, Origins-nominated Song of Blades and Heroes mechanics. Fight zombies, vampires, mad slashers, ghosts, werewolves, witches and other bloodcurdling monstrosities straight out of the folklore books and horror movies.... [click here for more] | Ganesha Games | $9.00 |
| With the calendars all insisting it is 2015, we're celebrating it with this grab bag of goodies for each of the Nordic Weasel Games systems. Within these pages, you will find new options for FiveCore (skirmish AND Company Commander), No End in Sight, No Stars in Sight, Fast And Dirty and the Usurper RPG. This product is available on a Pay what you Want basis, since the value may vary depending... [click here for more] | Nordic Weasel Games | Pay What You Want |
| Welcome to the third issue of the Battle Pack wargames 'zine! The flagship article this month is the introductory version of LaserStorm, the upcoming NWG scifi rules for big, super-fast battles with lots of toys on the table. In addition, you will find: *FiveCore rules mods for black powder skirmish gaming. *Not one, not two but three scenarios for No Stars in Sight. (Easily adaptable to other... [click here for more] | Nordic Weasel Games | $6.99 |