Follow Your Favorites!

Sign in
to get custom notifications of new products!

Featured Product
No Man's World: Black Hand Gang
by Rebellion
On November 1st, 1916, nine-hundred men of the 13th Battalion of The Pennine Fusiliers vanished without trace from the battlefield, only to find themselves stranded on an alien planet. There they must learn to survive in a frightening and hostile environment, forced to rely on dwindling supplies of ammo and rations as the natives of this strange new world begin to take an interest.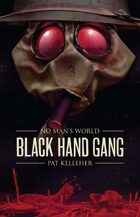 | Products found in this section... | Sort by: |
| --- | --- |
| Title | Publisher | Price |
| --- | --- | --- |
| The Kaiserliche und Königliche Kriegsmarine -- The Austro-Hungarian Navy -- was in at the beginning of World War I when Archduke Franz Ferdinand and his wife Sophie lay in state aboard its flagship, and at the end when it dissolved along with the empire that commanded it. During the war, this small but powerful "fleet in being" forced the Allies to maintain a blockade of the Otranto Straits. German... [click here for more] | Shilka Publishing | $1.79 |
| Victors write history. German Admiral Reinhard Scheer knew this, and wrote his own anyway. In this memoir of World War One, he says, "We are victors and vanquished at one and the same time, and in depicting our success the difficult problem confronts us of not forgetting that our strength did not last out to the end." Admiral Scheer took command of the German High Seas Fleet in... [click here for more] | Shilka Publishing | $0.99 |
| Note that this is the same compendium that was previously published by Shilka Publishing. It began in Sarajevo in 1914, in a cascade of treaty obligations following an assassination. It ended in the mirrored halls of Versailles in 1918, in a treaty that would lead directly to an even more catastrophic war. The Great War--World War I--slaughtered millions, left a continent in ruins, and caused many... [click here for more] | Society of 20th Century Wargamers | $3.99 |
| THE FIRST IN A SERIES, PITTING WORLD WAR ONE SOLDIERS AGAINST ALIENS. On November 1st, 1916, nine-hundred men of the 13th Battalion of The Pennine Fusiliers vanished without trace from the battlefield, only to find themselves stranded on an alien planet. There they must learn to survive in a frightening and hostile environment, forced to rely on dwindling supplies of ammo and rations as the natives... [click here for more] | Rebellion | $5.99 |
| When Thomas 'Only' Atkins signed up to fight for King and Country, half the boys he grew up with ended up fighting alongside him. The 13th Battalion of the Pennine Fusiliers were a 'Pal's Brigade,' a whole town transposed to the Somme together to feed the Front's relentless need for warm bodies. They also disappeared from the face of the Earth, on the 1st November... [click here for more] | Rebellion | $9.99 |
| Hours of great reading await, with tales of war and military adventure by some of the greatest writers of the 19th and 20th centuries. Ranging from classics of the Civil War to the World Wars to the future of war -- and many other battlefields -- here more than 640 pages of military fiction! Included are the complete novel "The Red Badge of Courage," pulp stories by Arthur J. Burks, Johnston... [click here for more] | Wildside Press | $0.99 |