Follow Your Favorites!

Sign in
to get custom notifications of new products!

Featured Product
Blood & A Black Flag
by Precinct Omega Publishing

Grab a brace of pistols and strap on your cutlass for this brand new swashbuckling skirmish game from Precinct Omega Publishing and the athor of Horizon Wars: Zero Dark.
In Blood & A Black Flag your hero must use a mixture of guile and violence to keep their unruly crew in line as they explore the strange shores of The Triangle in pursuit of loot and glory.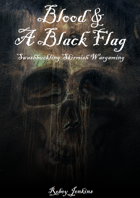 | Products found in this section... | Sort by: |
| --- | --- |
| | | |
| --- | --- | --- |
| Title | Publisher | Price |
| Easy to build: This paper model kit is easy to assemble, requiring just cardstock paper sheets to print on (110 lb. or 199gsm recommended), scissors, hobby knife, paper glue, aluminum ruler and cutting mat. Assembly time is about an hour. 15mm to 30mm scale: This model set is designed at the popular 28mm-30mm gaming scale, and can be shrunk down... [click here for more] | Dave Graffam Models | $4.95 $2.00 |
| Easy to build: This paper model kit is easy to assemble, requiring just 10 cardstock paper sheets to print on (110 lb. or 199gsm recommended), scissors, hobby knife, paper glue, metal ruler and cutting mat. 15mm to 30mm scale: This model is designed at the popular 28mm-30mm gaming scale, and can be shrunk down to 15mm, 20mm or 25mm scales by simply adjusting the... [click here for more] | Dave Graffam Models | $4.95 $2.00 |
| Easy to build: This paper model kit is easy to assemble, requiring just cardstock paper sheets to print on (110 lb. or 199gsm recommended), scissors, hobby knife, paper glue, aluminum ruler and cutting mat. Assembly time is about an hour. 15mm to 30mm scale: This model is designed at the popular 28mm-30mm gaming scale, and can be shrunk down to 15mm, 20mm or 25mm... [click here for more] | Dave Graffam Models | $1.95 $1.00 |
| This large printable map is a beautiful surface for building the seedy side of a medieval town, Victorian neighborhood or steampunk metropolis. It's easy to print in one piece at your local shop, or in sections on your desktop printer. An optional 1-inch grid is included, and this map is tileable in the sense that you can choose any edge of the map and it will "wrap" around to the opposite side.... [click here for more] | Dave Graffam Models | $4.95 $2.00 |
| Smooth&Rifled is a game system designed to recreate skirmish games with 28, 20 or 15mm miniatures. It covers the period from approximately 1700 to approximately 1900. The French and Indian War, the American Revolution, the Napoleonic Wars, the American Civil War and the wars of the Colonial era are just some of the periods you can play with S&R. In the Appendix you will find all the information... [click here for more] | Dadi&Piombo | $11.99 |
| Easy to build: This paper model kit is easy to assemble, requiring just cardstock paper sheets to print on (110 lb. or 199gsm recommended), scissors, hobby knife, paper glue, aluminum ruler and cutting mat. Assembly time is just a few minutes per wall section. 15mm to 30mm scale: This model set is designed at the popular 28mm-30mm gaming scale, and can be shrunk... [click here for more] | Dave Graffam Models | $1.95 $1.00 |
| Easy to build: This paper model kit is easy to assemble, requiring just 15 cardstock paper sheets to print on (110 lb. or 199gsm recommended), scissors, hobby knife, paper glue, metal ruler and cutting mat. Optionally, you can use a piece of foamcore for the base. 15mm to 30mm scale: This model is designed at the popular 28mm-30mm gaming scale, and can be shrunk... [click here for more] | Dave Graffam Models | $4.95 $2.00 |
| Easy to build: This paper model kit is easy to assemble, requiring just 8 cardstock paper sheets to print on (110 lb. or 199gsm recommended), scissors, hobby knife, paper glue, metal ruler and cutting mat. 15mm to 30mm scale: This model is designed at the popular 28mm-30mm gaming scale, and can be shrunk down to 15mm, 20mm or 25mm scales by simply adjusting the... [click here for more] | Dave Graffam Models | $3.95 $2.00 |
| Easy to build: This paper model kit is easy to assemble, requiring just cardstock paper sheets to print on (110 lb. or 199gsm recommended), scissors, hobby knife, paper glue, metal ruler and cutting mat. 15mm to 30mm scale: This model is designed at the popular 28mm-30mm gaming scale, and can be shrunk down to 15mm, 20mm or 25mm scales by simply adjusting the print... [click here for more] | Dave Graffam Models | $3.95 $2.00 |
| Easy to build: This paper model kit is easy to assemble, requiring just cardstock paper sheets to print on (110 lb. or 199gsm recommended), scissors, hobby knife, paper glue, aluminum ruler and cutting mat. Assembly time is just a few minutes per wall section. 15mm to 30mm scale: This model set is designed at the popular 28mm-30mm gaming scale, and can be shrunk... [click here for more] | Dave Graffam Models | $1.95 $1.00 |
| Easy to build: This paper model kit is easy to assemble, requiring just cardstock paper sheets to print on (110 lb. or 199gsm recommended), scissors, hobby knife, paper glue, aluminum ruler and cutting mat. 15mm to 30mm scale: This paper terrain is designed at the popular 28mm-30mm gaming scale, and can be shrunk down to 15mm, 20mm or 25mm scales by simply adjusting... [click here for more] | Dave Graffam Models | $2.95 $1.00 |
| Easy to build: This paper model kit is easy to assemble, requiring just cardstock paper sheets to print on (110 lb. or 199gsm recommended), scissors, hobby knife, paper glue, metal ruler and cutting mat. 15mm to 30mm scale: This model is designed at the popular 28mm-30mm gaming scale, and can be shrunk down to 15mm, 20mm or 25mm scales by simply adjusting the print... [click here for more] | Dave Graffam Models | $2.95 $1.00 |
| Easy to build: This paper model kit is easy to assemble, requiring just 13 cardstock paper sheets to print on (110 lb. or 199gsm recommended), scissors, hobby knife, paper glue, metal ruler and cutting mat. Optionally, you may use a piece of foamcore cut to 6" x 9" for the ground piece. 15mm to 30mm scale: This model is designed at the popular 28mm-30mm gaming scale,... [click here for more] | Dave Graffam Models | $3.95 $2.00 |
| Warfare in the Age of Napoleon is a medium complexity, battalion level ruleset for battles in the Napoleonic Wars.  Many diagrams with illustrations.  Army lists for the 1815 campaign (many more army lists in the supplement, sold separately).  This is the core rulebook.  By the same team that brought you Age of Reason, Pig Wars, Age of Discovery, By the Sword Decided and more. ... [click here for more] | Tod Kershner's Games | $12.00 |
| Easy to build: This paper model kit is easy to assemble, requiring just cardstock paper sheets to print on (110 lb. or 199gsm recommended), scissors, hobby knife, paper glue, aluminum ruler and cutting mat. 15mm to 30mm scale: This paper terrain is designed at the popular 28mm-30mm gaming scale, and can be shrunk down to 15mm, 20mm or 25mm scales by simply adjusting... [click here for more] | Dave Graffam Models | $1.95 $1.00 |
| Easy to build: This paper model kit is easy to assemble, requiring just cardstock paper sheets to print on (110 lb. or 199gsm recommended), scissors, hobby knife, paper glue, aluminum ruler and cutting mat. Assembly time is about an hour. 15mm to 30mm scale: This model is designed at the popular 28mm-30mm gaming scale, and can be shrunk down to 15mm, 20mm or 25mm... [click here for more] | Dave Graffam Models | $1.95 $1.00 |
| Easy to build: This paper model kit is easy to assemble, requiring just cardstock paper sheets to print on (110 lb. or 199gsm recommended), scissors, hobby knife, paper glue, aluminum ruler and cutting mat. Assembly time is about an hour. 15mm to 30mm scale: This model is designed at the popular 28mm-30mm gaming scale, and can be shrunk down to 15mm, 20mm or 25mm... [click here for more] | Dave Graffam Models | $2.95 $1.00 |
| It is your duty to… MARCH TOWARDS THE CANNON. My duty is to execute the Emperor's orders. Or so the story goes. What was the actual conversation between General Gerard and Marshal Grouchy on that fateful day – June 18,1815, the battle of Waterloo, no one really knows. But it brings up a good question. In any battle it is assumed that each soldier will do his duty. From the... [click here for more] | Rebel Minis | $9.95 |
| Easy to build: This paper model kit is easy to assemble, requiring just 4 to 5 cardstock paper sheets to print on (110 lb. or 199gsm recommended), scissors, hobby knife, paper glue, aluminum ruler and cutting mat. Assembly time is about an hour. 15mm to 30mm scale: This model is designed at the popular 28mm-30mm gaming scale, and can be shrunk down to 15mm, 20mm... [click here for more] | Dave Graffam Models | $3.95 $2.00 |
| Easy to build: This paper model kit is easy to assemble, requiring just cardstock paper sheets to print on (110 lb. or 199gsm recommended), scissors, hobby knife, paper glue, aluminum ruler and cutting mat. Assembly time is about an hour. 15mm to 30mm scale: This model is designed at the popular 28mm-30mm gaming scale, and can be shrunk down to 15mm, 20mm or 25mm... [click here for more] | Dave Graffam Models | $1.95 $1.00 |
| IIf ever there is an historical period that can lay claim to be THE classic subject for wargamers, then surely it must be those early years of the nineteenth century when Europe was gripped by the power of Napoleon Bonaparte, self-crowned Emperor of France and her conquered territories. A sublime hero to some, a tyrannical despot to others, Napoleon is a man... [click here for more] | Baccus 6mm | $22.20 $11.10 |
| Easy to build: This paper model kit is easy to assemble, requiring just cardstock paper sheets to print on (110 lb. or 199gsm recommended), scissors, hobby knife, paper glue, metal ruler and cutting mat. Optionally, you can use a piece of foamcore for the base. 15mm to 30mm scale: This model is designed at the popular 28mm-30mm gaming scale, and can be shrunk down... [click here for more] | Dave Graffam Models | $2.95 $1.00 |
| This large printable map features cobbled roads in an irregular pattern inspired by real cities. The details are sharp, and it's designed to be the perfect complement to my collection of paper models, giving you a beautiful surface for building your own bustling town or ruined village. It's easy to print in one piece at your local shop, or in sections on your desktop printer. An optional 1-inch grid... [click here for more] | Dave Graffam Models | $4.95 $2.00 |
| This bundle includes four models that will fit in any coastal city or wharf scene. This is also a great set for populating any part of a village or town, since the multiple skins give you lots of optional looks you can use in any fantasy or medieval setting. This paper models kit is easy to assemble, requiring just cardstock paper sheets to print on (110 lb. or 199gsm recommended), scissors,... [click here for more] | Dave Graffam Models | $5.95 $3.00 |
| Easy to build: This paper model kit is easy to assemble, requiring just cardstock paper sheets to print on (110 lb. or 199gsm recommended), scissors, hobby knife, paper glue, aluminum ruler and cutting mat. Assembly time is about an hour. 15mm to 30mm scale: This model is designed at the popular 28mm-30mm gaming scale, and can be shrunk down to 15mm, 20mm or 25mm... [click here for more] | Dave Graffam Models | $2.95 $1.00 |
| The boom of a flintlock musket, a cloud of acrid black powder, and the drumming of feet as they rush towards the fallen foe. A knife is unsheathed, and with a few quick movements, the enemy's bloody scalp is ripped free. Warfare in the Eastern Woodlands of America was one of raids, ambushes and sudden violent encounters. These are the skirmishes that Song of Drums and Tomahawks seeks to recreate.... [click here for more] | Ganesha Games | $14.99 $8.00 |
| 5th Edition Standard Rules for Les Bataille dans l'age l'Empereur Napoleon 1er tactical Napoleonic period games. This rule book comes with La Bataille de Ligny Second Edition game. ... [click here for more] | Clash of Arms Games | $6.00 |
| Easy to build: This paper model kit is easy to assemble, requiring just cardstock paper sheets to print on (110 lb. or 199gsm recommended), scissors, hobby knife, paper glue, aluminum ruler and cutting mat. Assembly time is about an hour. 15mm to 30mm scale: This model is designed at the popular 28mm-30mm gaming scale, and can be shrunk down to 15mm, 20mm or 25mm... [click here for more] | Dave Graffam Models | $2.95 $1.00 |
| Easy to build: This paper model kit is easy to assemble, requiring just cardstock paper sheets to print on (110 lb. or 199gsm recommended), scissors, hobby knife, paper glue, aluminum ruler and cutting mat. Optionally, you may also use foamcore. 15mm to 30mm scale: This paper terrain is designed at the popular 28mm-30mm gaming scale, and can be shrunk down to 15mm,... [click here for more] | Dave Graffam Models | $3.95 $1.00 |
| These rules enable fast play games set in the Age of Sail. Optional rules are included to cover early steam ships. These rules can be used with any models. The required templates are available as a separate free download. The rules provide an engaging and interactive game with the correct period feel. The system enables players to interrupt their opponent's actions so both players are fully engaged... [click here for more] | Hordes of Models and Buckets of Dice | Pay What You Want |
| You command a small group of French troops that have become seperated from the main force during the retreat from Moscow. You must catch up with the main force while fighting of the pursuing Russian troops. Ideal for 28mm figures but will work in any scale as long as the figures are individually based. ... [click here for more] | Terry Catton | $2.05 |
| Easy to build: This paper model kit is easy to assemble, requiring just cardstock paper sheets to print on (110 lb. or 199gsm recommended), scissors, hobby knife, paper glue, aluminum ruler and cutting mat. Assembly time is about half an hour. 15mm to 30mm scale: This model is designed at the popular 28mm-30mm gaming scale, and can be shrunk down to 15mm, 20mm... [click here for more] | Dave Graffam Models | $2.95 $1.00 |
| Easy to build: This paper model kit is easy to assemble, requiring just 5 cardstock paper sheets to print on (110 lb. or 199gsm recommended), scissors, hobby knife, paper glue, metal ruler and cutting mat. Optionally, you can use a piece of foamcore for the base. 15mm to 30mm scale: This model is designed at the popular 28mm-30mm gaming scale, and can be shrunk... [click here for more] | Dave Graffam Models | $2.95 $1.00 |
| Easy to build: This paper model kit is easy to assemble, requiring just cardstock paper sheets to print on (110 lb. or 199gsm recommended), scissors, hobby knife, paper glue, aluminum ruler and cutting mat. Assembly time is about half an hour. 15mm to 30mm scale: This model is designed at the popular 28mm-30mm gaming scale, and can be shrunk down to 15mm, 20mm or... [click here for more] | Dave Graffam Models | $0.95 |
| This battle mat is designed for 28mm scale gaming, featuring an open grassy plain with scattered rocky patches, weeds and wildflowers. Ready to print: This set includes 6 JPG files that are ready to print, in the following configurations: Green grass field Green grass field + 1" grid Green grass field + 1.5" grid Brown grass field Brown grass field + 1" grid Brown grass field +... [click here for more] | Dave Graffam Models | $2.95 $1.00 |
| Easy to build: This paper model kit is easy to assemble, requiring just cardstock paper sheets to print on (110 lb. or 199gsm recommended), scissors, hobby knife, paper glue, aluminum ruler and cutting mat. It may look complicated, but every part of the Watch Tower is simple to assemble on its own, and putting it together is just a matter of building up the simple shapes into the... [click here for more] | Dave Graffam Models | $4.95 $2.00 |
| Easy to build: This paper model kit is easy to assemble, requiring just 6 or 7 cardstock paper sheets to print on (110 lb. or 199gsm matte stock recommended), scissors, hobby knife, paper glue, metal ruler and cutting mat. For better results, a foamcore base can be used. 15mm to 30mm scale: This model is designed at the popular 28mm-30mm gaming scale, and can be... [click here for more] | Dave Graffam Models | $4.95 $2.00 |
| Easy to build: This paper model kit is easy to assemble, requiring just cardstock paper sheets to print on (110 lb. or 199gsm recommended), scissors, hobby knife, paper glue, aluminum ruler and cutting mat. Assembly time is about an hour. 15mm to 30mm scale: This model is designed at the popular 28mm-30mm gaming scale, and can be shrunk down to 15mm, 20mm or 25mm... [click here for more] | Dave Graffam Models | $2.95 $1.00 |
| Easy to build: This paper model kit is easy to assemble, requiring just 5 cardstock paper sheets to print on (110 lb. or 199gsm recommended), scissors, hobby knife, paper glue, metal ruler and cutting mat.Optionally, you may also use a piece of foamcore for the base, and make use of other common hobby tools for even better results. Full instructions are included. 15mm to... [click here for more] | Dave Graffam Models | $3.95 $2.00 |
| Easy to build: This paper model kit is easy to assemble, requiring just cardstock paper sheets to print on (110 lb. or 199gsm recommended), scissors, hobby knife, paper glue, aluminum ruler and cutting mat. Assembly time is about an hour. 15mm to 30mm scale: This model is designed at the popular 28mm-30mm gaming scale, and can be shrunk down to 15mm, 20mm or 25mm... [click here for more] | Dave Graffam Models | $3.95 $2.00 |
| This paper model kit is easy to assemble, requiring just 10 cardstock paper sheets to print on (110 lb. or 199gsm recommended), scissors, hobby knife, paper glue, metal ruler and cutting mat. Optionally, you can use a piece of foamcore for the base. This model is designed at the popular 28mm-30mm gaming scale, and can be shrunk down to 15mm, 20mm or 25mm scales by simply adjusting the print... [click here for more] | Dave Graffam Models | $3.95 $2.00 |
| Easy to build: This paper model kit is easy to assemble, requiring just 3 cardstock paper sheets to print on (110 lb. or 199gsm recommended), scissors, hobby knife, paper glue, metal ruler and cutting mat. 15mm to 30mm scale: This model is designed at the popular 28mm-30mm gaming scale, and can be shrunk down to 15mm, 20mm or 25mm scales by simply adjusting the... [click here for more] | Dave Graffam Models | $1.95 $1.00 |
| Easy to build: This paper model kit is easy to assemble, requiring just cardstock paper sheets to print on (110 lb. or 199gsm recommended), scissors, hobby knife, paper glue, aluminum ruler and cutting mat. Assembly time is under an hour. 15mm to 30mm scale: This model is designed at the popular 28mm-30mm gaming scale, and can be shrunk down to 15mm, 20mm or 25mm... [click here for more] | Dave Graffam Models | $4.95 $2.00 |
| Easy to build: This paper model kit is easy to assemble, requiring just cardstock paper sheets to print on (110 lb. or 199gsm recommended), scissors, hobby knife, paper glue, aluminum ruler and cutting mat. Assembly time is under an hour. 15mm to 30mm scale: This model is designed at the popular 28mm-30mm gaming scale, and can be shrunk down to 15mm, 20mm or 25mm... [click here for more] | Dave Graffam Models | $3.95 $2.00 |
| Easy to build: This paper model kit is easy to assemble, requiring just cardstock paper sheets to print on (110 lb. or 199gsm recommended), scissors, hobby knife, paper glue, aluminum ruler and cutting mat. Assembly time is under an hour. 15mm to 30mm scale: This model is designed at the popular 28mm-30mm gaming scale, and can be shrunk down to 15mm, 20mm or 25mm... [click here for more] | Dave Graffam Models | $3.95 $2.00 |
| Easy to build: This paper model kit is easy to assemble, requiring just 9 cardstock paper sheets to print on (110 lb. or 199gsm recommended), scissors, hobby knife, paper glue, metal ruler and cutting mat.Optionally, you may also use a piece of foamcore for the base, and make use of other common hobby tools for even better results. Full instructions are included. 15mm to... [click here for more] | Dave Graffam Models | $3.95 $2.00 |
| Easy to build: This paper model kit is easy to assemble, requiring just cardstock paper sheets to print on (110 lb. or 199gsm recommended), scissors, hobby knife, paper glue, aluminum ruler and cutting mat. Assembly time is under an hour. 15mm to 30mm scale: This model is designed at the popular 28mm-30mm gaming scale, and can be shrunk down to 15mm, 20mm or 25mm... [click here for more] | Dave Graffam Models | $3.95 $2.00 |
| Easy to build: This paper model kit is easy to assemble, requiring just 5 cardstock paper sheets to print on (110 lb. or 199gsm recommended), scissors, hobby knife, paper glue, metal ruler and cutting mat. Optionally, you can use a piece of foamcore for the base. 15mm to 30mm scale: This model is designed at the popular 28mm-30mm gaming scale, and can be shrunk... [click here for more] | Dave Graffam Models | $2.95 $1.00 |
| Easy to build: This paper model kit is easy to assemble, requiring just cardstock paper sheets to print on (110 lb. or 199gsm recommended), scissors, hobby knife, paper glue, aluminum ruler and cutting mat. Assembly time is about an hour. 15mm to 30mm scale: This model is designed at the popular 28mm-30mm gaming scale, and can be shrunk down to 15mm, 20mm or 25mm... [click here for more] | Dave Graffam Models | $1.95 $1.00 |
| La Garde est une règle grand-tactique en français pensée pour des figurines 6mm, où les joueurs commandent des corps d'armée, soit en moyenne de 20000 à 50000 hommes. Le format de jeu standard, avec un gros corps d'armée par camp, est calibré pour occuper une soirée en club (entre deux et trois heures), ou une petite après-midi ludique. Il est toutefois possible, sans difficulté, et en... [click here for more] | Sgt Bourgogne Editeur | $17.54 |