Follow Your Favorites!

Sign in
to get custom notifications of new products!

Featured Product
Lion Rampant: Second Edition
by Osprey Publishing
An expanded edition of the Origins Award-nominated Lion Rampant, featuring new rules, scenarios, and sample armies.
Take to the battlefield as Richard the Lionheart, Joan of Arc or William Wallace - or forge your own legend.
Whether you're looking to recreate historical encounters or tell your own stories, this book provides everything to fight quick, exci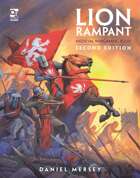 | Products found in this section... | Sort by: |
| --- | --- |
| | | |
| --- | --- | --- |
| Title | Publisher | Price |
| Easy to build: This paper model kit is easy to assemble, requiring just cardstock paper sheets to print on (110 lb. or 199gsm recommended), scissors, hobby knife, paper glue, aluminum ruler and cutting mat. Assembly time is about an hour. 15mm to 30mm scale: This model is designed at the popular 28mm-30mm gaming scale, and can be shrunk down to 15mm, 20mm or 25mm... [click here for more] | Dave Graffam Models | $1.95 |
| Game Design: Tom Russell Art: Ania B. Ziolkowska & Nadir Elfarra Hex number: 22 Duration: 180 minutes Players: 1 Solitaire Suitability: High Weight: Medium Theme: Medieval The death of Carloman in 771 left his twenty-nine year old brother Charles in control of... [click here for more] | Hollandspiele | $12.00 |
| Second edition of Lords&Servants.  Lords&Servants is a game system designed to recreate skirmish games with 28, 20 or 15mm miniatures. It covers the Medieval period and it shares the mechanics of our popular system Smooth&Rifled. In the Appendix you will find all the information that you need to create your games, from simple clashes involving a few men per side to bigger encounters with... [click here for more] | Dadi&Piombo | $8.99 |
| Easy to build: This paper model kit is easy to assemble, requiring just cardstock paper sheets to print on (110 lb. or 199gsm recommended), scissors, hobby knife, paper glue, metal ruler and cutting mat. Optionally, you can use a piece of foamcore for the base. 15mm to 30mm scale: This model is designed at the popular 28mm-30mm gaming scale, and can be shrunk down... [click here for more] | Dave Graffam Models | $2.95 |
| This large printable map features cobbled roads in an irregular pattern inspired by real cities. The details are sharp, and it's designed to be the perfect complement to my collection of paper models, giving you a beautiful surface for building your own bustling town or ruined village. It's easy to print in one piece at your local shop, or in sections on your desktop printer. An optional 1-inch grid... [click here for more] | Dave Graffam Models | $4.95 |
| This bundle includes four models that will fit in any coastal city or wharf scene. This is also a great set for populating any part of a village or town, since the multiple skins give you lots of optional looks you can use in any fantasy or medieval setting. This paper models kit is easy to assemble, requiring just cardstock paper sheets to print on (110 lb. or 199gsm recommended), scissors,... [click here for more] | Dave Graffam Models | $5.95 |
| Easy to build: This paper model kit is easy to assemble, requiring just cardstock paper sheets to print on (110 lb. or 199gsm recommended), scissors, hobby knife, paper glue, aluminum ruler and cutting mat. Assembly time is about an hour. 15mm to 30mm scale: This model is designed at the popular 28mm-30mm gaming scale, and can be shrunk down to 15mm, 20mm or 25mm... [click here for more] | Dave Graffam Models | $2.95 |
| Easy to build: This paper model kit is easy to assemble, requiring just cardstock paper sheets to print on (110 lb. or 199gsm recommended), scissors, hobby knife, paper glue, aluminum ruler and cutting mat. Assembly time is about an hour. 15mm to 30mm scale: This model is designed at the popular 28mm-30mm gaming scale, and can be shrunk down to 15mm, 20mm or 25mm... [click here for more] | Dave Graffam Models | $2.95 |
| This ruleset simulates battles in the period of 2000 BCE to roughly 1500 CE, the age which includes Empires as Alexander the Great's Macedonians, Rome, Carthage, Genghis Khan and Charlemagne. The game is designed as a multiplayer game but will work just as fine with only two players or even solo. It is written for people with no prior wargame experience, but has enough depth to entertain the experienced... [click here for more] | BelloLudi | $9.64 |
| Supplement 2 of Impetus game system. It includes 48 army lists and 1 campaign game. THE ROMAN EMPIRE Early Imperial Romans, Early Germans, Jewish Revolt, Dacians, Later Sarmatians, Alans, Middle Imperial Romans, Sassanid Persians, Palmyra, Arab-Aramaic Kingdoms, Pre-Islamic Arabs, Armenians, Ancient Britons, Caledonians, Early Irish, Picts, Alamanni, Late Imperial Romans (East),... [click here for more] | Dadi&Piombo | $8.99 |
| Easy to build: This paper model kit is easy to assemble, requiring just cardstock paper sheets to print on (110 lb. or 199gsm recommended), scissors, hobby knife, paper glue, aluminum ruler and cutting mat. Optionally, you may also use foamcore. 15mm to 30mm scale: This paper terrain is designed at the popular 28mm-30mm gaming scale, and can be shrunk down to 15mm,... [click here for more] | Dave Graffam Models | $3.95 |
| Easy to build: This paper model kit is easy to assemble, requiring just cardstock paper sheets to print on (110 lb. or 199gsm recommended), scissors, hobby knife, paper glue, aluminum ruler and cutting mat. Assembly time is about half an hour. 15mm to 30mm scale: This model is designed at the popular 28mm-30mm gaming scale, and can be shrunk down to 15mm, 20mm... [click here for more] | Dave Graffam Models | $2.95 |
| "DBA 3.0 actualiza el ya muy existoso sistema de reglas De Bellis Anqituitatis para la recreación de batallas Medievales y de la Antigüedad con miniaturas. Su creador y reconocido diseñador de juegos de guerra Phil Barker y su mujer Sue nos entregan un simple reglamento de DBA que combina un juego rápido y recreación histórica, al mismo tiempo que produce un efecto visual realista y un reto... [click here for more] | Barong Creations | $8.00 $7.50 |
| This PDF contains 132 TtS! medieval army lists, including background information on the armies and images of painted wargames figures. The medieval lists are mostly set in the period 550 CE to 1500 CE. I will be publishing updated versions of this book with new material at approximately three monthly intervals until at least 2023, which will be available to those who have already purchased the book.... [click here for more] | To the Strongest! | $14.99 |
| Easy to build: This paper model kit is easy to assemble, requiring just cardstock paper sheets to print on (110 lb. or 199gsm recommended), scissors, hobby knife, paper glue, aluminum ruler and cutting mat. Assembly time is about half an hour. 15mm to 30mm scale: This model is designed at the popular 28mm-30mm gaming scale, and can be shrunk down to 15mm, 20mm or... [click here for more] | Dave Graffam Models | $0.95 |
| Easy to build: This paper model kit is easy to assemble, requiring just 5 cardstock paper sheets to print on (110 lb. or 199gsm recommended), scissors, hobby knife, paper glue, metal ruler and cutting mat. Optionally, you can use a piece of foamcore for the base. 15mm to 30mm scale: This model is designed at the popular 28mm-30mm gaming scale, and can be shrunk... [click here for more] | Dave Graffam Models | $2.95 |
| Easy to build: This paper model kit is easy to assemble, requiring just cardstock paper sheets to print on (110 lb. or 199gsm recommended), scissors, hobby knife, paper glue, metal ruler and cutting mat. Assembly time is just a few minutes per wall section. 15mm to 30mm scale: This model set is designed at the popular 28mm-30mm gaming scale, and can be shrunk down... [click here for more] | Dave Graffam Models | $3.95 |
| Easy to build: This paper model kit is easy to assemble, requiring just cardstock paper sheets to print on (110 lb. or 199gsm recommended), scissors, hobby knife, paper glue, aluminum ruler and cutting mat. Assembly time is just a few minutes per log, lumber stack or hay bale. 15mm to 30mm scale: These models are designed at the popular 28mm-30mm gaming scale,... [click here for more] | Dave Graffam Models | $1.95 |
| Easy to build: This paper model kit is easy to assemble, requiring just cardstock paper sheets to print on (110 lb. or 199gsm recommended), scissors, hobby knife, paper glue, aluminum ruler and cutting mat. It may look complicated, but every part of the Watch Tower is simple to assemble on its own, and putting it together is just a matter of building up the simple shapes into the... [click here for more] | Dave Graffam Models | $4.95 |
| This battle mat is designed for 28mm scale gaming, featuring an open grassy plain with scattered rocky patches, weeds and wildflowers. Ready to print: This set includes 6 JPG files that are ready to print, in the following configurations: Green grass field Green grass field + 1" grid Green grass field + 1.5" grid Brown grass field Brown grass field + 1" grid Brown grass field +... [click here for more] | Dave Graffam Models | $2.95 |
| Easy to build: This paper model kit is easy to assemble, requiring just cardstock paper sheets to print on (110 lb. or 199gsm recommended), scissors, hobby knife, paper glue, aluminum ruler and cutting mat. Assembly time is about an hour. 15mm to 30mm scale: This model is designed at the popular 28mm-30mm gaming scale, and can be shrunk down to 15mm, 20mm or 25mm... [click here for more] | Dave Graffam Models | $2.95 |
| Easy to build: This paper model kit is easy to assemble, requiring just cardstock paper sheets to print on (110 lb. or 199gsm recommended), scissors, hobby knife, paper glue, aluminum ruler and cutting mat. 15mm to 30mm scale: This model set is designed at the popular 28mm-30mm gaming scale, and can be shrunk down to 15mm, 20mm or 25mm scales by simply adjusting... [click here for more] | Dave Graffam Models | $0.95 |
| Easy to build: This paper model kit is easy to assemble, requiring just 6 or 7 cardstock paper sheets to print on (110 lb. or 199gsm matte stock recommended), scissors, hobby knife, paper glue, metal ruler and cutting mat. For better results, a foamcore base can be used. 15mm to 30mm scale: This model is designed at the popular 28mm-30mm gaming scale, and can be... [click here for more] | Dave Graffam Models | $4.95 |
| Easy to build: This paper model kit is easy to assemble, requiring just cardstock paper sheets to print on (110 lb. or 199gsm recommended), scissors, hobby knife, paper glue, aluminum ruler and cutting mat. Assembly time is about an hour. 15mm to 30mm scale: This model is designed at the popular 28mm-30mm gaming scale, and can be shrunk down to 15mm, 20mm or 25mm... [click here for more] | Dave Graffam Models | $3.95 |
| Lords&Servants supplement. Attention please. This 10 scenarios are now included in Lords&Servants 2nd edition. As they are generic scenarios easily adaptable to any skirmish set we decided to leave them available in Wargames Vault. But if you have the rulebook don't buy them as already included. This pdf includes 10 generic scenarios for Lords&Servants. 1) The Relic 2) Bring me the... [click here for more] | Dadi&Piombo | $0.99 |
| Easy to build: This paper model kit is easy to assemble, requiring just 5 cardstock paper sheets to print on (110 lb. or 199gsm recommended), scissors, hobby knife, paper glue, metal ruler and cutting mat.Optionally, you may also use a piece of foamcore for the base, and make use of other common hobby tools for even better results. Full instructions are included. 15mm to... [click here for more] | Dave Graffam Models | $3.95 |
| Easy to build: This paper model kit is easy to assemble, requiring just cardstock paper sheets to print on (110 lb. or 199gsm recommended), scissors, hobby knife, paper glue, aluminum ruler and cutting mat. Assembly time is under an hour. 15mm to 30mm scale: This model is designed at the popular 28mm-30mm gaming scale, and can be shrunk down to 15mm, 20mm or 25mm... [click here for more] | Dave Graffam Models | $4.95 |
| This bundle includes two distinct models: the Curiosity Shop (the squatter of the buildings) and the Tenement (the taller building). The Curiosity Shop also includes an outhouse, and the Tenement can be easily converted into a shorter two-story version. The Curiosity Shop is based on the Guild Hall model (available separately). The Tenement is based on the Tall Hostel (available... [click here for more] | Dave Graffam Models | $3.95 |
| Fast Play Medieval Naval Rules For fleet actions, tactical battles and campaigns By David Manley A collection of fast play rules covering individual ship actions, major battles and featuring an extended campaign system , "Lord of the Sea" is centred set primarily on naval actions in Northern European waters in the 13th to 15th centuries. The rules... [click here for more] | Long Face Games | $9.93 |
| Supplement 3 of Impetus game system. It includes 46 army lists and 2 campaign games. ITALY IN THE 15th CENTURY Duchy of Milan, Venetian Republic, Papal States, Republic of Florence, Minor Italian States, Kingdom of Naples. EUROPE IN THE 15th CENTURY Hussites, Sigismund's Imperials, Frederic III's Imperials, Minor German Armies, Low Countries,... [click here for more] | Dadi&Piombo | $8.99 |
| Easy to build: This paper model kit is easy to assemble, requiring just cardstock paper sheets to print on (110 lb. or 199gsm recommended), scissors, hobby knife, paper glue, aluminum ruler and cutting mat. Assembly time is under an hour. 15mm to 30mm scale: This model is designed at the popular 28mm-30mm gaming scale, and can be shrunk down to 15mm, 20mm or 25mm... [click here for more] | Dave Graffam Models | $3.95 |
| Impetus Magazine #1 (March 2015) Contents Raphia 217BC (Impetus Scenario), Storming Impetus (official supplement for assaulting fortifications), Gaming the Last Samurai with Smooth&Rifled, Impetus at Cancon, Size Matters (Raesena and Hastings with tons of figs), The Overthrow (scenario for Lords&Servants), Waiting for Baroque (anticipating the new set), Battle at the River (scenario for Impetus),... [click here for more] | Dadi&Piombo | $2.99 |
| Easy to build: This paper model kit is easy to assemble, requiring just cardstock paper sheets to print on (110 lb. or 199gsm recommended), scissors, hobby knife, paper glue, aluminum ruler and cutting mat. Assembly time is about an hour. 15mm to 30mm scale: This model is designed at the popular 28mm-30mm gaming scale, and can be shrunk down to 15mm, 20mm or 25mm... [click here for more] | Dave Graffam Models | $1.95 |
| Easy to build: This paper tile set is easy to create, requiring just cardstock paper sheets to print on (110 lb. or 199gsm recommended), scissors, hobby knife, aluminum ruler and cutting mat. For sturdier tiles, use foamcore and spray glue. 15mm to 30mm scale: These tiles are designed with a 1" grid to be used at the popular 28mm-30mm gaming scale, and can be shrunk... [click here for more] | Dave Graffam Models | $2.95 |
| Easy to build: This paper model kit is easy to assemble, requiring just 3 cardstock paper sheets to print on (110 lb. or 199gsm recommended), scissors, hobby knife, paper glue, metal ruler and cutting mat. 15mm to 30mm scale: This model is designed at the popular 28mm-30mm gaming scale, and can be shrunk down to 15mm, 20mm or 25mm scales by simply adjusting the... [click here for more] | Dave Graffam Models | $1.95 |
| Easy to build: This paper model kit is easy to assemble, requiring just cardstock paper sheets to print on (110 lb. or 199gsm recommended), scissors, hobby knife, paper glue, aluminum ruler and cutting mat. Assembly time is under an hour. 15mm to 30mm scale: This model is designed at the popular 28mm-30mm gaming scale, and can be shrunk down to 15mm, 20mm or 25mm... [click here for more] | Dave Graffam Models | $3.95 |
| Easy to build: This paper model kit is easy to assemble, requiring just cardstock paper sheets to print on (110 lb. or 199gsm recommended), scissors, hobby knife, paper glue, aluminum ruler and cutting mat. Assembly time is under an hour. 15mm to 30mm scale: This model is designed at the popular 28mm-30mm gaming scale, and can be shrunk down to 15mm, 20mm or 25mm... [click here for more] | Dave Graffam Models | $3.95 |
| Easy to build: This paper model kit is easy to assemble, requiring just 5 cardstock paper sheets to print on (110 lb. or 199gsm recommended), scissors, hobby knife, paper glue, metal ruler and cutting mat. Optionally, you can use a piece of foamcore for the base. 15mm to 30mm scale: This model is designed at the popular 28mm-30mm gaming scale, and can be shrunk... [click here for more] | Dave Graffam Models | $2.95 |
| Easy to build: This paper model kit is easy to assemble, requiring just 9 cardstock paper sheets to print on (110 lb. or 199gsm recommended), scissors, hobby knife, paper glue, metal ruler and cutting mat.Optionally, you may also use a piece of foamcore for the base, and make use of other common hobby tools for even better results. Full instructions are included. 15mm to... [click here for more] | Dave Graffam Models | $3.95 |
| Supplement 5 of Impetus game system. It includes 48 army lists and 1 campaign game. FEUDAL EUROPE Feudal French, Anglo Norman, Early Feudal English, Later Feudal English, Welsh, Scots, Isles and Highlands, Irish, Anglo Irish, Frisia and Free Cantons, Scandinavian Kingdoms ITALY AND THE EMPIRE Italian Communal (1150-1200 AD), Imperial German, Italian... [click here for more] | Dadi&Piombo | $8.99 |
| This paper model kit is easy to assemble, requiring just 10 cardstock paper sheets to print on (110 lb. or 199gsm recommended), scissors, hobby knife, paper glue, metal ruler and cutting mat. Optionally, you can use a piece of foamcore for the base. This model is designed at the popular 28mm-30mm gaming scale, and can be shrunk down to 15mm, 20mm or 25mm scales by simply adjusting the print... [click here for more] | Dave Graffam Models | $3.95 |
| Easy to build: This paper model kit is easy to assemble, requiring just cardstock paper sheets to print on (110 lb. or 199gsm recommended), scissors, hobby knife, paper glue, aluminum ruler and cutting mat. Assembly time is about an hour. 15mm to 30mm scale: This model is designed at the popular 28mm-30mm gaming scale, and can be shrunk down to 15mm, 20mm or 25mm... [click here for more] | Dave Graffam Models | $2.95 |
| This is 28mm/30mm-scale terrain for wargaming, roleplaying games, miniature dioramas, skirmish games, model railroads, class projects or just for fun. It requires sheets of cardstock (110# or 199gsm recommended), scissors or a sharp hobby knife. This product includes all of the following layer options: Mud Grass 2 types of Patchy Grass 6 types of Crops 2 types of Furrows 1" Grid Overlay And more! Multi-layered... [click here for more] | Dave Graffam Models | $1.95 |
| Supplement 1 of Impetus game system. It includes 30 official army lists and 2 campaign games PHARAOHS WARS New Kingdom Egyptian Syro-Cananite Mitannic Beduins Hittite Empire Sea Peoples THE 100 YEARS WAR French 1330-1417 French 1418-1444 French 1445-1453 English 1330-1453 Navarrese 1350-1378 Aragonese 1330-1455 Castillan 1350-1378 Jacquerie 1358 Burgundians 1420-1435 Scots 1418-1429 THE GREAT... [click here for more] | Dadi&Piombo | $8.99 |
| Easy to build: This paper model kit is easy to assemble, requiring just 5 cardstock paper sheets to print on (110 lb. or 199gsm recommended), scissors, hobby knife, paper glue, metal ruler and cutting mat. Optionally, you can use a piece of foamcore for the base. 15mm to 30mm scale: This model is designed at the popular 28mm-30mm gaming scale, and can be shrunk... [click here for more] | Dave Graffam Models | $2.95 |
| Battles: Medieval is a tactical skirmish game depicting warfare in medieval England during the 1200s.  The game features 10 different medieval soldier types, 4 types of battles, and 10 battle maps. Solitaire or 2-player campaigns consist of either 5 or 10 random linked skirmish battles. For solitaire players, the game offers an advanced AI bot opponent which makes calculated... [click here for more] | Black Cat | $16.00 |
| A modular 3d printable wolf themed tower. Scaled for 28/32mm. Alternate view of the tower Small tower Printed and painted (werewolf for scale, not included). ... [click here for more] | FoxCraft | $8.00 |
| Scenarios for General Purpose Skirmish Rules also available on Wargame Vault there are games for various settings from Medieval to Post Apocalypse. Most of the scenarios could easily be transfered into other settings or be used with other rules sets if desired. ... [click here for more] | Terry Catton | $2.69 |
| Easy to build: This paper model kit is easy to assemble, requiring just cardstock paper sheets to print on (110 lb. or 199gsm recommended), scissors, hobby knife, paper glue, aluminum ruler and cutting mat. Assembly time is under an hour. 15mm to 30mm scale: This model is designed at the popular 28mm-30mm gaming scale, and can be shrunk down to 15mm, 20mm or 25mm... [click here for more] | Dave Graffam Models | $3.95 |
| Easy to build: This paper model kit is easy to assemble, requiring just cardstock paper sheets to print on (110 lb. or 199gsm recommended), scissors, hobby knife, paper glue, aluminum ruler and cutting mat. Assembly time is about half an hour. 15mm to 30mm scale: This model is designed at the popular 28mm-30mm gaming scale, and can be shrunk down to 15mm, 20mm... [click here for more] | Dave Graffam Models | $2.95 |