Log in or create an account and you can choose to get email notices whenever your favorite publishers or topics get new items!


In addition to the most recent news from Wargame Vault subscribers to our newsletter also receive the latest in freebies, discounts offers, and featured reviews. You can sign up for our newsletter here!
Customer Newsletter for 05/05/2013

The world's largest wargame download store!
Greetings Grognards!
Time for a Sci-Fi newsletter! We've gotten a bunch of Sci-Fi titles loaded up recently so I thought we'd just make that the newsletter theme this time around.
Lasers, bugs, spaceships, monsters, put 'em on the table and have a futuristic throw down!
I'll also take this opportunity to announce the Grand Opening of our new card-centric storefront, DriveThruCards. Take a look over there, they have lots of Grand Opening deals to kick off the site. And you can use your Wargame Vault log-in and account there too!
Till next time, good gaming to everyone, and watch your flanks!
~ Steve
Resistance is Futile II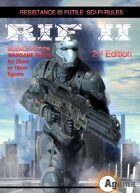 Ideal for use with 28mm or 15mm scale miniatures (so can use 40k armies with these if you like), the rules cover heroes, vehicles, individuals and units as well. They handle armoured vehicles, gunships, power armour, aliens, humanoids, bugs, robots…
A player shoots and/or moves a unit or individual/model, then rolls to see if he can activate another unit that round, and so on until a roll to get another unit to act fails, then the other player has a round. The chance of getting 2+ units to respond in a round depends on the motivation, communications and the like for the unit/individual/model involved... but it a case of shoot first, then move, then combat.
Morale includes a form of pinning/going prone as a voluntary action against incoming fire to reduce the risk of, erm, death, and the main element is that all units/individuals/models start to test once a certain level of casualties have been sustained by your army (not per unit). Level of losses at which you test is worse for militia-type units, better for regulars and much better for special forces.
A points system is included in the rules, as well as ideas for linking games from one to another.
When it comes to shooting there are rules for overwatch/aimed fire, and within certain limits if you are brought into hand-to-hand combat then you get to shoot before they get to hit you (unless you've been surprised, that sort of thing). In reality the way the game flows means opportunity fire happens, as does the - in our opinion - more realistic option of having to shoot and then move. You don't under normal tactical situations get a situation where someone charges into you and you don't get to shoot at them at all - which is pretty stupid.
RIF doesn't use complicated mechanisms - the intention is to allow variety of play and decision making, not getting bogged down in game mechanics; they play fluidly because usually each player doesn't have to wait long before they get to do something and react; as for design freedom, you can use whatever setting you fancy - an example of a background setting is included, but just as an example to get player's thinking about their own.
The only dice used are the standard six-sided affairs - and no templates are needed, just a trusty tape measure.
Dust Warfare: Campaign Book Icarus

While the battle for Zverograd continues to rage, the Allies seek to gain a firmer foothold and strengthen their presence in the area by launching a daring series of raids upon Zverograd's Axis-controlled airfield. Campaign Book: Icarus is a supplement for Dust Warfare that introduces a host of new aerial rules, plus much more. New special abilities like Air Superiority give jets the edge in dogfighting, while new platoon upgrades and a variant battle-builder take the war to new heights!
Swatters-Large Scale Bug-Hunting Miniatures Rules

SWATTERS is an exciting, fast-playing miniatures system for simulating battles between forces of humans and aliens. Using 20 to 50 (or more) singly-based figures per player and moving them as units, two players can complete a typical scenario on a 6'x4' table in under two hours. Every figure represents a single man, vehicle or alien. Squads move and fight as units (they are placed on spare CDs used as trays). Single models are removed as casualties.
SWATTERS is an infantry-centric game in which vehicles, gun emplacements and giant monsters play an occasional role. Combat is based on the roll of a single six-sided die for the attacking unit and one for the defending unit. The difference between the scores determines the combat outcome.
The two asymmetrical forces each have a limited pool of supplementary dice that may be spent to ensure success in key tactical situations. Humans use these dice to gain an edge in ranged combat, while aliens use them to spawn reinforcements and become deadlier in close combat.
The book includes rules for: Close and ranged combat; Overwatch, ambushes, crossfire, reactive fire, support weapons, and orbital bombardment;
35 special rules; Profiles for over 20 alien and 22 human troop types;
12 ready-to-run scenarios and two additional scenario ideas;
Guidelines for solo gaming;
A point system for designing your own troops; and
Ideas for using SWATTERS for other types of conflict.
SWATTERS is specially designed for the 15mm models produced by Khurasan Miniatures but may be used in any scale and with any other models, from 6mm to 28mm.
Written by Andrea Sfiligoi. Based on the "Song of Blades" engine by Ganesha Games.
Spaceward Ho!

"The superdreadnought's shields were flaring in numerous locations, with more impacts every second, as they angled away enormously dangerous energy beams and deflected mass-driver rods. The titanic monster of a spaceship was engaged with an equally huge enemy carrier, and none had stood in it's way so long before..."

The game is designed to be as simple and versatile as possible. It aims to strike a good balance between the detail needed to give each vehicle its own character, and keeping information concise enough that large forces can be quickly created.

Any unit can be created, from the lowly and ubiquitous space marine, all the way up to planet-crushing space stations and superdreadnoughts. The game can even be used to simulate huge organic monsters able to go toe-to-toe with huge military spaceships.

Spaceward Ho! Lends itself very well to use as a rules-light role-playing game, but where many sci-fi role-playing games run into trouble when characters are confronted by vehicles and spaceships, Spaceward Ho! copes with these confrontations with ease.
Specials on Wargame Vault
0 items

11 hi-res Computer 3-D images. Both in JPG and TIFF formats. ..