Follow Your Favorites!

Sign in
to get custom notifications of new products!
Featured Product
Red Menace
by Battlespace Games

Red Menace is a solitaire wargame pitting the strategic nuclear and defensive forces of the United States, Canada, and the United Kingdom against those of the Soviet Union and its client state, Cuba, in 1959. The player takes control of the United States, Canada and United Kingdom. Decisions for the Soviet units are made by the game system using random events and dice.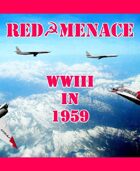 | Products found in this section... | Sort by: |
| --- | --- |
Title
Publisher
Price

15mm (1/100) 3D paper Focke-Wulf P.V Der Kampflieger presents a customizable paper model of a Focke-Wulf proposal for a jet fighter! The P.V. was also known as the TA-183 Design III. It differed from Design II (also known as the TA-183 Huckbein, also available from der Kampflieger) in having wings with a shallower degree of sweepback and a more conventional tail, with stabilizers mounted low on... [

click here for more

]

der Kampfflieger

$3.50



15mm (1/100) 3D paper Heinkel P.1078. In 1944, a requirement was issued in Germany for an emergency jet fighter, a cheap-and-quick-to-produce single-engine design to complement the twin-engine Me-262 Schwalbe that was entering production. Heinkel submitted a design study for the 1078- a stubby machine built around a jet engine, armed with two 30mm cannon, and featuring swept wings with turned-down... [

click here for more

]

der Kampfflieger

$2.50



15mm (1/100) 3D paper Westland 40/46. The British Air Ministry issued Specification 40/46 for a jet fighter. Der Kampflieger brings to life a proposal from Westland Aircraft to meet this specification to the paper modelling world. Westland had gained considerable experience in designing flying-wing aircraft during the 30s with their Pterodactyl series of testbed aircraft, and their proposal reflected... [

click here for more

]

der Kampfflieger

$3.50



AIR1 Portuguese Air Force, c1979, Portugal ... [

click here for more

]

MicroMark Army Lists

$1.42

$1.39





AIR2: Spanish Air Force, c1979, Spain ... [

click here for more

]

MicroMark Army Lists

$1.42

$1.39





AIR4: Belgian Air Force, c1979, Europe ... [

click here for more

]

MicroMark Army Lists

$1.42

$1.39





AIR9: Austrian Army Air Force, c1979, Austria ... [

click here for more

]

MicroMark Army Lists

$1.42

$1.39





AIR10: Swiss Air Force, c1979, Switzerland ... [

click here for more

]

MicroMark Army Lists

$1.42

$1.39





AIR11: Italian Air Force, c1979, Italy ... [

click here for more

]

MicroMark Army Lists

$1.42

$1.39





AIR12: Maltese Air Force, 1971+, Malta ... [

click here for more

]

MicroMark Army Lists

$1.42

$1.39





AIR13: Greek Air Force, c1979, Greece ... [

click here for more

]

MicroMark Army Lists

$1.42

$1.39





AIR14: Turkish Air Force, c1979, Turkey ... [

click here for more

]

MicroMark Army Lists

$1.42

$1.39





AIR25: South African Air Force, 1939-1940, Africa ... [

click here for more

]

MicroMark Army Lists

$1.42

$1.39





AIR29: British RAF forces, Jan-June 1940, East Africa, Aden ... [

click here for more

]

MicroMark Army Lists

$1.52

$1.45





AIR43: Vichy French Air Forces, Syria 1941, Madagascar 1941-1942 ... [

click here for more

]

MicroMark Army Lists

$1.42

$1.39





AIR46: Commonwealth Air Forces, Invasion of Madagascar, May-Sept 1942 ... [

click here for more

]

MicroMark Army Lists

$1.42

$1.39





AIR48: Danish Naval Air Forces, 1911-1941, Denmark ... [

click here for more

]

MicroMark Army Lists

$1.42

$1.39





AIR51: Norwegian Air Force, 1912-1940 (includes planned air forces 1933-1941) ... [

click here for more

]

MicroMark Army Lists

$1.42

$1.39





AIR54: Belgian Air Force, 1940, Belgium ... [

click here for more

]

MicroMark Army Lists

$1.42

$1.39





AIR61: Air forces of the Baltic States, 1939, Estonia, Latvia, Lithuania ... [

click here for more

]

MicroMark Army Lists

$1.42

$1.39





AIR23: Israeli Air Force, 1998+, Israel ... [

click here for more

]

MicroMark Army Lists

$1.42

$1.39





AIR24 Jordanian Air Force, 1998+, Jordan ... [

click here for more

]

MicroMark Army Lists

$1.42

$1.39





AIR26: Italian Air Force, June 1940, East Africa ... [

click here for more

]

MicroMark Army Lists

$1.42

$1.39





AIR28: Italian Air Force, August 1940-April 1941, East Africa ... [

click here for more

]

MicroMark Army Lists

$1.42

$1.39





AIR30: Commonwealth air forces, July 1940, East Africa, Aden ... [

click here for more

]

MicroMark Army Lists

$1.42

$1.39





AIR31: Commonwealth air forces, August 1940, East Africa, Aden ... [

click here for more

]

MicroMark Army Lists

$1.42

$1.39





AIR32: Commonwealth air forces, September 1940, East Africa, Aden ... [

click here for more

]

MicroMark Army Lists

$1.42

$1.39





AIR33: Commonwealth air forces, October 1940, East Africa, Aden ... [

click here for more

]

MicroMark Army Lists

$1.42

$1.39





AIR34: Commonwealth air forces, November 1940, East Africa, Aden ... [

click here for more

]

MicroMark Army Lists

$1.42

$1.39





AIR35: Commonwealth air forces, December 1940, East Africa, Aden ... [

click here for more

]

MicroMark Army Lists

$1.42

$1.39





AIR36: Commonwealth air forces, Jan 1941, East Africa, Aden ... [

click here for more

]

MicroMark Army Lists

$1.42

$1.39





AIR37 Commonwealth Air Forces, February 1941, East Africa, Aden ... [

click here for more

]

MicroMark Army Lists

$1.42

$1.39





AIR38: Commonwealth air forces, March 1941, East Africa, Aden ... [

click here for more

]

MicroMark Army Lists

$1.42

$1.39





AIR39: Commonwealth air forces, April 1941, East Africa, Aden ... [

click here for more

]

MicroMark Army Lists

$1.42

$1.39





AIR40: Commonwealth air forces, May 1941, East Africa, Aden ... [

click here for more

]

MicroMark Army Lists

$1.42

$1.39





AIR41 Commonwealth air forces, June-November 1941, East Africa, Aden ... [

click here for more

]

MicroMark Army Lists

$1.42

$1.39





AIR42: Royal Air Force in Iraq and area, April-May 1941 ... [

click here for more

]

MicroMark Army Lists

$1.42

$1.39





AIR44: Commonwealth Air Forces, June 1941, Middle East (Invasion of Vichy Syria) ... [

click here for more

]

MicroMark Army Lists

$1.42

$1.39





AIR45 Commonwealth Air Forces, June 28th-July 1941, Middle East ... [

click here for more

]

MicroMark Army Lists

$1.42

$1.39





AIR52: Norwegian Air Force, 1941-1978 ... [

click here for more

]

MicroMark Army Lists

$1.42

$1.39





AIR53: Swedish Air Force, 1911-1938, Sweden ... [

click here for more

]

MicroMark Army Lists

$1.42

$1.39





AIR143: US Air Education & Training Command, c2000, USA ... [

click here for more

]

MicroMark Army Lists

$1.42

$1.39





The PDF version is identical to the original printed version other than minor alterations to update subscription information and indicate the new format. The file is 144dpi, sufficient to enable you to 'zoom in' on pictures and achieve a pleasing print-out at home. Waiting in vine Diane Sutherland shows us how to make vintage vineyards. Forward Observer Siggo has plenty to discuss,... [

click here for more

]

Henry Hyde Limited

$7.55

$3.75





1/72 (25 mm) 3D paper model of Hansa-Brandenburg D.I, WWI Austro-Hungarian fighter. Biplane fighter, a design of Ernst Heinkel. The most notable feature of the D I was the 'Spider' arrangement of the wing struts; the four struts crossed at a point between the wings. The deep front fuselage inhibited the view of the pilot, and the D I was unstable. 95 built. Perfect for the WWI air games like Canvas... [

click here for more

]

der Kampfflieger

$3.50



1/72 (25 mm) 3D paper model of Caproni Ca.3, WWI Italian bomber. The development of the Ca.1 to the Ca.2 suggested the benefits of increasing amounts of power to the very sound airframe. The Ca.3 was a development of Ca.2, by replacing the two engines mounted on the booms with the same Isotta-Fraschini engine that had been used as the central, pusher engine on that design. The prototype flew in late... [

click here for more

]

der Kampfflieger

$3.95



1/72 (25 mm) 3D paper model of Gotha G.I, WWI German bomber. First of the famous family! The first G.I flew in July 1915 followed by a further 17 of these three seater machines. While the prototype used two 160hp Mercedes D Ills, the production aircraft employed two 150hp Benz Bz Ills. mounted on the lower wing. Perfect for the WWI air games like Canvas Eagles. Text written by Bart Wheeler, copyright... [

click here for more

]

der Kampfflieger

$3.95



1/72 (25 mm) 3D paper model of Nieuport 28, WWI French fighter. Last of the WWI Nieuports flown by best US WWI ace Eddie Rickenbacker! Perfect for the WWI air games like Canvas Eagles. Easy one-page download. Text written by Bart Wheeler, copyright 2011, Bart Wheeler and Ecardmodels.com. Used by permission. ... [

click here for more

]

der Kampfflieger

$3.50



1/72 (25 mm) 3D paper model of Fokker D.VII, WWI German fighter. The Fokker D.VII was a World War I fighter aircraft designed by Reinhold Platz of the Fokker- Flugzeugwerke. Germany produced almost 2,000 D.VII aircraft in the summer and fall of 1918. In service, the D.VII quickly proved itself superior to existing Allied fighters, leading to a second Fokker Scourge. Perfect for the WWI air games... [

click here for more

]

der Kampfflieger

$3.50



1/72 (25 mm) 3D paper model of Dornier D.I, WWI German fighter. It was an all-metal fighter and a milestone in aeronautical technology that would come to define modern aircraft. It was designed by Claude Dornier in early 1918 while he was working as an aeronautical engineer at Luftschiffbau Zeppelin concern. Six (maybe seven) prototypes were build, designations D.1750/18 to D.1755/18. Three of them... [

click here for more

]

der Kampfflieger

$3.50



1/72 (25 mm) 3D paper model of Fokker E.V/D.VIII, WWI German fighter. The Fokker E.V was a German parasol-monoplane fighter aircraft designed by Reinhold Platz and built by Fokker-Flugzeugwerke. It entered service with the Luftstreitkrafte in the last months of World War I. After several fatal accidents due to wing failures, the aircraft was modified and redesignated Fokker D.VIII. Dubbed the Flying... [

click here for more

]

der Kampfflieger

$8.95