Follow Your Favorites!

Sign in
to get custom notifications of new products!
Featured Product
Mighty Armies Fantasy
by Rebel Minis

It is finally here! The new, updated version of Mighty Armies! So, what is in the new version of the book, you ask?
Well, you get:
-The core rules
-Build Your Own Army section
-Missions- Great Combat Missions
-Siege Rules
-A Campaign System
-and more!!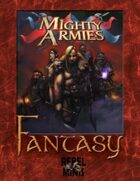 | Products found in this section... | Sort by: |
| --- | --- |
Title
Publisher
Price

Simple Models - Medieval Quick to cut out, Quicker to set up The first of our paper model series, we have reinvented how you look at the battlefield - all of our models are from the bird's-eye view. After all, you do look at your models from above! With 16 different unit types to choose from including: Musketeers, Chariots, Heavy Cavalry and various Warmachines. You can even have a War Elephant... [

click here for more

]

War of Life Gaming

$0.50



Alpha Mecha - The Expert Set - New rules, units, and pilots! The Expert Rules take the game to the final level. These rules help flesh out pilots and mecha to show their individuality. New rules for... pilot powers mecha... [

click here for more

]

Powercell Games

$9.95

$4.95





This paper model kit is easy to assemble, requiring just 12 cardstock paper sheets to print on (110 lb. or 199gsm recommended), hobby knife, glue, metal ruler and cutting mat. This model is designed at the popular 28mm-30mm gaming scale, and can be shrunk down to 15mm, 20mm or 25mm scales by simply adjusting the print size percentage on your printer. Tips and advice for altering the... [

click here for more

]

Dave Graffam Models

$4.95



Alpha Mecha - The Advanced Set - New rules, units, and pilots! You played your first games of Alpha Mecha. Now go deeper into tactics without any of the lag! New rules for... gunnery initiative exposed... [

click here for more

]

Powercell Games

$9.95

$4.95





ALPHA MECHA - The Fast Paced Tactical Game of Robotic Combat! Alpha Mecha is a fast paced robot combat game that is very easy to learn, yet has all the tactics of more complex battle games. Throw away the paperwork! This game works effortlessly to help you create battle with 10... [

click here for more

]

Powercell Games

$22.95

$4.95





The Haunted Lighthouse Just a few miles North of San Diego lies a small cove with the unusual name of Calavera Cove. It was so called by the early Spanish inhabitants due to the large number of human bones scattered about the beach, presumably from the bodies of shipwrecked sailors. Seaward a half mile, only 4 feet under the surface of the Pacific at low tide, the jagged rocks of Mermaid Reef... [

click here for more

]

Reviresco tin-soldier.com

$15.00

$7.50





39 page PDF featuring: Summer Storm: Regimental Wargame Scenarios for the Battle of Gettysburg Perry Miniaturess Battle in a Box Most Melancholy of Disasters: Fratricide in the ACW McPherson Ridge Scenario ... [

click here for more

]

Raven Banner Games

$3.50



This paper model kit is easy to assemble, requiring just cardstock paper sheets to print on (110 lb. or 199gsm recommended), scissors, hobby knife, paper glue, metal ruler and cutting mat. It may look complicated, but every part of the Country Brewery is simple to assemble on its own, and putting it together is just a matter of building up the simple shapes into the complete structure you... [

click here for more

]

Dave Graffam Models

$6.95

$1.00





Panzertruppe is a set of tactical 1:1 rules for wargaming WWII armored combat using 6mm micro armor or 10mm miniatures (1/300 - 1/200 scale). The basic rules comprise only a few pages of text. Optional rules are provided for advanced play involving infantry, anti-tank guns, artillery, mortars, air support, minefields, indirect fire, hedgerows, hidden set up, and more. Specifications are provided for... [

click here for more

]

Chris Pagano

$16.00



This paper model kit is easy to assemble, requiring just cardstock paper sheets to print on (110 lb. or 199gsm recommended), scissors, hobby knife, paper glue, aluminum ruler and cutting mat. This model is designed at the popular 28mm-30mm gaming scale, and can be shrunk down to 15mm, 20mm or 25mm scales by simply adjusting the print size percentage on your printer. Tips and advice... [

click here for more

]

Dave Graffam Models

$4.95

$1.00





This paper model kit is easy to assemble, requiring just cardstock paper sheets to print on (110 lb. or 199gsm recommended), scissors, hobby knife, paper glue, aluminum ruler and cutting mat. Assembly time is about an hour for the whole set. This model is designed at the popular 28mm-30mm gaming scale, and can be shrunk down to 15mm, 20mm or 25mm scales by simply adjusting the print... [

click here for more

]

Dave Graffam Models

$2.95

$1.00





This paper model kit is easy to assemble, requiring just cardstock paper sheets to print on (110 lb. or 199gsm recommended), scissors, hobby knife, paper glue, aluminum ruler and cutting mat. Assembly time is about an hour. This model is designed at the popular 28mm-30mm gaming scale, and can be shrunk down to 15mm, 20mm or 25mm scales by simply adjusting the print size percentage on... [

click here for more

]

Dave Graffam Models

$2.95

$1.00





This paper model kit is easy to assemble, requiring just 13 cardstock paper sheets to print on (110 lb. or 199gsm recommended), scissors, hobby knife, paper glue, metal ruler and cutting mat. Optionally, you may use a piece of foamcore cut to 6" x 9" for the ground piece. This model is designed at the popular 28mm-30mm gaming scale, and can be shrunk down to 15mm, 20mm or... [

click here for more

]

Dave Graffam Models

$4.95

$1.00





This paper model kit is easy to assemble, requiring just cardstock paper sheets to print on (110 lb. or 199gsm recommended), scissors, hobby knife, paper glue, metal ruler and cutting mat. Optionally, you can use a piece of foamcore for the base. A fine-line ink marker is recommended for darkening the paper edges, and foamcore is recommended for the ground piece, and a few other common... [

click here for more

]

Dave Graffam Models

$4.95

$1.00





This paper model kit is easy to assemble, requiring just 8 cardstock paper sheets to print on (110 lb. or 199gsm recommended), scissors, hobby knife, paper glue, metal ruler and cutting mat. This model is designed at the popular 28mm-30mm gaming scale, and can be shrunk down to 15mm, 20mm or 25mm scales by simply adjusting the print size percentage on your printer. Tips and advice for... [

click here for more

]

Dave Graffam Models

$4.95

$1.00





This paper model kit is easy to assemble, requiring just cardstock paper sheets to print on (110 lb. or 199gsm recommended), scissors, hobby knife, paper glue, aluminum ruler and cutting mat. Assembly time is about an hour. This model is designed at the popular 28mm-30mm gaming scale, and can be shrunk down to 15mm, 20mm or 25mm scales by simply adjusting the print size percentage on... [

click here for more

]

Dave Graffam Models

$1.95

$1.00





This paper model kit is easy to assemble, requiring just cardstock paper sheets to print on (110 lb. or 199gsm recommended), scissors, hobby knife, paper glue, metal ruler and cutting mat. This model set is designed at the popular 28mm-30mm gaming scale, and can be shrunk down to 15mm, 20mm or 25mm scales by simply adjusting the print size percentage on your printer. Tips and advice... [

click here for more

]

Dave Graffam Models

$2.95

$1.00





This paper model kit is easy to assemble, requiring just cardstock paper sheets to print on (110 lb. or 199gsm recommended), scissors, hobby knife, paper glue, aluminum ruler and cutting mat. This model is designed at the popular 28mm-30mm gaming scale, and can be shrunk down to 15mm, 20mm or 25mm scales by simply adjusting the print size percentage on your printer. Tips and advice... [

click here for more

]

Dave Graffam Models

$4.95

$1.00





This paper model kit is easy to assemble, requiring just 8 cardstock paper sheets to print on (110 lb. or 199gsm recommended), scissors, hobby knife, paper glue, metal ruler and cutting mat. Optionally, you can use a piece of foamcore for the base. This model is designed at the popular 28mm-30mm gaming scale, and can be shrunk down to 15mm, 20mm or 25mm scales by simply adjusting the... [

click here for more

]

Dave Graffam Models

$2.95

$1.00





This paper model kit is easy to assemble, requiring just 5 cardstock paper sheets to print on (110 lb. or 199gsm recommended), scissors, hobby knife, paper glue, metal ruler and cutting mat. This model is designed at the popular 28mm-30mm gaming scale, and can be shrunk down to 15mm, 20mm or 25mm scales by simply adjusting the print size percentage on your printer. Tips and advice for... [

click here for more

]

Dave Graffam Models

$2.95

$1.00





This paper model kit is easy to assemble, requiring just 13 cardstock paper sheets to print on (110 lb. or 199gsm recommended), scissors, hobby knife, paper glue, metal ruler and cutting mat. Optionally, you may use a piece of foamcore cut to 6" x 9" for the ground piece. This model is designed at the popular 28mm-30mm gaming scale, and can be shrunk down to 15mm, 20mm or... [

click here for more

]

Dave Graffam Models

$3.95

$1.00





This paper model kit is easy to assemble, requiring just 10 cardstock paper sheets to print on (110 lb. or 199gsm recommended), scissors, hobby knife, paper glue, metal ruler and cutting mat. Optionally, you can use a piece of foamcore for the base. This model is designed at the popular 28mm-30mm gaming scale, and can be shrunk down to 15mm, 20mm or 25mm scales by simply adjusting the... [

click here for more

]

Dave Graffam Models

$3.95

$1.00





This paper model kit is easy to assemble, requiring just cardstock paper sheets to print on (110 lb. or 199gsm recommended), scissors, hobby knife, paper glue, aluminum ruler and cutting mat. It may look complicated, but every part of the West Gate is simple to assemble on its own, and putting it together is just a matter of building up the simple shapes into the complete structure you... [

click here for more

]

Dave Graffam Models

$5.95

$1.00





This paper model kit is easy to assemble, requiring just cardstock paper sheets to print on (110 lb. or 199gsm recommended), scissors, hobby knife, paper glue, aluminum ruler and cutting mat. Assembly time is about two hours. This model is designed at the popular 28mm-30mm gaming scale, and can be shrunk down to 15mm, 20mm or 25mm scales by simply adjusting the print size percentage... [

click here for more

]

Dave Graffam Models

$3.95

$1.00





This paper model kit is easy to assemble, requiring just cardstock paper sheets to print on (110 lb. or 199gsm recommended), scissors, hobby knife, paper glue, aluminum ruler and cutting mat. This model set is designed at the popular 28mm-30mm gaming scale, and can be shrunk down to 15mm, 20mm or 25mm scales by simply adjusting the print size percentage on your printer. Tips and advice... [

click here for more

]

Dave Graffam Models

$4.95

$1.00





This paper model kit is easy to assemble, requiring just 7 cardstock paper sheets to print on (110 lb. or 199gsm recommended), scissors, hobby knife, paper glue, metal ruler and cutting mat. This model is designed at the popular 28mm-30mm gaming scale, and can be shrunk down to 15mm, 20mm or 25mm scales by simply adjusting the print size percentage on your printer. Tips and advice for... [

click here for more

]

Dave Graffam Models

$3.95

$1.00





This paper model kit is easy to assemble, requiring just 8 cardstock paper sheets to print on (110 lb. or 199gsm recommended), scissors, hobby knife, paper glue, metal ruler and cutting mat. This model is designed at the popular 28mm-30mm gaming scale, and can be shrunk down to 15mm, 20mm or 25mm scales by simply adjusting the print size percentage on your printer. Tips and advice for... [

click here for more

]

Dave Graffam Models

$3.95

$1.00





This paper model kit is easy to assemble, requiring just 10 cardstock paper sheets to print on (110 lb. or 199gsm recommended), scissors, hobby knife, paper glue, metal ruler and cutting mat. This model is designed at the popular 28mm-30mm gaming scale, and can be shrunk down to 15mm, 20mm or 25mm scales by simply adjusting the print size percentage on your printer. Tips and advice... [

click here for more

]

Dave Graffam Models

$4.95

$1.00





This paper model kit is easy to assemble, requiring just cardstock paper sheets to print on (110 lb. or 199gsm recommended), scissors, hobby knife, paper glue, aluminum ruler and cutting mat. Assembly time is about an hour. This model is designed at the popular 28mm-30mm gaming scale, and can be shrunk down to 15mm, 20mm or 25mm scales by simply adjusting the print size percentage on... [

click here for more

]

Dave Graffam Models

$2.95

$1.00





This paper model kit is easy to assemble, requiring just cardstock paper sheets to print on (110 lb. or 199gsm recommended), scissors, hobby knife, paper glue, aluminum ruler and cutting mat. This model is designed at the popular 28mm-30mm gaming scale, and can be shrunk down to 15mm, 20mm or 25mm scales by simply adjusting the print size percentage on your printer. Tips and advice... [

click here for more

]

Dave Graffam Models

$2.95

$1.00





Includes: 44 page rule book 4 pages of dinosaurs (in book and seperate file) 2 pages of tokens (for gameplay) Cretacea is the pinnacle of dinosaur skirmish wargames, donned as the "Game of gargantuan survival" it does what it says on the tin, throwing you into the arena of the cretaceous period of earths history... [

click here for more

]

EZPainter

$7.01

$8.34





This paper model kit is easy to assemble, requiring just 5 cardstock paper sheets to print on (110 lb. or 199gsm recommended), scissors, hobby knife, paper glue, metal ruler and cutting mat. Optionally, you can use a piece of foamcore for the base. This model is designed at the popular 28mm-30mm gaming scale, and can be shrunk down to 15mm, 20mm or 25mm scales by simply adjusting the... [

click here for more

]

Dave Graffam Models

$2.95

$1.00





This paper model kit is easy to assemble, requiring just cardstock paper sheets to print on (110 lb. or 199gsm recommended), scissors, hobby knife, paper glue, metal ruler and cutting mat. This model is designed at the popular 28mm-30mm gaming scale, and can be shrunk down to 15mm, 20mm or 25mm scales by simply adjusting the print size percentage on your printer. Tips and advice for... [

click here for more

]

Dave Graffam Models

$3.95

$1.00





This paper model kit is easy to assemble, requiring just cardstock paper sheets to print on (110 lb. or 199gsm recommended), scissors, hobby knife, paper glue, aluminum ruler and cutting mat. Assembly time is about an hour. This model is designed at the popular 28mm-30mm gaming scale, and can be shrunk down to 15mm, 20mm or 25mm scales by simply adjusting the print size percentage on... [

click here for more

]

Dave Graffam Models

$2.95

$1.00





This paper model kit is easy to assemble, requiring just cardstock paper sheets to print on (110 lb. or 199gsm recommended), scissors, hobby knife, paper glue, aluminum ruler and cutting mat. Assembly time is about an hour. This model is designed at the popular 28mm-30mm gaming scale, and can be shrunk down to 15mm, 20mm or 25mm scales by simply adjusting the print size percentage on... [

click here for more

]

Dave Graffam Models

$1.95

$1.00





This paper model kit is easy to assemble, requiring just cardstock paper sheets to print on (110 lb. or 199gsm recommended), scissors, hobby knife, paper glue, aluminum ruler and cutting mat. Assembly time is about an hour. This model is designed at the popular 28mm-30mm gaming scale, and can be shrunk down to 15mm, 20mm or 25mm scales by simply adjusting the print size percentage on... [

click here for more

]

Dave Graffam Models

$1.95

$1.00





This paper model kit is easy to assemble, requiring just cardstock paper sheets to print on (110 lb. or 199gsm recommended), scissors, hobby knife, paper glue, aluminum ruler and cutting mat. Assembly time is about half an hour. This model is designed at the popular 28mm-30mm gaming scale, and can be shrunk down to 15mm, 20mm or 25mm scales by simply adjusting the print size percentage... [

click here for more

]

Dave Graffam Models

$2.95

$1.00





This paper model kit is easy to assemble, requiring just cardstock paper sheets to print on (110 lb. or 199gsm recommended), scissors, hobby knife, paper glue, aluminum ruler and cutting mat. Assembly time is about two hours. This model is designed at the popular 28mm-30mm gaming scale, and can be shrunk down to 15mm, 20mm or 25mm scales by simply adjusting the print size percentage... [

click here for more

]

Dave Graffam Models

$4.95

$1.00





This paper model kit is easy to assemble, requiring just cardstock paper sheets to print on (110 lb. or 199gsm recommended), scissors, hobby knife, paper glue, aluminum ruler and cutting mat. This model set is designed at the popular 28mm-30mm gaming scale, and can be shrunk down to 15mm, 20mm or 25mm scales by simply adjusting the print size percentage on your printer. Tips and advice... [

click here for more

]

Dave Graffam Models

$3.95

$1.00





This paper model kit is easy to assemble, requiring just cardstock paper sheets to print on (110 lb. or 199gsm recommended), scissors, hobby knife, paper glue, aluminum ruler and cutting mat. Assembly time is about an hour. This model is designed at the popular 28mm-30mm gaming scale, and can be shrunk down to 15mm, 20mm or 25mm scales by simply adjusting the print size percentage on... [

click here for more

]

Dave Graffam Models

$1.95

$1.00





This paper model kit is easy to assemble, requiring just cardstock paper sheets to print on (110 lb. or 199gsm recommended), scissors, hobby knife, paper glue, aluminum ruler and cutting mat. Assembly time is about an hour. This model is designed at the popular 28mm-30mm gaming scale, and can be shrunk down to 15mm, 20mm or 25mm scales by simply adjusting the print size percentage on... [

click here for more

]

Dave Graffam Models

$3.95

$1.00





This paper model kit is easy to assemble, requiring just cardstock paper sheets to print on (110 lb. or 199gsm recommended), scissors, hobby knife, paper glue, aluminum ruler and cutting mat. Assembly time is about an hour. This model is designed at the popular 28mm-30mm gaming scale, and can be shrunk down to 15mm, 20mm or 25mm scales by simply adjusting the print size percentage on... [

click here for more

]

Dave Graffam Models

$1.95

$1.00





This paper model kit is easy to assemble, requiring just cardstock paper sheets to print on (110 lb. or 199gsm recommended), scissors, hobby knife, paper glue, aluminum ruler and cutting mat. Optionally, you may also use foamcore. This paper terrain is designed at the popular 28mm-30mm gaming scale, and can be shrunk down to 15mm, 20mm or 25mm scales by simply adjusting the print size percentage... [

click here for more

]

Dave Graffam Models

$3.95

$1.00





Port Royal Warehouse 3 in 1 Kit 28mm 1/64th Scale From Reviresco Easy to assemble. Designed to be constructed over .2 inch foam core. Choice of 4 exteriors: Brick, Stone, Plaster, or Cracked Plaster. Choice of 3 roofs: Tiles, Shingles or Slate. Choice of 3 signs, 2 candle lanterns plus a longboat, crates and a full ground cover sheet. Measures 6.5 x 5.5 x 6.75 inches .... [

click here for more

]

Reviresco tin-soldier.com

$10.00

$5.00





This paper model kit is easy to assemble, requiring just 4 to 5 cardstock paper sheets to print on (110 lb. or 199gsm recommended), scissors, hobby knife, paper glue, aluminum ruler and cutting mat. Assembly time is about an hour. This model is designed at the popular 28mm-30mm gaming scale, and can be shrunk down to 15mm, 20mm or 25mm scales by simply adjusting the print size percentage... [

click here for more

]

Dave Graffam Models

$3.95

$1.00





This paper model kit is easy to assemble, requiring just cardstock paper sheets to print on (110 lb. or 199gsm recommended), scissors, hobby knife, paper glue, aluminum ruler and cutting mat. Assembly time is about an hour. This model is designed at the popular 28mm-30mm gaming scale, and can be shrunk down to 15mm, 20mm or 25mm scales by simply adjusting the print size percentage on... [

click here for more

]

Dave Graffam Models

$2.95

$1.00





This paper model kit is easy to assemble, requiring just cardstock paper sheets to print on (110 lb. or 199gsm recommended), scissors, hobby knife, paper glue, aluminum ruler and cutting mat. Assembly time is about an hour. This model is designed at the popular 28mm-30mm gaming scale, and can be shrunk down to 15mm, 20mm or 25mm scales by simply adjusting the print size percentage on... [

click here for more

]

Dave Graffam Models

$2.95

$1.00





Warband provides all the rules you need to bring great battles between fantasy armies to your tabletop. Using miniature figures and terrain, you can fight battles from the glorious sword and sorcery epics you've read about. You can play games against your friends or competitive battles against worthy opponents. Whilst the rules have been written with the 10mm Pendraken Miniatures... [

click here for more

]

Pendraken Miniatures

$12.47



This paper model kit is easy to assemble, requiring just cardstock paper sheets to print on (110 lb. or 199gsm recommended), scissors, hobby knife, paper glue, aluminum ruler and cutting mat. Assembly time is about an hour. This model is designed at the popular 28mm-30mm gaming scale, and can be shrunk down to 15mm, 20mm or 25mm scales by simply adjusting the print size percentage on... [

click here for more

]

Dave Graffam Models

$2.95

$1.00





A Matomaton national and period dress reference collection for wargamers, roleplayers and LARPers. Forty-three full page, full colour illustrations of the history of dress, arms and tools of Egypt, Africa and Asia in antiquity, along with images of the Byzantine Empire and others during late antiquity and the Middle Ages. This PDF contains reproductions of the actual illustrations... [

click here for more

]

Matomaton

$7.99