Follow Your Favorites!

Sign in
to get custom notifications of new products!
Featured Product
Battle Axe 3.0
by Avalon Game Company

Battle Axe is a simple to play tabletop system for skirmish level battles. Using cards instead of dice, you will find the game to be less luck based and much more tactical in nature.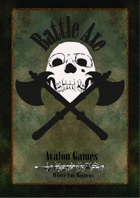 | Products found in this section... | Sort by: |
| --- | --- |
Title
Publisher
Price

This paper model kit is easy to assemble, requiring just cardstock paper sheets to print on (110 lb. or 199gsm recommended), scissors, hobby knife, paper glue, aluminum ruler and cutting mat. Assembly time is under an hour. This model is designed at the popular 28mm-30mm gaming scale, and can be shrunk down to 15mm, 20mm or 25mm scales by simply adjusting the print size percentage on... [

click here for more

]

Dave Graffam Models

$1.00

$0.75





This free 23-page booklet is full of practical advice and tips for improving your paper modeling. It's written for paper modelers of all skill levels, offering basic advice along with advanced techniques. While most of what you'll find inside can be applied to paper models of all kinds, the Paper Modeling Guide focuses on getting the best results from Dave Graffam Models in particular. To... [

click here for more

]

Dave Graffam Models

FREE



This is the small rules handbook - RULES only - no fluff or background on the individual characters. Based in an alternate Earth, Malifaux uses gothic, steampunk, and victorian horror with a dose of the wild west to inject fun and depth into the magical lawlessness of a world rife with monsters, necropunks, man-machine hybrids, gunslingers, and powerhungry politicos. Actively... [

click here for more

]

Wyrd Miniatures

FREE



Four Against Darkness is a solitaire dungeon-delving game. No miniatures are needed. All you need is the book, a pencil, two six sided dice, and grid paper. You choose four character types from the classic classes (warrior, wizard, rogue, halfling, dwarf, barbarian, cleric, elf), equip them, and start adventuring in dungeons created by dice rolls and by your choices.... [

click here for more

]

Ganesha Games

$12.00

$8.00





SONG OF BLADES AND HEROES REVISED PDF The nominee for the 2008 Origins Award "Best Miniature Rules" returns in a revised, expanded edition. 65 pages PDF with additional designer notes, examples, profiles and tactical tips. The PDF edition is 8,5 x 11 inches (letter sized, American paper size, but prints nicely on European A4 too) and comes in a fully illustrated file with illustrations... [

click here for more

]

Ganesha Games

$15.00

$8.00





This paper model kit is easy to assemble, requiring just cardstock paper sheets to print on (110 lb. or 199gsm recommended), scissors, hobby knife, paper glue, aluminum ruler and cutting mat. Assembly time is about an hour. This model is designed at the popular 28mm-30mm gaming scale, and can be shrunk down to 15mm, 20mm or 25mm scales by simply adjusting the print size percentage on... [

click here for more

]

Dave Graffam Models

$1.00

$0.75





This paper model kit is easy to assemble, requiring just cardstock paper sheets to print on (110 lb. or 199gsm recommended), scissors, hobby knife, paper glue, aluminum ruler and cutting mat. It may look complicated, but every part of the Village Chapel is simple to assemble on its own, and putting it together is just a matter of building up the simple shapes into the complete structure... [

click here for more

]

Dave Graffam Models

$2.00

$1.50





Ragnarok: Age of Wolves is a skirmish-level game for novice and experienced tabletop players alike that emulates the desperate small-scale actions that might result during the unending winter that is the first stage of the Viking Apocalypse. As crops fail and food grows scarce, banditry becomes rife as formerly good folk are driven to extremes and bad men take advantage of chaos and hardship.... [

click here for more

]

Skirmisher Publishing

$9.99

$7.49





This paper model kit is easy to assemble, requiring just cardstock paper sheets to print on (110 lb. or 199gsm recommended), scissors, hobby knife, paper glue, aluminum ruler and cutting mat. Assembly time is about half an hour. This model is designed at the popular 28mm-30mm gaming scale, and can be shrunk down to 15mm, 20mm or 25mm scales by simply adjusting the print size percentage... [

click here for more

]

Dave Graffam Models

$1.00

$0.75





This paper model kit is easy to assemble, requiring just cardstock paper sheets to print on (110 lb. or 199gsm recommended), scissors, hobby knife, paper glue, aluminum ruler and cutting mat. Assembly time is about an hour for the whole set. This model is designed at the popular 28mm-30mm gaming scale, and can be shrunk down to 15mm, 20mm or 25mm scales by simply adjusting the print... [

click here for more

]

Dave Graffam Models

$1.00

$0.75





The MAYHEM Battle Chest edition contains both the core rules and the STRONGHOLD expansion. MAYHEM is a 'fantasy mass battle' combat game played on the grand scale. Here generals lead armies of their own creation on the field of battle in search of victory and glory. Not just for wargamers, MAYHEM is perfect for roleplayers... [

click here for more

]

Brent Spivey Creations

$9.99

$7.49





PULL THE SWORD FROM THE STONE AND BECOME KING! Song of Arthur and Merlin is a stand alone rulebook based on the Song of Blades engine, bringing the world's most famous legendary king to your tabletop battles. Written by Arthurian expert Daniel Mersey, this book includes: * Three versions of the Arthurian story: Hollywood's knights in shining armor, the... [

click here for more

]

Ganesha Games

$8.00



This paper model kit is easy to assemble, requiring just cardstock paper sheets to print on (110 lb. or 199gsm recommended), scissors, hobby knife, paper glue, aluminum ruler and cutting mat. Assembly time is about an hour. This model is designed at the popular 28mm-30mm gaming scale, and can be shrunk down to 15mm, 20mm or 25mm scales by simply adjusting the print size percentage on... [

click here for more

]

Dave Graffam Models

$1.00

$0.75





This paper model kit is easy to assemble, requiring just cardstock paper sheets to print on (110 lb. or 199gsm recommended), scissors, hobby knife, paper glue, aluminum ruler and cutting mat. This model set is designed at the popular 28mm-30mm gaming scale, and can be shrunk down to 15mm, 20mm or 25mm scales by simply adjusting the print size percentage on your printer. Tips and advice... [

click here for more

]

Dave Graffam Models

$2.00

$1.50





This bundle includes two distinct models: the Curiosity Shop (the squatter of the buildings) and the Tenement (the taller building). The Curiosity Shop also includes an outhouse, and the Tenement can be easily converted into a shorter two-story version. The Curiosity Shop is based on the Guild Hall model (available separately). The Tenement is based on the Tall Hostel (available... [

click here for more

]

Dave Graffam Models

$1.00

$0.75





This paper model kit is easy to assemble, requiring just cardstock paper sheets to print on (110 lb. or 199gsm recommended), scissors, hobby knife, paper glue, aluminum ruler and cutting mat. Assembly time is about an hour. This model is designed at the popular 28mm-30mm gaming scale, and can be shrunk down to 15mm, 20mm or 25mm scales by simply adjusting the print size percentage on... [

click here for more

]

Dave Graffam Models

$1.00

$0.75





This paper model kit is easy to assemble, requiring just cardstock paper sheets to print on (110 lb. or 199gsm recommended), scissors, hobby knife, paper glue, aluminum ruler and cutting mat. Assembly time is about an hour. This model is designed at the popular 28mm-30mm gaming scale, and can be shrunk down to 15mm, 20mm or 25mm scales by simply adjusting the print size percentage on... [

click here for more

]

Dave Graffam Models

$1.00

$0.75





This paper model kit is easy to assemble, requiring just cardstock paper sheets to print on (110 lb. or 199gsm recommended), scissors, hobby knife, paper glue, aluminum ruler and cutting mat. Assembly time is about an hour. This model is designed at the popular 28mm-30mm gaming scale, and can be shrunk down to 15mm, 20mm or 25mm scales by simply adjusting the print size percentage on... [

click here for more

]

Dave Graffam Models

$1.00

$0.75





This paper model kit is easy to assemble, requiring just cardstock paper sheets to print on (110 lb. or 199gsm recommended), scissors, hobby knife, paper glue, aluminum ruler and cutting mat. It may look complicated, but every part of the Watch Tower is simple to assemble on its own, and putting it together is just a matter of building up the simple shapes into the complete structure you... [

click here for more

]

Dave Graffam Models

$2.00

$1.50





This paper model kit is easy to assemble, requiring just cardstock paper sheets to print on (110 lb. or 199gsm recommended), scissors, hobby knife, paper glue, aluminum ruler and cutting mat. Assembly time is about an hour. This model is designed at the popular 28mm-30mm gaming scale, and can be shrunk down to 15mm, 20mm or 25mm scales by simply adjusting the print size percentage on... [

click here for more

]

Dave Graffam Models

$1.00

$0.75





This paper model kit is easy to assemble, requiring just cardstock paper sheets to print on (110 lb. or 199gsm recommended), scissors, hobby knife, paper glue, aluminum ruler and cutting mat. Assembly time is about an hour. This model is designed at the popular 28mm-30mm gaming scale, and can be shrunk down to 15mm, 20mm or 25mm scales by simply adjusting the print size percentage on... [

click here for more

]

Dave Graffam Models

$1.00

$0.75





This paper model kit is easy to assemble, requiring just cardstock paper sheets to print on (110 lb. or 199gsm recommended), scissors, hobby knife, paper glue, aluminum ruler and cutting mat. Assembly time is about an hour. This model is designed at the popular 28mm-30mm gaming scale, and can be shrunk down to 15mm, 20mm or 25mm scales by simply adjusting the print size percentage on... [

click here for more

]

Dave Graffam Models

$1.00

$0.75





This paper tiles set is easy to create, requiring just cardstock paper sheets to print on (110 lb. or 199gsm recommended), scissors, hobby knife, aluminum ruler and cutting mat. These tiles are designed at the popular 28mm-30mm gaming scale, and can be shrunk down to 15mm, 20mm or 25mm scales by simply adjusting the print size percentage on your printer. Tips and advice for altering... [

click here for more

]

Dave Graffam Models

$2.00

$1.50





This paper model kit is easy to assemble, requiring just cardstock paper sheets to print on (110 lb. or 199gsm recommended), scissors, hobby knife, paper glue, aluminum ruler and cutting mat. Assembly time is about an hour. This model is designed at the popular 28mm-30mm gaming scale, and can be shrunk down to 15mm, 20mm or 25mm scales by simply adjusting the print size percentage on... [

click here for more

]

Dave Graffam Models

$1.00

$0.75





This paper model kit is easy to assemble, requiring just cardstock paper sheets to print on (110 lb. or 199gsm recommended), scissors, hobby knife, paper glue, aluminum ruler and cutting mat. Assembly time is about an hour. This model is designed at the popular 28mm-30mm gaming scale, and can be shrunk down to 15mm, 20mm or 25mm scales by simply adjusting the print size percentage... [

click here for more

]

Dave Graffam Models

Pay What You Want



This paper model kit is easy to assemble, requiring just cardstock paper sheets to print on (110 lb. or 199gsm recommended), scissors, hobby knife, paper glue, aluminum ruler and cutting mat. It may look complicated, but every part of the Willow Brook Inn is simple to assemble on its own, and putting it together is just a matter of building up the simple shapes into the complete structure... [

click here for more

]

Dave Graffam Models

$2.00

$1.50





A crane house like this is useful in any harbor, and might be the property of a merchant at their private pier or warehouse. It might be owned by a town or individual offering its services to the public, charging a small fee for every hoist. Such a structure would also be vital in an exchange market where bulk goods are being traded, where large freight needs to be moved from one wagon to... [

click here for more

]

Dave Graffam Models

$1.00

$0.75





This paper model kit is easy to assemble, requiring just cardstock paper sheets to print on (110 lb. or 199gsm recommended), scissors, hobby knife, paper glue, metal ruler and cutting mat. It may look complicated, but every part of the Country Brewery is simple to assemble on its own, and putting it together is just a matter of building up the simple shapes into the complete structure you... [

click here for more

]

Dave Graffam Models

$2.00

$1.50





This paper model kit is easy to assemble, requiring just cardstock paper sheets to print on (110 lb. or 199gsm recommended), scissors, hobby knife, paper glue, aluminum ruler and cutting mat. It may look complicated, but every part of the West Gate is simple to assemble on its own, and putting it together is just a matter of building up the simple shapes into the complete structure you... [

click here for more

]

Dave Graffam Models

$2.00

$1.50





This paper model kit is easy to assemble, requiring just cardstock paper sheets to print on (110 lb. or 199gsm recommended), scissors, hobby knife, paper glue, aluminum ruler and cutting mat. It may look complicated, but every part of the Village Pub is simple to assemble on its own, and putting it together is just a matter of building up the simple shapes into the complete structure you... [

click here for more

]

Dave Graffam Models

$1.00

$0.75





This paper model kit is easy to assemble, requiring just cardstock paper sheets to print on (110 lb. or 199gsm recommended), scissors, hobby knife, paper glue, aluminum ruler and cutting mat. Assembly time is about an hour. This model is designed at the popular 28mm-30mm gaming scale, and can be shrunk down to 15mm, 20mm or 25mm scales by simply adjusting the print size percentage on your printer.... [

click here for more

]

Dave Graffam Models

$1.00

$0.75





NIGHTMARES BECOME REAL, AND THE DEAD WALK THE EARTH!All the monsters from man's worst nightmares come alive in this set of fast-playing horror miniature rules which is based on the popular, Origins-nominated Song of Blades and Heroes mechanics. Fight zombies, vampires, mad slashers, ghosts, werewolves, witches and other bloodcurdling monstrosities straight out of the folklore books and horror movies.... [

click here for more

]

Ganesha Games

$9.00



The hoof beats thunder. The crowd roars. Two knights' lances leveled, charge towards each other. Easy to learn and easy to play. You will be charging down your opponent in no time. D6 mechanics handle movment and combat. You can play one on one contests, or organize tournaments with any number of players. Paper figures and field are included to get you started quickly. ... [

click here for more

]

Crookedhead Games

$4.95



This paper model kit is easy to assemble, requiring just cardstock paper sheets to print on (110 lb. or 199gsm recommended), scissors, hobby knife, paper glue, aluminum ruler and cutting mat. Assembly time is about an hour. This model is designed at the popular 28mm-30mm gaming scale, and can be shrunk down to 15mm, 20mm or 25mm scales by simply adjusting the print size percentage on... [

click here for more

]

Dave Graffam Models

$1.00

$0.75





A Faction Starter Pack for Into the Fray, a print and play fantasy wargame. The Hammer of Zor represents the strength and might of the Zorian Emperor. Bent on reclaiming the Empire that once stretched across the cosmos, the Zorians will stop at nothing to possess the secrets of Gateway. Included in this Faction Starter Pack are seven distinct units to use to start your Zorian army off right.... [

click here for more

]

Moss Games

$3.50



This new set comes with 10 draconic lancers from the red clan with front and back art at 300 dpi. It includes 8 draconic lancers, 1 commander, 1 standart bearer and two bases sets because you can exchange them because it use the exchangeable bases system. You can use them for wargames, RPG, Minis games etc. ... [

click here for more

]

Reivaj Minis

$2.00

$1.50





XIARN DYNASTY is the third set of figures being released for the game ERA OF WAR scheduled to be released around the end of 2012. This set features everything you need to build a 1,000 point or larger army. It features an overview of the rules and gives information regarding the squad set-up and weapons. There are 10 figures in this set that can be used... [

click here for more

]

Grey Matter Games

$2.95

$2.21





Tomorrow you will bring the battle to the foe. Tonight you walk among the troops you'll lead. The mercenaries are veterans and sleep while they can, but the peasants levied from your lands seek courage in tales of your previous victories. In the cover of darkness, you can listen rather than lead. Remember when you were like them? Back when you first entered the dungeon, you wielded a sword... [

click here for more

]

Autarch

$7.50

$5.63





ROGUE PLANET SCI-FANTASY SKIRMISH The PDF download now includes both the printer friendly B&W version of ROGUE PLANET and the full color Derelict Planet Edition. To best enjoy the layouts in the Derelict Planet Edition, make sure that you have both 'Two-Up' and 'Show Cover Page During Two-Up' selected under 'View>Page Display' in your PDF options menu. The print edition that... [

click here for more

]

Brent Spivey Creations

$9.99

$7.49





Blood on the Blade is a micro but complete set of rules for solitaire or co-op skirmish game, set on a fantasy background, but can also be used for non-fantasy games (planned expansions will cover Middle-Ages and Dark Ages, possibly Samurai era). "Micro" refers to the small set of rules, the small time required to complete one game session and the small number of miniatures required... [

click here for more

]

STUDIUM CMLXV

$8.00

$6.00





This paper model kit is easy to assemble, requiring just cardstock paper sheets to print on (110 lb. or 199gsm recommended), scissors, hobby knife, paper glue, aluminum ruler and cutting mat. Assembly time is under an hour. This model is designed at the popular 28mm-30mm gaming scale, and can be shrunk down to 15mm, 20mm or 25mm scales by simply adjusting the print size percentage on... [

click here for more

]

Dave Graffam Models

$1.00

$0.75





This paper model kit is easy to assemble, requiring just cardstock paper sheets to print on (110 lb. or 199gsm recommended), scissors, hobby knife, paper glue, aluminum ruler and cutting mat. Assembly time is about an hour. This model is designed at the popular 28mm-30mm gaming scale, and can be shrunk down to 15mm, 20mm or 25mm scales by simply adjusting the print size percentage on... [

click here for more

]

Dave Graffam Models

$1.00

$0.75





This paper model kit is easy to assemble, requiring just cardstock paper sheets to print on (110 lb. or 199gsm recommended), scissors, hobby knife, paper glue, aluminum ruler and cutting mat. Assembly time is about an hour. This model is designed at the popular 28mm-30mm gaming scale, and can be shrunk down to 15mm, 20mm or 25mm scales by simply adjusting the print size percentage on... [

click here for more

]

Dave Graffam Models

$1.00

$0.75





This paper model kit is easy to assemble, requiring just cardstock paper sheets to print on (110 lb. or 199gsm recommended), scissors, hobby knife, paper glue, aluminum ruler and cutting mat. Assembly time is about an hour. This model is designed at the popular 28mm-30mm gaming scale, and can be shrunk down to 15mm, 20mm or 25mm scales by simply adjusting the print size percentage on... [

click here for more

]

Dave Graffam Models

$1.00

$0.75





This paper model kit is easy to assemble, requiring just cardstock paper sheets to print on (110 lb. or 199gsm recommended), scissors, hobby knife, paper glue, aluminum ruler and cutting mat. Assembly time is about two hours. This model is designed at the popular 28mm-30mm gaming scale, and can be shrunk down to 15mm, 20mm or 25mm scales by simply adjusting the print size percentage... [

click here for more

]

Dave Graffam Models

$2.00

$1.50





This paper model kit is easy to assemble, requiring just cardstock paper sheets to print on (110 lb. or 199gsm recommended), scissors, hobby knife, paper glue, aluminum ruler and cutting mat. Assembly time is about an hour. This model is designed at the popular 28mm-30mm gaming scale, and can be shrunk down to 15mm, 20mm or 25mm scales by simply adjusting the print size percentage on... [

click here for more

]

Dave Graffam Models

$1.00

$0.75





This paper model kit is easy to assemble, requiring just cardstock paper sheets to print on (110 lb. or 199gsm recommended), scissors, hobby knife, paper glue, aluminum ruler and cutting mat. Assembly time is about half an hour. This model is designed at the popular 28mm-30mm gaming scale, and can be shrunk down to 15mm, 20mm or 25mm scales by simply adjusting the print size percentage on your... [

click here for more

]

Dave Graffam Models

$1.00

$0.75





This paper model kit is easy to assemble, requiring just cardstock paper sheets to print on (110 lb. or 199gsm recommended), scissors, hobby knife, paper glue, aluminum ruler and cutting mat. Assembly time is about an hour. This model is designed at the popular 28mm-30mm gaming scale, and can be shrunk down to 15mm, 20mm or 25mm scales by simply adjusting the print size percentage on... [

click here for more

]

Dave Graffam Models

Pay What You Want



This paper model kit is easy to assemble, requiring just cardstock paper sheets to print on (110 lb. or 199gsm recommended), scissors, hobby knife, paper glue, aluminum ruler and cutting mat. Assembly time is about an hour. This model is designed at the popular 28mm-30mm gaming scale, and can be shrunk down to 15mm, 20mm or 25mm scales by simply adjusting the print size percentage on your printer.... [

click here for more

]

Dave Graffam Models

$1.00

$0.75





This paper model kit is easy to assemble, requiring just cardstock paper sheets to print on (110 lb. or 199gsm recommended), scissors, hobby knife, paper glue, aluminum ruler and cutting mat. This model set is designed at the popular 28mm-30mm gaming scale, and can be shrunk down to 15mm, 20mm or 25mm scales by simply adjusting the print size percentage on your printer. Tips and advice... [

click here for more

]

Dave Graffam Models

$1.00

$0.75