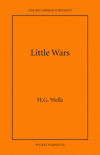 LITTLE WARS Little Wars is a miniatures wargame by H.G. Wells.
Originally published in 1913, Little Wars is considered by many to be the first recreation wargame, laying the foundation for the modern miniatures wargames that are played today.
This edition of Little Wars does not include any of the photographs or diagrams that were provided in the original.
FEATURES Included with ... [click here for more]