Log in or create an account and you can choose to get email notices whenever your favorite publishers or topics get new items!


Featured Product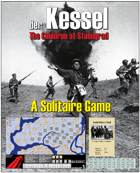 Der Kessel: Stalingrad Solitaire
by One Small Step

New from One Small Step, der Kessel: a solitaire game of the Soviet encirclement of Stalingrad during the Second World War. Includes an 11x17 map, playing pieces that represent the actual formations involved, 25 playing cards, and a rule book that includes optional rules, an example of play, and designer's notes.
Hottest Product Type, World War Two
---
Newest Products in This Section
| Products found in this section... | Sort by: |
| --- | --- |
Product Name ▲
Publisher
Price

B10B: British 1st Armoured Division, May 1940, France ... [click here for more]

MicroMark Army Lists

$1.42

$1.39





B111: British 1st Armoured Division, March 1939-March 1940, Britain ... [click here for more]

MicroMark Army Lists

$2.33

$2.28





B112: British 1st Armoured Division, June 1940, France ... [click here for more]

MicroMark Army Lists

$1.42

$1.39





B113A: British 1st Armoured Division, August-October 1940, Britain ... [click here for more]

MicroMark Army Lists

$1.42

$1.39





B114: British 1st Armoured Division, October 1940-March 1941, Britain ... [click here for more]

MicroMark Army Lists

$2.33

$2.28





B115: British 1st Armoured Division, April-August 1941, Britain ... [click here for more]

MicroMark Army Lists

$2.33

$2.28





B116 British 1st Armoured Division, December 1941-February 1942, North Africa ... [click here for more]

MicroMark Army Lists

$1.42

$1.39





B117 British 1st Armoured Division, March-July 1942, North Africa ... [click here for more]

MicroMark Army Lists

$1.42

$1.39





B118: British 1st Armoured Division, August 1942-May 1943, North Africa ... [click here for more]

MicroMark Army Lists

$1.42

$1.39





B119: British 1st Armoured Division, June 1943-March 1944, North Africa ... [click here for more]

MicroMark Army Lists

$1.42

$1.39





B11: British BEF Corps & Army support, 1940, France ... [click here for more]

MicroMark Army Lists

$1.42

$1.39





B120: British 1st Armoured Division, April-October 1944, Italy ... [click here for more]

MicroMark Army Lists

$1.42

$1.39





B121 British 2nd Armoured Division, October-December 1940, Britain ... [click here for more]

MicroMark Army Lists

$1.42

$1.39





B122 British 2nd Armoured Division, March-April 1941, North Africa ... [click here for more]

MicroMark Army Lists

$1.42

$1.39





B123A: British 1st Armoured Brigade, April 1941, Greece ... [click here for more]

MicroMark Army Lists

$1.42

$1.39





B124 British 6th Armoured Division, May-September 1940, Britain ... [click here for more]

MicroMark Army Lists

$1.42

$1.39





B125 British 6th Armoured Division, October 1940-June 1941, Britain ... [click here for more]

MicroMark Army Lists

$1.42

$1.39





B126: British 6th Armoured Division, July 1941-June 1942, Britain ... [click here for more]

MicroMark Army Lists

$1.42

$1.39





B127A British 6th Armoureded Division, August 1942-February 1943, UK, Tunisia ... [click here for more]

MicroMark Army Lists

$1.42

$1.39





B128A: British 6th Armoured Division, March-June 1943, Tunisia ... [click here for more]

MicroMark Army Lists

$1.42

$1.39





B129 British 6th Armoured Division, June 1943-March 1944, Tunisia, Italy ... [click here for more]

MicroMark Army Lists

$1.42

$1.39





B12A: British Home Defence units, June-December 1940, Britain (updated May 2011) ... [click here for more]

MicroMark Army Lists

$1.42

$1.39





B130: British 6th Armoured Division, April-December 1944, Italy ... [click here for more]

MicroMark Army Lists

$1.42

$1.39





B131 British 6th Armoured Division, January-July 1945, Italy ... [click here for more]

MicroMark Army Lists

$1.42

$1.39





B132: British Corps Support, 1938-May 1940, Egypt ... [click here for more]

MicroMark Army Lists

$1.42

$1.39





B133: British 7th Armoured Division, March-September 1940, Egypt ... [click here for more]

MicroMark Army Lists

$1.42

$1.39





B134 British Corps Support, October-December 1940, North Africa ... [click here for more]

MicroMark Army Lists

$1.42

$1.39





B135: British Corps Support, January-April 1941, North Africa ... [click here for more]

MicroMark Army Lists

$1.42

$1.39





B136: British 7th Armoured Division, April-May 1941, North Africa, Operation Brevity ... [click here for more]

MicroMark Army Lists

$1.42

$1.39





B137 British 7th Armoured Division, June-August 1941, North Africa, Operation Battleaxe ... [click here for more]

MicroMark Army Lists

$1.42

$1.39





B138 British 4th Armoured Brigade, June-July 1941, North Africa, Operation Battleaxe ... [click here for more]

MicroMark Army Lists

$1.42

$1.39





B139/B140 British 7th Armoured Division, September-December 1941, North Africa, Operation Crusader (double list) ... [click here for more]

MicroMark Army Lists

$2.60



B13A: British 2nd Armoured Division, June-September 1940, Britain ... [click here for more]

MicroMark Army Lists

$1.42

$1.39





B141 British 7th Armoured Division, November-December 1941, (additional info showing sample tank strengths) ... [click here for more]

MicroMark Army Lists

$1.42

$1.39





B142: British 7th Armoured Division, February-April 1942, Egypt ... [click here for more]

MicroMark Army Lists

$1.42

$1.39





B143 British 7th Armoured Division, May-June 1942, North Africa (see also list B145) ... [click here for more]

MicroMark Army Lists

$1.42

$1.39





B144 British 7th Armoured Division, July 1942, North Africa ... [click here for more]

MicroMark Army Lists

$1.42

$1.39





B145 British 7th Armoured Division, sample tank strengths, May-July 1942, North Africa ... [click here for more]

MicroMark Army Lists

$1.42

$1.39





B146: British 7th Armoured Division, August 1942, North Africa ... [click here for more]

MicroMark Army Lists

$1.42

$1.39





B147/B148 British 7th Armoured Division, early September 1942, North Africa (double list) ... [click here for more]

MicroMark Army Lists

$2.60



B149/B150 British 7th Armoured Division, September 1942, North Africa (double list) ... [click here for more]

MicroMark Army Lists

$2.60



B14A: British Habforce, May-July 1941, Iraq, Syria ... [click here for more]

MicroMark Army Lists

$1.42

$1.39





B15: British Garrison forces, 1940-1941, Habbaniya in Iraq ... [click here for more]

MicroMark Army Lists

$1.42

$1.39





B151/B152 British 7th Armoured Division, Oct 1942, North Africa (double list) ... [click here for more]

MicroMark Army Lists

$2.60



B153 British 7th Armoured Division, November 4th-13th 1942, North Africa ... [click here for more]

MicroMark Army Lists

$1.42

$1.39





B154 British 7th Armoured Division, November 14th-25th 1942, Cyrenaica ... [click here for more]

MicroMark Army Lists

$1.42

$1.39





B155 British 7th Armoured Division, November 25th 1942-February 15th 1943, Libya ... [click here for more]

MicroMark Army Lists

$1.42

$1.39





B156 British 7th Armoured Division, late February 1943, Tunisia ... [click here for more]

MicroMark Army Lists

$1.42

$1.39





B157 British 7th Armoured Division, early March 1943, Medenine battle, Tunisia ... [click here for more]

MicroMark Army Lists

$1.42

$1.39





B158 British 7th Armoured Division, late March-May 1943, Tunisia ... [click here for more]

MicroMark Army Lists

$1.42

$1.39