Follow Your Favorites!

Sign in
to get custom notifications of new products!
Hottest Titles
Featured Product
Panzer® Miniatures Rules Base System
by StrikeNet Games

Tank-to-tank combat on a tactical level.

It's a modular game system designed for small unit actions using microarmor, 1/285th or 1/300th scale troops-comprehensive and yet quick to-play set of full-color rules.

Scale: The vehicle and towed-gun scale is 1:1 with infantry at squad, 1/2 squad and sections.
Download or premium print edition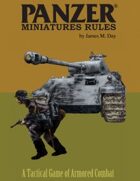 | Products found in this section... | Sort by: |
| --- | --- |
Title ▲
Publisher
Price

AS74: Australian Blackforce, February-March 1942, Java ... [

click here for more

]

MicroMark Army Lists

$2.15

$2.10





AS75: Australian Militia Infantry Division, 1939-1942, Australia ... [

click here for more

]

MicroMark Army Lists

$2.15

$2.10





AS76: Australian Infantry Division, August 1942-August 1943, Pacific Islands ... [

click here for more

]

MicroMark Army Lists

$2.15

$2.10





AS77-AS78 Burmese Army, 1938-February 1942, Burma (double list) ... [

click here for more

]

MicroMark Army Lists

$2.48



AS79: Burmese 1st Burma Division, March-April 1942, Burma ... [

click here for more

]

MicroMark Army Lists

$2.15

$2.10





AS80: Burmese Corps Support, March-April 1942, Burma (should be used in conjunction with List B228) ... [

click here for more

]

MicroMark Army Lists

$2.15

$2.10





This book contains all the rules you'll need to simulate a skirmish-level battle between two enemy armies. Assault Platoon uses a unique and innovative system to simulate simultaneous actions and reactions that allows you to interrupt or anticipate your enemy's moves. Assault platoon is a new dimension in miniature-wargaming where realism and simple rules are perfectly balanced.The whole game-system... [

click here for more

]

Massimo Torriani

$24.00

$9.90





An introductory army list for Assault Platoon in late war period. ... [

click here for more

]

Massimo Torriani

FREE



The publisher of The Boardgamer magazine created five special issues devoted entirely to one game within the Avalon Hill catalog. They were known as Unofficial Player Guides, but were considered the best collection of new information, variants, scenarios, rules variations, errata, inserts, and new articles written for these games. Fans loved the materials,... [

click here for more

]

Past Into Print

$3.99



The publisher of The Boardgamer magazine created five special issues devoted entirely to one game within the Avalon Hill catalog. They were known as Unofficial Player Guides, but were considered the best collection of new information, variants, scenarios, rules variations, errata, inserts, and new articles written for these games. Fans loved the materials,... [

click here for more

]

Past Into Print

$5.99



The publisher of The Boardgamer magazine created five special issues devoted entirely to one game within the Avalon Hill catalog. They were known as Unofficial Player Guides, but were considered the best collection of new information, variants, scenarios, rules variations, errata, inserts, and new articles written for these games. Fans loved the materials,... [

click here for more

]

Past Into Print

$5.99



The publisher of The Boardgamer magazine created five special issues devoted entirely to one game within the Avalon Hill catalog. They were known as Unofficial Player Guides, but were considered the best collection of new information, variants, scenarios, rules variations, errata, inserts, and new articles written for these games. Fans loved the materials,... [

click here for more

]

Past Into Print

$2.99



B1: British Armoured Division January-October 1944, NW Europe (generic wargamers list, individual numbered divisions to follow) ... [

click here for more

]

MicroMark Army Lists

$1.42

$1.39





B100: British Long Range Desert Group, July 1942-March 1943, North Africa ... [

click here for more

]

MicroMark Army Lists

$1.42

$1.39





B101V: British Infantry Division, 1946-1955, all theatres (WW2.5 alternate history) ... [

click here for more

]

MicroMark Army Lists

$1.42

$1.39





B102V: British Armoured Division, 1946-1955, all theatres (WW2.5 alternate history) ... [

click here for more

]

MicroMark Army Lists

$1.42

$1.39





B103V: British Airborne Division, 1946-1955, all theatres (WW2.5 alternate history) ... [

click here for more

]

MicroMark Army Lists

$1.42

$1.39





B104V: British Commando Brigade, 1946-1955, all theatres (WW2.5 alternate history) ... [

click here for more

]

MicroMark Army Lists

$1.42

$1.39





B105V: British Armoured Engineer Brigade, 1947-1955, all theatres (WW2.5 alternate history) ... [

click here for more

]

MicroMark Army Lists

$1.42

$1.39





B106: British Guards Armoured Division, 1942-October 1943, Britain ... [

click here for more

]

MicroMark Army Lists

$1.42

$1.39





B107: British 25th Army Tank Brigade, 1942-1943, Tunisia ... [

click here for more

]

MicroMark Army Lists

$2.15

$2.10





B108: British 80th Armoured Division, October-December 1942, Britain ... [

click here for more

]

MicroMark Army Lists

$2.15

$2.10





B109: British 79th Armoured Division, October 1942-May 1943, Britain ... [

click here for more

]

MicroMark Army Lists

$2.15

$2.10





B10B: British 1st Armoured Division, May 1940, France ... [

click here for more

]

MicroMark Army Lists

$1.42

$1.39





B111: British 1st Armoured Division, March 1939-March 1940, Britain ... [

click here for more

]

MicroMark Army Lists

$2.15

$2.10





B112: British 1st Armoured Division, June 1940, France ... [

click here for more

]

MicroMark Army Lists

$1.42

$1.39





B113A: British 1st Armoured Division, August-October 1940, Britain ... [

click here for more

]

MicroMark Army Lists

$1.42

$1.39





B114: British 1st Armoured Division, October 1940-March 1941, Britain ... [

click here for more

]

MicroMark Army Lists

$2.15

$2.10





B115: British 1st Armoured Division, April-August 1941, Britain ... [

click here for more

]

MicroMark Army Lists

$2.15

$2.10





B116 British 1st Armoured Division, December 1941-February 1942, North Africa ... [

click here for more

]

MicroMark Army Lists

$1.42

$1.39





B117 British 1st Armoured Division, March-July 1942, North Africa ... [

click here for more

]

MicroMark Army Lists

$1.42

$1.39





B118: British 1st Armoured Division, August 1942-May 1943, North Africa ... [

click here for more

]

MicroMark Army Lists

$1.42

$1.39





B119: British 1st Armoured Division, June 1943-March 1944, North Africa ... [

click here for more

]

MicroMark Army Lists

$1.42

$1.39





B11: British BEF Corps & Army support, 1940, France ... [

click here for more

]

MicroMark Army Lists

$1.42

$1.39





B120: British 1st Armoured Division, April-October 1944, Italy ... [

click here for more

]

MicroMark Army Lists

$1.42

$1.39





B121 British 2nd Armoured Division, October-December 1940, Britain ... [

click here for more

]

MicroMark Army Lists

$1.42

$1.39





B122 British 2nd Armoured Division, March-April 1941, North Africa ... [

click here for more

]

MicroMark Army Lists

$1.42

$1.39





B123A: British 1st Armoured Brigade, April 1941, Greece ... [

click here for more

]

MicroMark Army Lists

$1.42

$1.39





B124 British 6th Armoured Division, May-September 1940, Britain ... [

click here for more

]

MicroMark Army Lists

$1.42

$1.39





B125 British 6th Armoured Division, October 1940-June 1941, Britain ... [

click here for more

]

MicroMark Army Lists

$1.42

$1.39





B126: British 6th Armoured Division, July 1941-June 1942, Britain ... [

click here for more

]

MicroMark Army Lists

$1.42

$1.39





B127A British 6th Armoureded Division, August 1942-February 1943, UK, Tunisia ... [

click here for more

]

MicroMark Army Lists

$1.42

$1.39





B128A: British 6th Armoured Division, March-June 1943, Tunisia ... [

click here for more

]

MicroMark Army Lists

$1.42

$1.39





B129 British 6th Armoured Division, June 1943-March 1944, Tunisia, Italy ... [

click here for more

]

MicroMark Army Lists

$1.42

$1.39





B12A: British Home Defence units, June-December 1940, Britain (updated May 2011) ... [

click here for more

]

MicroMark Army Lists

$1.42

$1.39





B130: British 6th Armoured Division, April-December 1944, Italy ... [

click here for more

]

MicroMark Army Lists

$1.42

$1.39





B131 British 6th Armoured Division, January-July 1945, Italy ... [

click here for more

]

MicroMark Army Lists

$1.42

$1.39





B132: British Corps Support, 1938-May 1940, Egypt ... [

click here for more

]

MicroMark Army Lists

$1.42

$1.39





B133: British 7th Armoured Division, March-September 1940, Egypt ... [

click here for more

]

MicroMark Army Lists

$1.42

$1.39





B134 British Corps Support, October-December 1940, North Africa ... [

click here for more

]

MicroMark Army Lists

$1.42

$1.39