Follow Your Favorites!

Sign in
to get custom notifications of new products!
Hottest Titles
Featured Product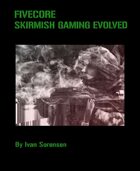 FiveCore. Skirmish Gaming Evolved.
by Nordic Weasel Games

Tired of the same old skirmish war games? FiveCore gives you an extremely easy, flexible and cinematic game with a minimum of fuss.
The rules can be adapted to anything from World War 1 to the far future. Typical games are 5-8 figures on each side, making it easy to dip into a new setting or period.
Includes rules for character experience and injuries, facilitating c
---
| Products found in this section... | Sort by: |
| --- | --- |
Title ▲
Publisher
Price

B103V: British Airborne Division, 1946-1955, all theatres (WW2.5 alternate history) ... [click here for more]

MicroMark Army Lists

$1.42

$1.39





B104V: British Commando Brigade, 1946-1955, all theatres (WW2.5 alternate history) ... [click here for more]

MicroMark Army Lists

$1.42

$1.39





B105V: British Armoured Engineer Brigade, 1947-1955, all theatres (WW2.5 alternate history) ... [click here for more]

MicroMark Army Lists

$1.42

$1.39





B106: British Guards Armoured Division, 1942-October 1943, Britain ... [click here for more]

MicroMark Army Lists

$1.42

$1.39





B107: British 25th Army Tank Brigade, 1942-1943, Tunisia ... [click here for more]

MicroMark Army Lists

$2.26

$2.21





B108: British 80th Armoured Division, October-December 1942, Britain ... [click here for more]

MicroMark Army Lists

$2.26

$2.21





B109: British 79th Armoured Division, October 1942-May 1943, Britain ... [click here for more]

MicroMark Army Lists

$2.26

$2.21





B10B: British 1st Armoured Division, May 1940, France ... [click here for more]

MicroMark Army Lists

$1.42

$1.39





B111: British 1st Armoured Division, March 1939-March 1940, Britain ... [click here for more]

MicroMark Army Lists

$2.26

$2.21





B112: British 1st Armoured Division, June 1940, France ... [click here for more]

MicroMark Army Lists

$1.42

$1.39





B113A: British 1st Armoured Division, August-October 1940, Britain ... [click here for more]

MicroMark Army Lists

$1.42

$1.39





B114: British 1st Armoured Division, October 1940-March 1941, Britain ... [click here for more]

MicroMark Army Lists

$2.26

$2.21





B115: British 1st Armoured Division, April-August 1941, Britain ... [click here for more]

MicroMark Army Lists

$2.26

$2.21





B116 British 1st Armoured Division, December 1941-February 1942, North Africa ... [click here for more]

MicroMark Army Lists

$1.42

$1.39





B117 British 1st Armoured Division, March-July 1942, North Africa ... [click here for more]

MicroMark Army Lists

$1.42

$1.39





B118: British 1st Armoured Division, August 1942-May 1943, North Africa ... [click here for more]

MicroMark Army Lists

$1.42

$1.39





B119: British 1st Armoured Division, June 1943-March 1944, North Africa ... [click here for more]

MicroMark Army Lists

$1.42

$1.39





B11: British BEF Corps & Army support, 1940, France ... [click here for more]

MicroMark Army Lists

$1.42

$1.39





B120: British 1st Armoured Division, April-October 1944, Italy ... [click here for more]

MicroMark Army Lists

$1.42

$1.39





B121 British 2nd Armoured Division, October-December 1940, Britain ... [click here for more]

MicroMark Army Lists

$1.42

$1.39





B122 British 2nd Armoured Division, March-April 1941, North Africa ... [click here for more]

MicroMark Army Lists

$1.42

$1.39





B123A: British 1st Armoured Brigade, April 1941, Greece ... [click here for more]

MicroMark Army Lists

$1.42

$1.39





B124 British 6th Armoured Division, May-September 1940, Britain ... [click here for more]

MicroMark Army Lists

$1.42

$1.39





B125 British 6th Armoured Division, October 1940-June 1941, Britain ... [click here for more]

MicroMark Army Lists

$1.42

$1.39





B126: British 6th Armoured Division, July 1941-June 1942, Britain ... [click here for more]

MicroMark Army Lists

$1.42

$1.39





B127A British 6th Armoureded Division, August 1942-February 1943, UK, Tunisia ... [click here for more]

MicroMark Army Lists

$1.42

$1.39





B128A: British 6th Armoured Division, March-June 1943, Tunisia ... [click here for more]

MicroMark Army Lists

$1.42

$1.39





B129 British 6th Armoured Division, June 1943-March 1944, Tunisia, Italy ... [click here for more]

MicroMark Army Lists

$1.42

$1.39





B12A: British Home Defence units, June-December 1940, Britain (updated May 2011) ... [click here for more]

MicroMark Army Lists

$1.42

$1.39





B130: British 6th Armoured Division, April-December 1944, Italy ... [click here for more]

MicroMark Army Lists

$1.42

$1.39





B131 British 6th Armoured Division, January-July 1945, Italy ... [click here for more]

MicroMark Army Lists

$1.42

$1.39





B132: British Corps Support, 1938-May 1940, Egypt ... [click here for more]

MicroMark Army Lists

$1.42

$1.39





B133: British 7th Armoured Division, March-September 1940, Egypt ... [click here for more]

MicroMark Army Lists

$1.42

$1.39





B134 British Corps Support, October-December 1940, North Africa ... [click here for more]

MicroMark Army Lists

$1.42

$1.39





B135: British Corps Support, January-April 1941, North Africa ... [click here for more]

MicroMark Army Lists

$1.42

$1.39





B136: British 7th Armoured Division, April-May 1941, North Africa, Operation Brevity ... [click here for more]

MicroMark Army Lists

$1.42

$1.39





B137 British 7th Armoured Division, June-August 1941, North Africa, Operation Battleaxe ... [click here for more]

MicroMark Army Lists

$1.42

$1.39





B138 British 4th Armoured Brigade, June-July 1941, North Africa, Operation Battleaxe ... [click here for more]

MicroMark Army Lists

$1.42

$1.39





B139/B140 British 7th Armoured Division, September-December 1941, North Africa, Operation Crusader (double list) ... [click here for more]

MicroMark Army Lists

$2.60



B13A: British 2nd Armoured Division, June-September 1940, Britain ... [click here for more]

MicroMark Army Lists

$1.42

$1.39





B141 British 7th Armoured Division, November-December 1941, (additional info showing sample tank strengths) ... [click here for more]

MicroMark Army Lists

$1.42

$1.39





B142: British 7th Armoured Division, February-April 1942, Egypt ... [click here for more]

MicroMark Army Lists

$1.42

$1.39





B143 British 7th Armoured Division, May-June 1942, North Africa (see also list B145) ... [click here for more]

MicroMark Army Lists

$1.42

$1.39





B144 British 7th Armoured Division, July 1942, North Africa ... [click here for more]

MicroMark Army Lists

$1.42

$1.39





B145 British 7th Armoured Division, sample tank strengths, May-July 1942, North Africa ... [click here for more]

MicroMark Army Lists

$1.42

$1.39





B146: British 7th Armoured Division, August 1942, North Africa ... [click here for more]

MicroMark Army Lists

$1.42

$1.39





B147/B148 British 7th Armoured Division, early September 1942, North Africa (double list) ... [click here for more]

MicroMark Army Lists

$2.60



B149/B150 British 7th Armoured Division, September 1942, North Africa (double list) ... [click here for more]

MicroMark Army Lists

$2.60



B14A: British Habforce, May-July 1941, Iraq, Syria ... [click here for more]

MicroMark Army Lists

$1.42

$1.39





B15: British Garrison forces, 1940-1941, Habbaniya in Iraq ... [click here for more]

MicroMark Army Lists

$1.42

$1.39