Follow Your Favorites!

Sign in
to get custom notifications of new products!
Featured Product
Fantasy Crusaders Chess
by Solace Games

A unique chess on the classic game in which you roll dice when a piece attempts to capture another one. As well, you can replace your rook with an alf archer and get a ranged attack to capture pieces with. There are three armies to choose from, each with their own benefits and magic!
Come check out the new chess!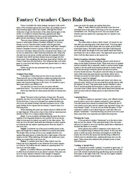 | Products found in this section... | Sort by: |
| --- | --- |
Title
Publisher
Price

The second edition of Basic Impetus is a flexible, innovative and fast play system to play the ancients and medieval periods. It is provided with 340 (totally revised) army lists ranging from Sumerian to Renaissance. This set is not just a refreshement of the old version but can be considered an updated and light version of Impetus. All measurements are related to base width: this... [

click here for more

]

Dadi&Piombo

$4.99



Simple Models - Medieval Quick to cut out, Quicker to set up The first of our paper model series, we have reinvented how you look at the battlefield - all of our models are from the bird's-eye view. After all, you do look at your models from above! With 16 different unit types to choose from including: Musketeers, Chariots, Heavy Cavalry and various Warmachines. You can even have a War Elephant... [

click here for more

]

War of Life Gaming

$0.50



TRIUMPH! is a fast play set of rules for miniature wargaming. Covering the ancient and medieval periods, TRIUMPH! allows you to recreate the armies of Ramesses and Muwatalli, Caesar and Pompey, Saladin and Richard the Lionheart. Meshwesh is the online database of army lists for TRIUMPH! You can access Meshwesh through the Washington Grand Company web site. NOTE: This is the Early Access Edition... [

click here for more

]

Washington Grand Company

$15.00



ADVANCED SONG OF BLADES AND HEROES PDF Advanced Song of Blades and Heroes is the updated incarnation of the award-winning Song of Blades miniatures system. Play fantasy skirmishes in any scale, with any models you already own. With an expanded magic system, an exciting turn sequence, a reaction system, an optional setting, weapon rules, an open-source point system,... [

click here for more

]

Ganesha Games

$20.00

$10.00





This paper model kit is easy to assemble, requiring just 12 cardstock paper sheets to print on (110 lb. or 199gsm recommended), hobby knife, glue, metal ruler and cutting mat. This model is designed at the popular 28mm-30mm gaming scale, and can be shrunk down to 15mm, 20mm or 25mm scales by simply adjusting the print size percentage on your printer. Tips and advice for altering the... [

click here for more

]

Dave Graffam Models

$4.95



15 Segments This set is good addition to 014 or 015 battle mats. The segments can be shrunk down by adjusting the print size percentage. This kit included 2 PDF-file: A4 (10 sheets) and US Letter (10 sheets). ... [

click here for more

]

WargamePrint

$4.00



This paper model kit is easy to assemble, requiring just cardstock paper sheets to print on (110 lb. or 199gsm recommended), scissors, hobby knife, paper glue, aluminum ruler and cutting mat. It may look complicated, but every part of the Village Chapel is simple to assemble on its own, and putting it together is just a matter of building up the simple shapes into the complete structure... [

click here for more

]

Dave Graffam Models

$5.95

$1.00





This paper model kit is easy to assemble, requiring just cardstock paper sheets to print on (110 lb. or 199gsm recommended), scissors, hobby knife, paper glue, metal ruler and cutting mat. It may look complicated, but every part of the Country Brewery is simple to assemble on its own, and putting it together is just a matter of building up the simple shapes into the complete structure you... [

click here for more

]

Dave Graffam Models

$6.95

$1.00





This paper model kit is easy to assemble, requiring just cardstock paper sheets to print on (110 lb. or 199gsm recommended), scissors, hobby knife, paper glue, aluminum ruler and cutting mat. Assembly time is about half an hour. This model is designed at the popular 28mm-30mm gaming scale, and can be shrunk down to 15mm, 20mm or 25mm scales by simply adjusting the print size percentage on your... [

click here for more

]

Dave Graffam Models

$2.95

$1.00





"Get the fantasy miniatures game that started it all! Chainmail is a fully fleshed out fantasy miniatures game that puts YOU in charge of your very own army. Whether you want to fight historical battles based in the trenches of reality or fantasy battles rife with magic and fantastic beasts, Chainmail gives you the rules to fight the wars you want to fight! The Chainmail Medieval Miniatures... [

click here for more

]

Wizards of the Coast

$4.99



This paper model kit is easy to assemble, requiring just cardstock paper sheets to print on (110 lb. or 199gsm recommended), scissors, hobby knife, paper glue, aluminum ruler and cutting mat. This model is designed at the popular 28mm-30mm gaming scale, and can be shrunk down to 15mm, 20mm or 25mm scales by simply adjusting the print size percentage on your printer. Tips and advice... [

click here for more

]

Dave Graffam Models

$4.95

$1.00





The MAYHEM Battle Chest edition contains both the core rules and the STRONGHOLD expansion. MAYHEM is a 'fantasy mass battle' combat game played on the grand scale. Here generals lead armies of their own creation on the field of battle in search of victory and glory. Not just for wargamers, MAYHEM is perfect for roleplayers... [

click here for more

]

Brent Spivey Creations

$19.99

$9.99





This paper model kit is easy to assemble, requiring just cardstock paper sheets to print on (110 lb. or 199gsm recommended), scissors, hobby knife, paper glue, aluminum ruler and cutting mat. Assembly time is about an hour for the whole set. This model is designed at the popular 28mm-30mm gaming scale, and can be shrunk down to 15mm, 20mm or 25mm scales by simply adjusting the print... [

click here for more

]

Dave Graffam Models

$2.95

$1.00





This paper model kit is easy to assemble, requiring just 18 cardstock paper sheets to print on (110 lb. or 199gsm recommended), scissors, hobby knife, paper glue, metal ruler and cutting mat. Optionally, you can use a piece of foamcore for the base. This model is designed at the popular 28mm-30mm gaming scale, and can be shrunk down to 15mm, 20mm or 25mm scales by simply adjusting the... [

click here for more

]

Dave Graffam Models

$5.95

$1.00





Impetus Magazine #1 (March 2015) Contents Raphia 217BC (Impetus Scenario), Storming Impetus (official supplement for assaulting fortifications), Gaming the Last Samurai with Smooth&Rifled, Impetus at Cancon, Size Matters (Raesena and Hastings with tons of figs), The Overthrow (scenario for Lords&Servants), Waiting for Baroque (anticipating the new set), Battle at the River (scenario for... [

click here for more

]

Dadi&Piombo

$2.99



This paper terrain kit is easy to assemble, requiring just 15 cardstock paper sheets to print on (110 lb. or 199gsm recommended), hobby knife, glue, metal ruler and cutting mat. These models are designed at the popular 28mm-30mm gaming scale, and can be shrunk down to 15mm, 20mm or 25mm scales by simply adjusting the print size percentage on your printer. Tips and advice for altering... [

click here for more

]

Dave Graffam Models

$2.95



This paper model kit is easy to assemble, requiring just cardstock paper sheets to print on (110 lb. or 199gsm recommended), scissors, hobby knife, paper glue, aluminum ruler and cutting mat. Assembly time is about an hour. This model is designed at the popular 28mm-30mm gaming scale, and can be shrunk down to 15mm, 20mm or 25mm scales by simply adjusting the print size percentage on... [

click here for more

]

Dave Graffam Models

$2.95

$1.00





This paper model kit is easy to assemble, requiring just cardstock paper sheets to print on (110 lb. or 199gsm recommended), scissors, hobby knife, paper glue, aluminum ruler and cutting mat. It may look complicated, but every part of the Inventor's House is simple to assemble on its own, and putting it together is just a matter of building up the simple shapes into the complete structure... [

click here for more

]

Dave Graffam Models

$5.95

$1.00





This paper model kit is easy to assemble, requiring just 13 cardstock paper sheets to print on (110 lb. or 199gsm recommended), scissors, hobby knife, paper glue, metal ruler and cutting mat. Optionally, you may use a piece of foamcore cut to 6" x 9" for the ground piece. This model is designed at the popular 28mm-30mm gaming scale, and can be shrunk down to 15mm, 20mm or... [

click here for more

]

Dave Graffam Models

$4.95

$1.00





Our popular system for ancients and medieval wargames goes digital! Impetus is a grand tactical set that allow you to play over 3,000 years of history, from Ancient Sumeria to the Great Italian Wars. It is suitable for any scale of figures,from 2mm to 28mm (and over) thanks to its popular basing that allow you to recreate small dioramas. The rulebook includes also 16 starter lists (Macedonians,... [

click here for more

]

Dadi&Piombo

$14.99



Can't find a tabletop wargame opponent? This easily-readable guide provides the tools needed to undertake tabletop wargame campaigns without the need for other players. The guidelines presented within are designed to supplement your favorite wargaming rules set (not included). They can be bent or twisted, even broken and reformed, to suit a wargamer's needs. Novices and veterans alike can employ... [

click here for more

]

Precis Intermedia

$14.95

$6.95





Banzai! The age of the country at war (2nd Edition) An elegant system focused on the feudal Japanese era (Sengoku Jidai) for the 6mm size of wargaming. This rules system is a tour de force and utilises unique features only found in 2D6 products! Like a "wind up and go" command system which brings feudal command and control to re-alistic... [

click here for more

]

2D6 Wargaming

$19.00



This paper model kit is easy to assemble, requiring just cardstock paper sheets to print on (110 lb. or 199gsm recommended), scissors, hobby knife, paper glue, metal ruler and cutting mat. Optionally, you can use a piece of foamcore for the base. A fine-line ink marker is recommended for darkening the paper edges, and foamcore is recommended for the ground piece, and a few other common... [

click here for more

]

Dave Graffam Models

$4.95

$1.00





This paper model kit is easy to assemble, requiring just cardstock paper sheets to print on (110 lb. or 199gsm recommended), scissors, hobby knife, paper glue, aluminum ruler and cutting mat. Assembly time is about an hour. This model is designed at the popular 28mm-30mm gaming scale, and can be shrunk down to 15mm, 20mm or 25mm scales by simply adjusting the print size percentage on... [

click here for more

]

Dave Graffam Models

$1.95

$1.00





This paper model kit is easy to assemble, requiring just cardstock paper sheets to print on (110 lb. or 199gsm recommended), scissors, hobby knife, paper glue, metal ruler and cutting mat. This model set is designed at the popular 28mm-30mm gaming scale, and can be shrunk down to 15mm, 20mm or 25mm scales by simply adjusting the print size percentage on your printer. Tips and advice... [

click here for more

]

Dave Graffam Models

$2.95

$1.00





This paper model kit is easy to assemble, requiring just cardstock paper sheets to print on (110 lb. or 199gsm recommended), scissors, hobby knife, paper glue, aluminum ruler and cutting mat. This model is designed at the popular 28mm-30mm gaming scale, and can be shrunk down to 15mm, 20mm or 25mm scales by simply adjusting the print size percentage on your printer. Tips and advice... [

click here for more

]

Dave Graffam Models

$4.95

$1.00





This paper tile set is easy to create, requiring just cardstock paper sheets to print on (110 lb. or 199gsm recommended), scissors, hobby knife, aluminum ruler and cutting mat. For sturdier tiles, use foamcore and spray glue. These tiles are designed with a 1" grid to be used at the popular 28mm-30mm gaming scale, and can be shrunk down to 15mm, 20mm or 25mm scales by simply adjusting... [

click here for more

]

Dave Graffam Models

$2.95

$1.00





This paper model kit is easy to assemble, requiring just 8 cardstock paper sheets to print on (110 lb. or 199gsm recommended), scissors, hobby knife, paper glue, metal ruler and cutting mat. Optionally, you can use a piece of foamcore for the base. This model is designed at the popular 28mm-30mm gaming scale, and can be shrunk down to 15mm, 20mm or 25mm scales by simply adjusting the... [

click here for more

]

Dave Graffam Models

$2.95

$1.00





This paper model kit is easy to assemble, requiring just 7 cardstock paper sheets to print on (110 lb. or 199gsm recommended), scissors, hobby knife, paper glue, metal ruler, black felt-tip pen and cutting mat. Optionally, you may make use of other common hobby tools for even better results. Full instructions are included. This model is designed at the popular 28mm-30mm gaming scale.... [

click here for more

]

Dave Graffam Models

$4.95

$1.00





This paper model kit is easy to assemble, requiring just cardstock paper sheets to print on (110 lb. or 199gsm recommended), scissors, hobby knife, paper glue, aluminum ruler and cutting mat. Optionally, you can use a piece of foamcore for the base. This model is designed at the popular 28mm-30mm gaming scale, and can be shrunk down to 15mm, 20mm or 25mm scales by simply adjusting the... [

click here for more

]

Dave Graffam Models

$2.95

$1.00





This paper model kit is easy to assemble, requiring just cardstock paper sheets to print on (110 lb. or 199gsm recommended), scissors, hobby knife, paper glue, aluminum ruler and cutting mat. Assembly time is about an hour. This model is designed at the popular 28mm-30mm gaming scale, and can be shrunk down to 15mm, 20mm or 25mm scales by simply adjusting the print size percentage on... [

click here for more

]

Dave Graffam Models

$3.95

$1.00





This paper model kit is easy to assemble, requiring just 13 cardstock paper sheets to print on (110 lb. or 199gsm recommended), scissors, hobby knife, paper glue, metal ruler and cutting mat. Optionally, you may use a piece of foamcore cut to 6" x 9" for the ground piece. This model is designed at the popular 28mm-30mm gaming scale, and can be shrunk down to 15mm, 20mm or... [

click here for more

]

Dave Graffam Models

$3.95

$1.00





With Sword and Shield is a miniatures game of mass combat, set in any world you wish to imagine! Field armies composed of unruly hordes, stalwart men-at-arms, thundering cavalry, fantastic creatures, gigantic constructs, great war engines, powerful wizards, iconic heroes and brave leaders in an attempt to crush your opponents on the field of battle. The game uses simple differential... [

click here for more

]

Legionnaire Games

$12.95

$9.95





A crane house like this is useful in any harbor, and might be the property of a merchant at their private pier or warehouse. It might be owned by a town or individual offering its services to the public, charging a small fee for every hoist. Such a structure would also be vital in an exchange market where bulk goods are being traded, where large freight needs to be moved from one wagon to... [

click here for more

]

Dave Graffam Models

$2.95

$1.00





This paper model kit is easy to assemble, requiring just 10 cardstock paper sheets to print on (110 lb. or 199gsm recommended), scissors, hobby knife, paper glue, metal ruler and cutting mat. Optionally, you can use a piece of foamcore for the base. This model is designed at the popular 28mm-30mm gaming scale, and can be shrunk down to 15mm, 20mm or 25mm scales by simply adjusting the... [

click here for more

]

Dave Graffam Models

$3.95

$1.00





This paper model kit is easy to assemble, requiring just cardstock paper sheets to print on (110 lb. or 199gsm recommended), scissors, hobby knife, paper glue, aluminum ruler and cutting mat. It may look complicated, but every part of the West Gate is simple to assemble on its own, and putting it together is just a matter of building up the simple shapes into the complete structure you... [

click here for more

]

Dave Graffam Models

$5.95

$1.00





This paper model is easy to assemble, requiring just cardstock sheets to print on (110# or 199gsm cardstock recommended), scissors, hobby knife and ordinary glue. Included are tips and advice for printing at various popular gaming and model railroad scales. One of the great things about papercraft models is that they can be printed at any popular gaming scale quite easily, so this model can be... [

click here for more

]

Dave Graffam Models

$4.95

$1.00





This paper tiles set is easy to create, requiring just cardstock paper sheets to print on (110 lb. or 199gsm recommended), scissors, hobby knife, aluminum ruler and cutting mat. These tiles are designed at the popular 28mm-30mm gaming scale, and can be shrunk down to 15mm, 20mm or 25mm scales by simply adjusting the print size percentage on your printer. Tips and advice for altering... [

click here for more

]

Dave Graffam Models

$4.95

$1.00





This paper model kit is easy to assemble, requiring just cardstock paper sheets to print on (110 lb. or 199gsm recommended), scissors, hobby knife, paper glue, aluminum ruler and cutting mat. Assembly time is about two hours. This model is designed at the popular 28mm-30mm gaming scale, and can be shrunk down to 15mm, 20mm or 25mm scales by simply adjusting the print size percentage... [

click here for more

]

Dave Graffam Models

$3.95

$1.00





This paper model kit is easy to assemble, requiring just cardstock paper sheets to print on (110 lb. or 199gsm recommended), scissors, hobby knife, paper glue, aluminum ruler and cutting mat. This model set is designed at the popular 28mm-30mm gaming scale, and can be shrunk down to 15mm, 20mm or 25mm scales by simply adjusting the print size percentage on your printer. Tips and advice... [

click here for more

]

Dave Graffam Models

$4.95

$1.00





This paper model kit is easy to assemble, requiring just cardstock paper sheets to print on (110 lb. or 199gsm recommended), scissors, hobby knife, paper glue, aluminum ruler and cutting mat. It may look complicated, but every part of the Village Pub is simple to assemble on its own, and putting it together is just a matter of building up the simple shapes into the complete structure you... [

click here for more

]

Dave Graffam Models

$3.95

$1.00





Lords&Servants is a game system designed to recreate skirmish games with 28, 20 or 15mm miniatures. It covers the Medieval period and it shares the mechanics of our popular system Smooth&Rifled. In the Appendix you will find all the information that you need to create your games, from simple clashes involving a few men per side to bigger encounters with 60-80 miniatures per side, ideal for... [

click here for more

]

Dadi&Piombo

$8.99



Supplement 5 of Impetus game system. It includes 48 army lists and 1 campaign game. FEUDAL EUROPE Feudal French, Anglo Norman, Early Feudal English, Later Feudal English, Welsh, Scots, Isles and Highlands, Irish, Anglo Irish, Frisia and Free Cantons, Scandinavian Kingdoms ITALY AND THE EMPIRE Italian Communal (1150-1200 AD), Imperial German, Italian... [

click here for more

]

Dadi&Piombo

$8.99



Lords&Servants supplement. 10 generic scenarios for Lords&Servants. 1) The Relic 2) Bring me the Bastard 3) The Bridge 4) Raiding the Campsite 5) The Escort 6) Save the Queen 7) Save the King 8) Raiding the Village 9) Sally Forth 10) Showdown ... [

click here for more

]

Dadi&Piombo

$0.99



This paper model kit is easy to assemble, requiring just cardstock paper sheets to print on (110 lb. or 199gsm recommended), scissors, hobby knife, paper glue, aluminum ruler and cutting mat. It may look complicated, but every part of the Willow Brook Inn is simple to assemble on its own, and putting it together is just a matter of building up the simple shapes into the complete structure... [

click here for more

]

Dave Graffam Models

$5.95

$1.00





Swords, mud and blood. Medieval man to man fighting was brutal and unpleasant but there's no reason your game rules should be. Chevauchee takes the familiar, fast-moving engine from FiveCore and adapts it to medieval skirmish warfare. Features include: *Warband level gameplay where you can get to know each member of your army. *Simple D6-based combat mechanics that combine morale and injury... [

click here for more

]

Nordic Weasel Games

$11.99



This paper model is easy to assemble, requiring just cardstock sheets to print on (110# or 199gsm cardstock recommended), scissors, hobby knife and ordinary glue. Included are tips and advice for printing at various popular gaming and model railroad scales. One of the great things about papercraft models is that they can be printed at any popular gaming scale quite easily, so this model can be... [

click here for more

]

Dave Graffam Models

$3.95

$1.00





This paper model kit is easy to assemble, requiring just cardstock paper sheets to print on (110 lb. or 199gsm recommended), scissors, hobby knife, paper glue, aluminum ruler and cutting mat. Assembly time is under an hour. This model is designed at the popular 28mm-30mm gaming scale, and can be shrunk down to 15mm, 20mm or 25mm scales by simply adjusting the print size percentage on... [

click here for more

]

Dave Graffam Models

$2.95

$1.00





Supplement 2 of Impetus game system. It includes 48 army lists and 1 campaign game. THE ROMAN EMPIRE Early Imperial Romans, Early Germans, Jewish Revolt, Dacians, Later Sarmatians, Alans, Middle Imperial Romans, Sassanid Persians, Palmyra, Arab-Aramaic Kingdoms, Pre-Islamic Arabs, Armenians, Ancient Britons, Caledonians, Early Irish, Picts, Alamanni, Late Imperial Romans (East),... [

click here for more

]

Dadi&Piombo

$8.99



This paper model kit is easy to assemble, requiring just 8 cardstock paper sheets to print on (110 lb. or 199gsm recommended), scissors, hobby knife, paper glue, metal ruler and cutting mat. This model is designed at the popular 28mm-30mm gaming scale, and can be shrunk down to 15mm, 20mm or 25mm scales by simply adjusting the print size percentage on your printer. Tips and advice for... [

click here for more

]

Dave Graffam Models

$3.95

$1.00