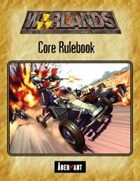 Warlands Core Rulebook
by Aberrant

Full Throttle Vehicular Combat!

Warlands - a twisted shell of a world; with thousands of miles of dust- covered plains, shattered coastlines and drowned cities.
A turbo-charged miniatures game of cinematic combat set in the ruins of a post-apocalyptic earth.

In the future the only way to get gasoline is with a gun...